Chipotle Beef Tacos with Mango Lime Salsa
Let's talk about beef BAY BAY, let's talk about QUA – LA – TAY!   (I am really hoping you sang that like I did)  ANYWHO – I am so excited to share these Chipotle Beef Tacos with Mango Lime Salsa with you today!  As I did just the other day, I busted out my dutch oven to make the most delicious tacos – the kind where the beef just falls apart when you try to pick it up.  Thanks to my friends at PRE, there is no guess work involved in picking out a good cut of meat.  All of their meat is grass fed with no antibiotics or hormones added, AND they are beyond consistent with their products. I love the packaging (see below), because the entire piece of meat is wrapped in clear plastic so you can see all around at the beautiful quality.  Also, my favorite part, is that their meat is always the same thickness and weight which makes for perfectly grilled steaks! Do you see the marbling in the photo below?  They do all of the work of trimming excess fat and leave you with a cut that you can actually use all of!  When so many options in the meat section at the store are conventional, packed with hormones and pretty suspect, it's so nice to have an option like PRE that is SO transparent (literally).  If you are thinking, Kelsey, I have never seen PRE at my store!  Well you are right, they are on Amazon Fresh!!  So they can be delivered to your door ASAP and in their pristine condition like always.
I wanted to highlight the beauty of this meat in one of the best ways I know how – throwing it in a taco!  Now you know I love my lettuce wraps but you could totally throw these in a tortilla like my hubs did the other night!  There are 2 layers of chipotle in these, powdered and canned, and you can vary the amount you put in to make it more or less spicy.  Something here for everyone I tell ya!  And the Mango Lime Salsa on top could not be easier to throw together and really brightens up the meat.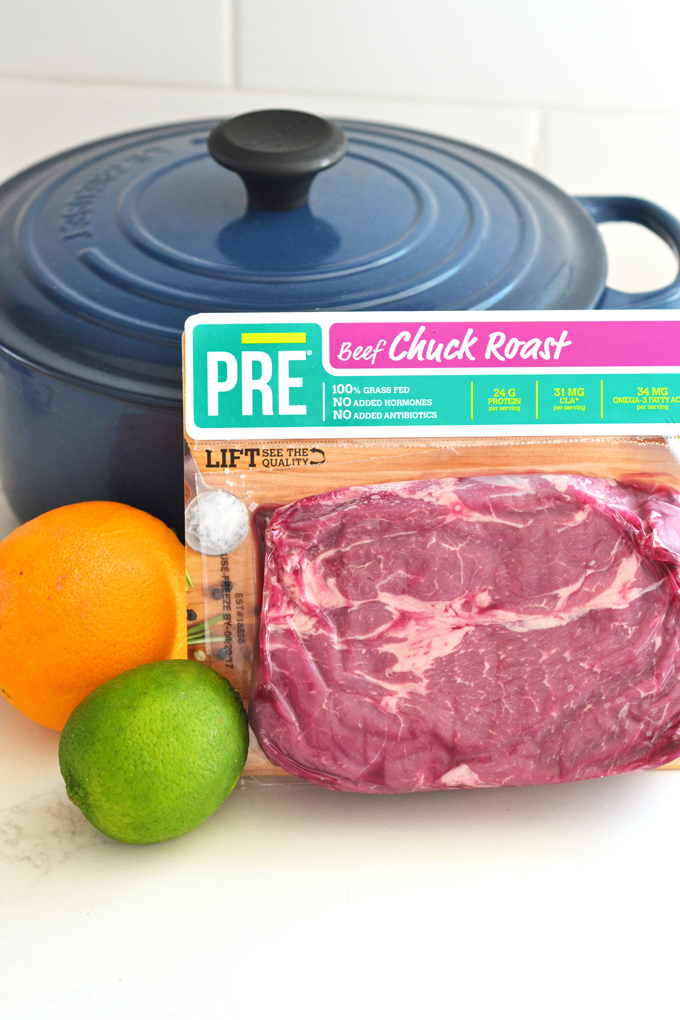 Look at that tender goodness!
I love lettuce wraps for keeping the dish paleo and they lighten it up as well!
You will need to make this Chuck Roast into a full meal, we have you covered:
Pineapple and Roasted Red Pepper Salsa
Peanut Butter Chocolate Chip Cookies
Pin this Chipotle Beef Tacos with Mango Lime Salsa recipe to save for later!
This post is sponsored by PRE but the opinions on the product are 100% my own! Thank you for supporting Little Bits Of!
Print
Chipotle Beef Tacos with Mango Lime Salsa
---
24 ounce PRE Chuck Roast
1 teaspoon chipotle powder 
1 teaspoon smoked paprika
1 teaspoon dried oregano
1 teaspoon ground fennel
1 tablespoon garlic powder
1 teaspoon salt
1/2 black pepper
1 tablespoon olive oil
1 onion, diced
½ cup orange juice
2 tablespoons lime juice
1 cup chopped tomatoes (from a can)
1 tablespoon chopped chipotle peppers in adobo sauce (seeds removed)
1 cups beef or chicken broth/stock
Salt and pepper
Mango Lime Salsa
1 cup chopped mango
1 cup chopped cherry tomatoes
1 tablespoon lime juice
zest of 1 lime
2 tablespoons minced red onion
1 tablespoon chopped cilantro
pinch of salt
---
Instructions
Preheat oven to 325 degrees.
In a small bowl mix together chipotle powder, smoked paprika, dried oregano, ground fennel, garlic powder, salt and pepper.  Pour mixture over the beef and rub it in with your hands to cover the whole thing.
Place a dutch oven over medium high heat and add in olive oil.  Once the pan is hot, add in the beef and brown on both sides (about 30 seconds – 1 minute per side)
In a separate bowl combine onion, orange juice, lime juice, chopped tomatoes, chipotle peppers and stock or broth.  Pour that mixture over the beef then cover the dutch oven and place in the oven for 3 hours.
When the 3 hours is up, remove the beef from the pan and shred, then add back into the pan and toss to coat with sauce. Season with salt and pepper to taste.
Mango Lime Salsa:
Combine all salsa ingredients in a bowl and toss to combine.
Scoop on top of beef in tacos!
Notes
 You can use a slow cooker instead of a dutch oven if preferred.  Cook on high for 3-5 hours or low for 6-8
To make it spicier, add 1 tablespoon of chipotle powder instead of 1 teaspoon and 2 tablespoons of Chipotle peppers instead of 1!
We are participant in the Amazon Services LLC Associates Program, an affiliate advertising program designed to provide a means for us to earn fees by linking to Amazon.com and affiliated sites.