Paleo Pickled Red Onions
Who here loves pickled red onions?!  I am such a huge fan – just texture, great flavor and great for your gut!  I became extra in love with them once we got a Cava restaurant near us and I tried them out on my bowl.  They are amazing on anything but greek food especially, which is why I put these in my recent recipe for Greek Pasta Salad with Lemon Herb Tahini Dressing!  I knew they had to have their own spot on the blog because they work for so much more than just that recipe.  You must know by now that I love bowl meals, hello I wrote a cookbook about them, and pickled onions work well on any bowl you can throw together.  The best part is, they last for weeks in your fridge so you can always have them on hand when you need them.
Just combine a few ingredients: water, apple cider vinegar, salt, maple syrup and red onions! Then let them sit and work their magic.
Here are a few more recipes for you to try:
Pulled Pork with Pickled Radish Coleslaw
Pin the image below to save this Paleo Pickled Red Onion recipe for later!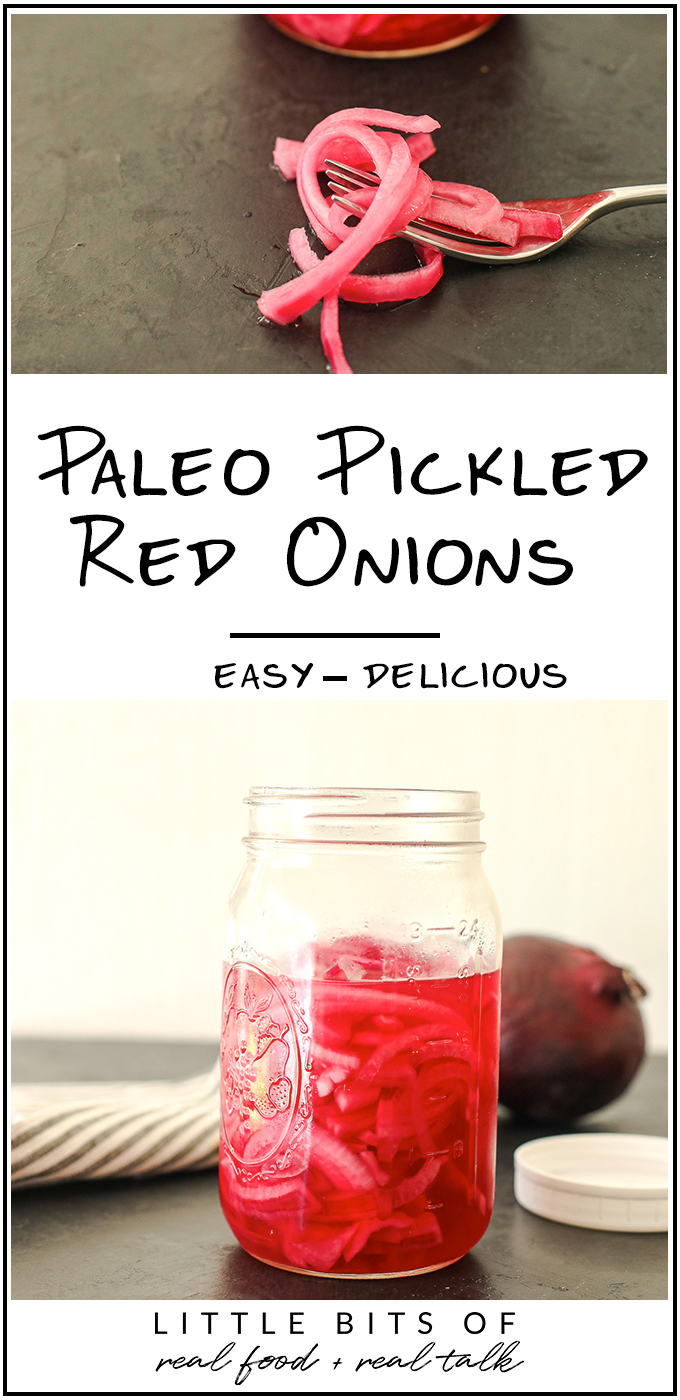 Print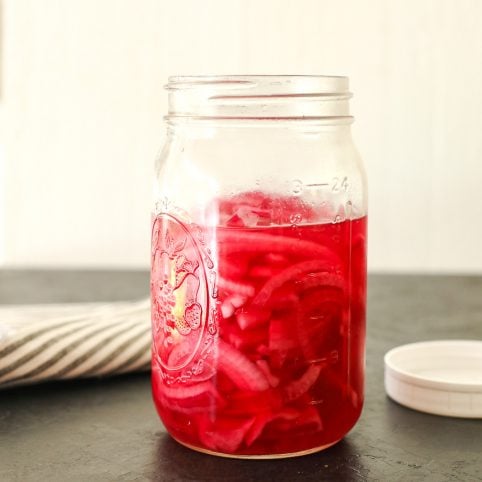 Paleo Pickled Red Onions
---
 1 red onion, thinly sliced
 1/2 cup apple cider vinegar
 1 tablespoon maple syrup
 1 1/2 teaspoons salt
 1 cup water
---
Instructions
Add thinly sliced red onion to a mason jar and push them down a bit.
In a glass measuring cup combine apple cider vinegar, maple syrup, salt and water.
Microwave for 45 seconds and stir to combine.
Pour mixture over the red onions and let sit at room temperature to cool for an hour, then put the lid on and store in the refrigerator.
Store in the refrigerator for up to 2 weeks!
We are participant in the Amazon Services LLC Associates Program, an affiliate advertising program designed to provide a means for us to earn fees by linking to Amazon.com and affiliated sites.