Greek Pasta Salad with Lemon Herb Tahini Dressing
It is full on pasta salad season and I am here for it!  This Greek Pasta Salad with Lemon Herb Tahini Dressing is packed with so many yummy things like cherry tomatoes, cucumber, chicken, pickled onion and feta cheese.   Then I made a lemon herb tahini dressing that is so tasty and coats each piece of pasta beautifully.  This makes an awesome big batch of pasta salad that is great to meal prep for the week or have for a family BBQ.  You can totally use brown rice pasta, lentil pasta, chickpea pasta, etc, but those swaps are usually best when you make it fresh and not when made ahead.  I used President Feta in this recipe and it is so delicious!
So now you know whats for lunch this weekend!!
If you love this recipe and I know you will love these other meals too:
Spiralized Greek Cucumber Salad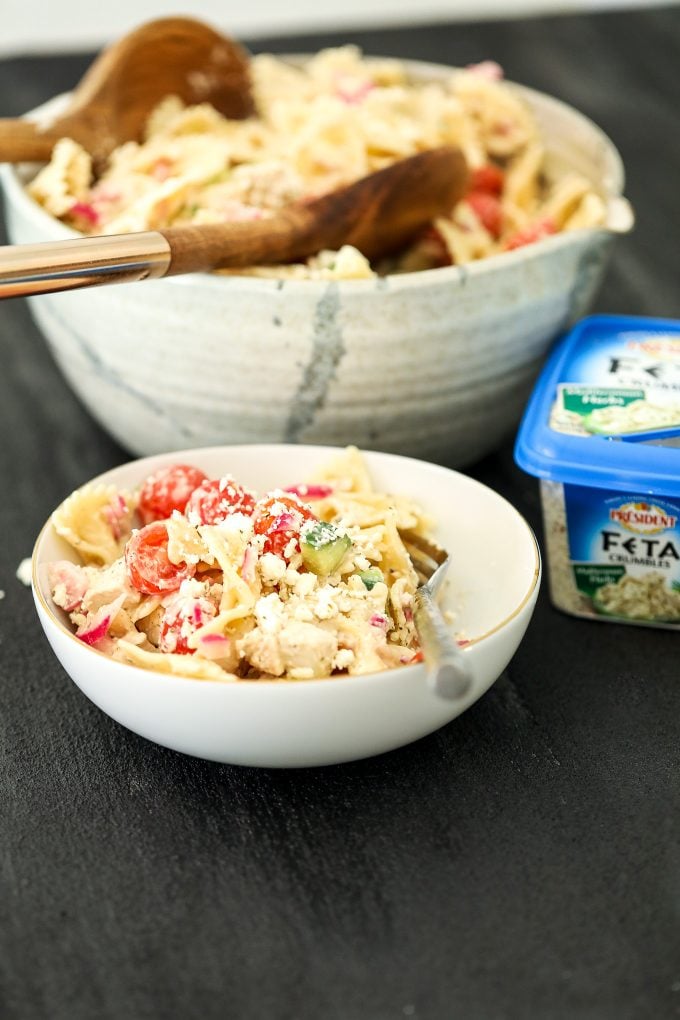 Pin the image below to save this Greek Pasta Salad with Lemon Herb Tahini Dressing recipe for later!
Print
Greek Pasta Salad with Lemon Herb Tahini Dressing
---
16 oz bow tie pasta (any kind of pasta works)
2 cups chopped cucumber
1 cup chopped bell pepper (any color)
2 ½ cups chopped grape tomatoes
½ cup chopped pickled red onion*
½ cup crumbled feta cheese
½ cup chopped olives
2 cups shredded chicken
⅓ cup tahini
¼ cup water
2 tbsp lemon juice
2 tbsp avocado or olive oil
2 tsp garlic powder
1 tsp dried oregano
½ tsp dried dill
½ tsp dried chives
Salt and pepper
---
Instructions
Cook your pasta according to package directions.  
When the pasta is done cooking, strain under cold water to cool it down, then pour into a large bowl.
Add cucumber, bell pepper, grape tomatoes, pickled red onion, feta cheese, olives and chicken to the bowl with pasta.
In a glass measuring cup or bowl combine tahini, lemon juice, oil, garlic powder, oregano, dill, and chives and stir to combine.  Pour dressing into the large bowl and toss everything to combine!
Notes
Pickled Red Onions:
 1 red onion, thinly sliced
 1/2 cup apple cider vinegar
 1 tablespoon maple syrup
 1 1/2 teaspoons salt
 1 cup water

Directions:

Add thinly sliced red onion to a mason jar and push them down a bit.
In a glass measuring cup combine apple cider vinegar, maple syrup, salt and water.
Microwave for 45 seconds and stir to combine.
Pour mixture over the red onions and let sit at room temperature to cool for an hour, then put the lid on and store in the refrigerator.
Store in the refrigerator for up to 2 weeks!
We are participant in the Amazon Services LLC Associates Program, an affiliate advertising program designed to provide a means for us to earn fees by linking to Amazon.com and affiliated sites.