Pulled Pork with Pickled Radish Coleslaw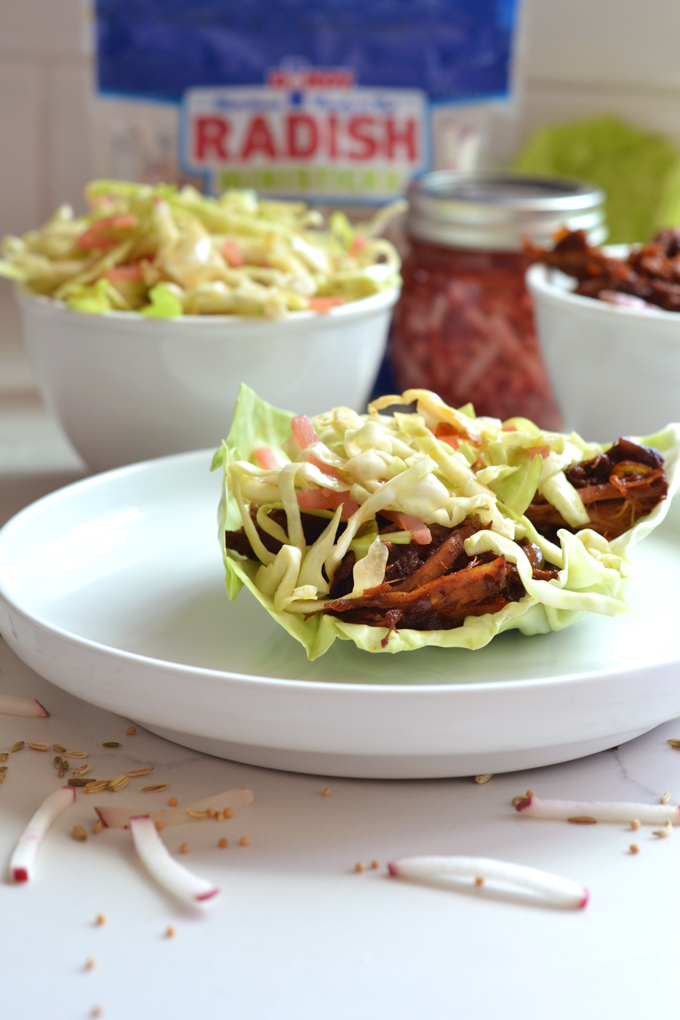 I am diving face first into all of the seasonal produce these days and it has led me down a delicious path to this Pulled Pork with Pickled Radish Coleslaw!!  I have been loving having radishes on hand to throw in my salads (which I have been making all the time lately) and have FINALLY tried my hand at pickling!! I am pretty sure I have been wanting to pickle veggies for years but for some reason I always thought it would be hard or too much of a hassle.  Boy was I wrong!  When I got my hands on these Dandy Radish Ministicks I knew they were meant to be pickled and put in coleslaw.  So after looking at a handful of recipes I made my own with some of my favorite flavors that would not only go great with radishes, but would be DYNAMITE on pulled pork.  It was way too easy to put this together and I think I am going to a be a pickling queen from now on (if I do say so myself).  I love how these little sticks are cut because they are also great for snacking and make radishes much more accessible to busy people like…. ALL OF US?!  My friends at Duda Farm Fresh Foods have a whole ebook with ways to use their products and if you download it via this link, you can also enter to win one of five $100 Visa giftcards!! They will choose the winner on May 17th so get on it – money and recipes?! Yes pleaseee!
Okay now that you have entered, I also have to tell you about this pulled pork. Honestly my intention for this recipe was to make a super great coleslaw and for the pulled pork just make something kind of standard.  Well I surprised myself and somehow made the tastiest pulled pork I have ever had!!! I could not stop eating it, it was just heavenly!!  I added my favorite spice – ground fennel, along with some others, and orange juice for sweetness.    I used the dutch oven but you can use a crock pot too if thats your jam!   Check out the fun video below for how I pickled the radishes! 🙂
How easy is that?!
I love these little ball jam jars!!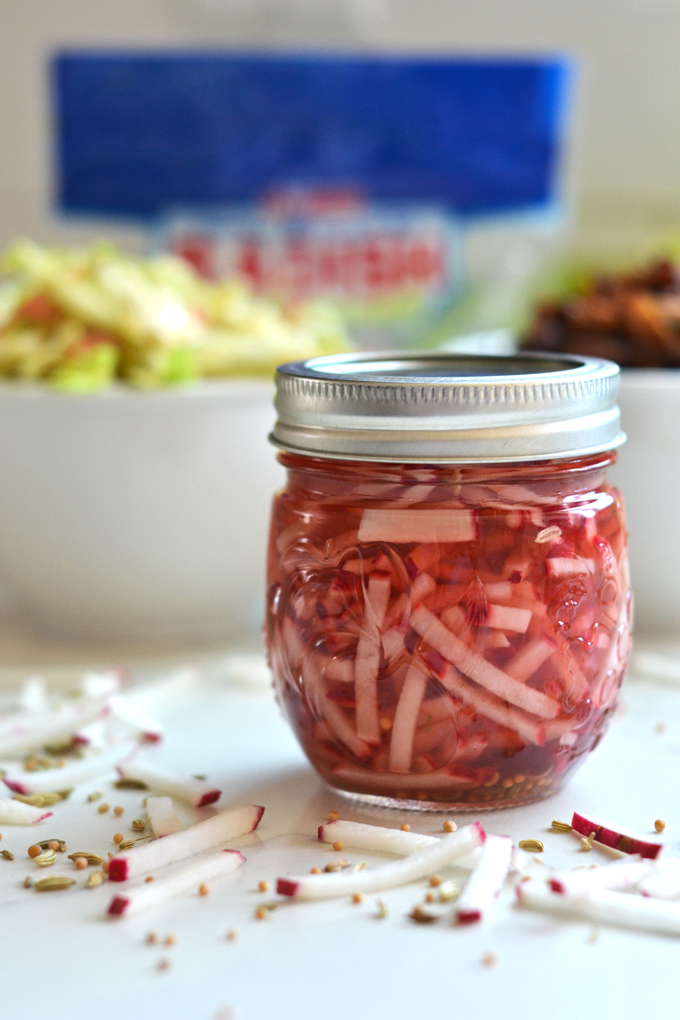 I'm telling you, this pulled pork is unreal!!
Do you want this to be your main dish for the night, here are a few other recipes to finish off the meal:
Oven Roasted Sweet Potato Buns
Creamy Caesar Bacon Potato Salad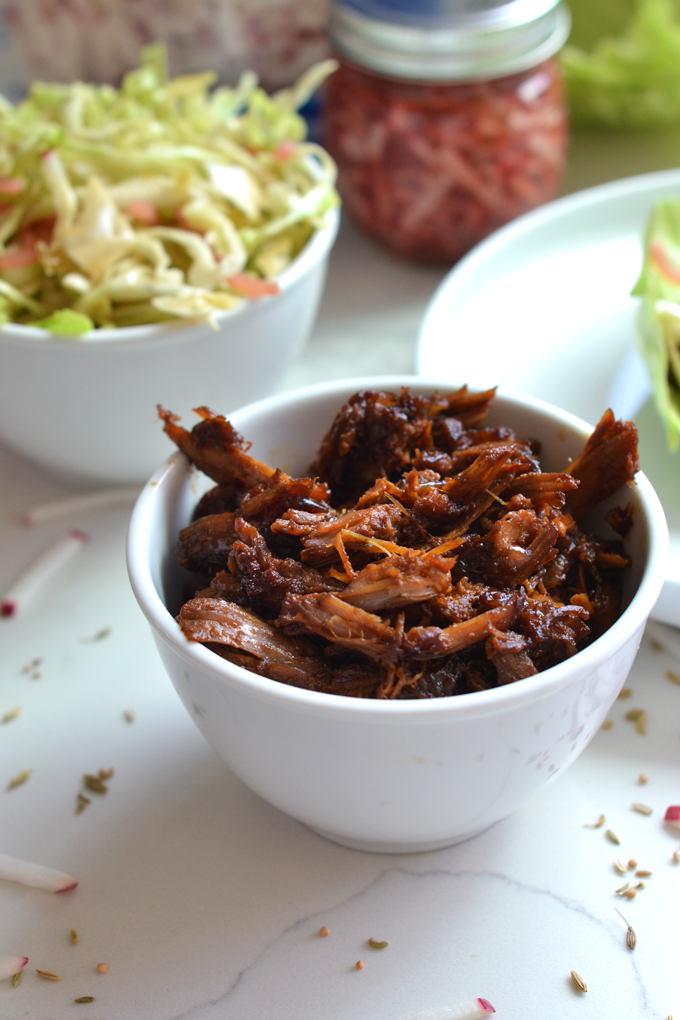 Pin the picture below to save this Pulled Pork with Pickled Radish Coleslaw recipe!
This post was sponsored by Duda Farm Fresh Foods but the opinions on the product are 100% my own! Thank you for supporting Little Bits Of!
Print
Pulled Pork with Pickled Radish Coleslaw
---
Author:
Total Time: 3 hours 20 minutes
Pickled Radishes
1 1/2 cups Dandy Radish Ministicks
1/2 cup water
1/2 cup red wine vinegar
2 tablespoons honey
1 1/2 teaspoons salt
1/2 teaspoon whole mustard seeds
1/2 teaspoon whole fennel seeds
Pulled Pork
Pork Shoulder (2-3 lbs)
1 teaspoon salt
1/2 teaspoon pepper
1/2 teaspoon smoked paprika
1 teaspoon turmeric
1 teaspoon ground fennel
1 tablespoon olive oil
1 brown onion, chopped
2 tablespoons liquid smoke
1/4 cup barbecue sauce (find one with clean ingredients!)
1/2 cup orange juice (separated)
Coleslaw:
1/2 head of cabbage, thinly sliced
1/4 cup red wine vinegar
2 tablespoons coconut sugar
2 tablespoons olive oil
1 large pinch of salt
1/2 cup fresh Dandy Radish Ministicks
---
Instructions
 Pickled Radishes:
Place a small saucepan over high heat and add water, red wine vinegar, honey, salt, whole mustard seeds and whole fennel seeds and bring to a boil, then remove from heat.
In a mason jar combine Dandy Radish Ministicks and pickling liquid and place in the refrigerator for at least 3 hours or overnight.
Pulled Pork
In a small bowl combine salt, pepper, smoked paprika, turmeric and ground fennel.  Pour mixture onto pork and spread it evenly all over the meat.
Preheat the oven to 325 degrees and place a dutch oven over medium high heat.  Add olive oil to the pan and once it is heated add pork and brown on both sides (about 30 seconds per side).
Then add onion, liquid smoke, barbecue sauce and 1/4 cup orange juice.
Cover and place in the preheated oven for 3-4 hours or until nice and tender!
Remove pork from the dutch oven and shred, then add back into the pot with 1/4 cup orange juice and stir to combine.
Coleslaw:
Add cabbage to a large bowl. In a small jar combine red wine vinegar, coconut sugar, olive oil and salt and shake to combine.  Pour dressing over cabbage.
Remove pickled radishes from the jar and add to the cabbage.  Then add the fresh Dandy Radish Ministicks and stir everything to combine.
Notes
For Serving:  Top pulled pork with coleslaw and serve it in cabbage cups or on bread!
*You can also use a slow cooker instead of a dutch oven and cook on low for 6-8 hours.
*INSTANT POT:  Follow the instructions the same way but do the sauté part in the instant pot then put it on manual for 55 minutes!
Prep Time: 20 minutes
Cook Time: 3 hours
We are participant in the Amazon Services LLC Associates Program, an affiliate advertising program designed to provide a means for us to earn fees by linking to Amazon.com and affiliated sites.