Paleo Donettes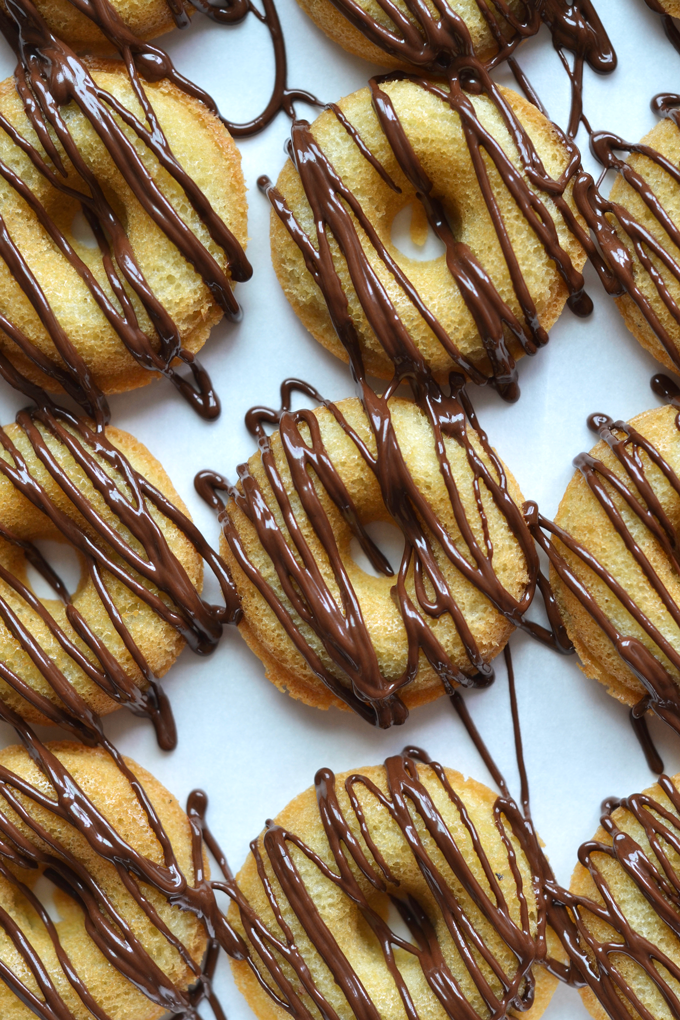 Let's talk donettes!!  But first, buy this mini donut pan so you can make these yourself!  So if you have been to a grocery store or gas station you have seen the classic hostess donettes. They come coated in some kind of chocolate substance, powdered sugar or a nutty crunch and each of them are seriously DELICIOUS.   I have always loved donettes and back in college the Chevron near my apartment was visited many times to grab a sleeve of them!  But now that I actually care what goes into my body, I realized hostess wasn't my jam anymore. But I decided I didn't need to give up mini donuts all together!  All you need is that mini donut pan and a few clean ingredients to make these babies just like I remember! You can dip them in chocolate too to fully submerge but i liked just a little drizzle so the chocolate didn't over power!  I realized that a donette covered in dark chocolate was much more chocolatey than a hostess donette that is coated in some kind of chocolate like substance!
These didn't last long in our house because they are so easy to pop in your mouth for a quick snack or treat. I think these are great for kiddos too and so easy to mix up flavors!  I think adding some berries would be great, or even chocolate chips right to the mix.  Oh and guys – speaking of my hubs loving these… he is graduating from fire academy tomorrow!! Then he will start work immediately and his year of probation will begin.  Thank you to everyone for the sweet messages congratulating him, it has been such a crazy journey but I could not be more proud of him!  I think I might need to make an extra batch of these this week, he deserves!
Chocolate drizzles might be my love language if that is a thing!
Homemade Donuts are the best, so we have a few more recipes for you to try:
Baked Whole Wheat Powdered Donuts
Baked Orange Creamsicle Donuts
Pin these Paleo Donettes to save the recipe for later!
Print
Paleo Donettes
---
1 cup blanched almond flour
⅛ teaspoon baking soda
pinch of salt
2 tablespoons maple syrup
½ cup coconut milk (just the milk part with solids removed!)
2 tablespoons coconut oil, melted (or melted ghee)
1 egg
1 teaspoon organic vanilla extract
1/2 teaspoon organic almond extract
1 cup clean dark chocolate
---
Instructions
Preheat the oven to 350°F and spray a mini donut pan with oil spray.
Mix together the blanched almond flour, baking soda and salt.
In a separate bowl, whisk together the maple syrup, coconut milk, coconut oil, egg, vanilla and almond extract.
Using a rubber spatula, mix the wet and dry ingredients together. Do not over mix.
Scoop batter into a large ziplock bag and cut a small hole in the tip of the bag with scissors. Squeeze batter into the donut pan then shake it a little to evenly disperse the batter.
Bake until a toothpick inserted into the center comes out clean, about 10 minutes.
Set pan over a wire rack to cool. Wait until donuts are cooled a bit then remove from the pan.
Melt your chocolate in a microwave safe dish for about a minute and a half, stirring every 30 seconds until chocolate is melted through.
Scoop chocolate onto donuts by drizzling then let cool to harden chocolate. Enjoy!
We are participant in the Amazon Services LLC Associates Program, an affiliate advertising program designed to provide a means for us to earn fees by linking to Amazon.com and affiliated sites.