Baked Orange Creamsicle Donuts
Confession: I have been way to busy enjoying life with packed weekends of activities that I haven't been blogging enough!! And do you want to know what is even worse than that? I have actually been making some amazing food and just not documenting it!!  I know, i'm sorry!! With all of the new kitchen gadgets and appliances Matt and I got for the wedding we have been trying new things all of the time.  The food processor we got might be my favorite new appliance though… I use it all the time!! Last night I made almond butter and now I don't think I will ever buy it at the store again!  So simple and so smooth.  I want to try to do some combo nut butters in the future but will have to do some testing!  Another thing we got was a donut pan!! I had one before and it somehow got lost in our last move but I am so happy to have one again.  There is just something about baking your own donuts that is very therapeutic.   They come together so quickly and um they are covered in glaze so……. yeah.  Orange Creamsicle is one of my favorite flavors.  It takes me back, not to 50/50 bars, but to the that old Stewarts Orange n' Cream soda!  That stuff was amazing and it would always be a special treat when my dad got me some.  For this recipe I took a basic vanilla donut recipe and added some orange extract to it, then really oranged up the glaze with both vanilla and orange extracts.  These donuts are very moist and quite addicting.
These donuts only have white sugar and not brown so there is no browning when you bake them!  They are just beautiful!  The orange glaze clings onto the cake for dear life and begs to be hurled to the back of your throat.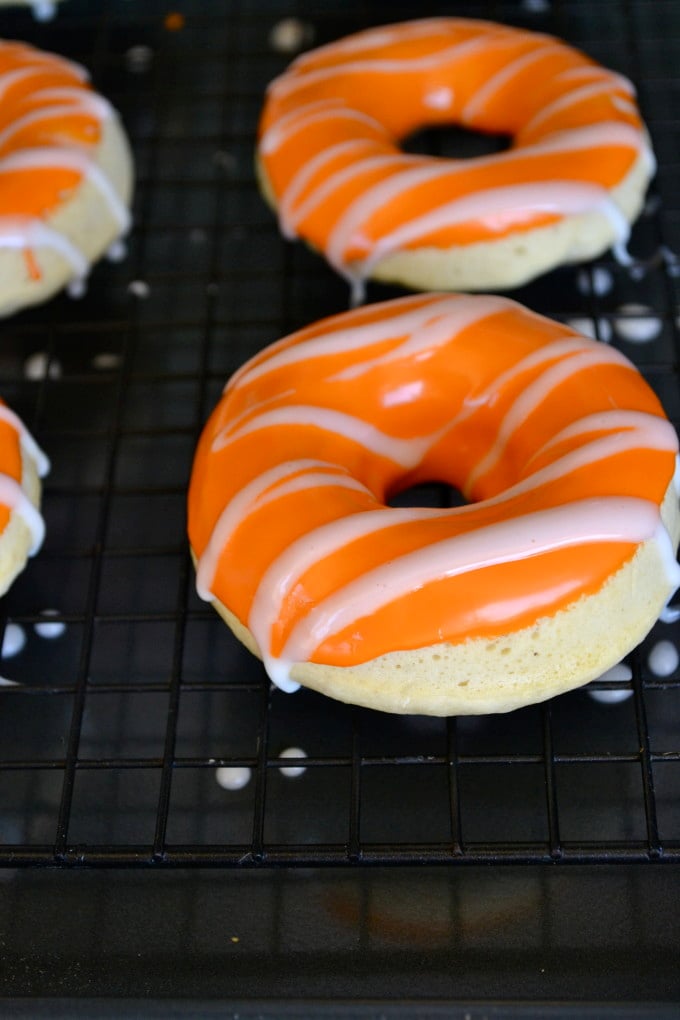 Birds eye because….
Luckily this recipe only makes 6 donuts… the perfect amount for a quick breakfast, snack, dessert…..
Enjoy!
Print
Baked Orange Creamsicle Donuts
---
For the Donuts:
1 c all-purpose flour
6 tbsp white sugar
1 tsp baking powder
1/2 tsp salt
6 tbsp buttermilk
1 egg
1/2 tsp vanilla extract
1/2 tsp orange extract
1 tbsp butter, melted
For the glaze:
1 cup powdered sugar
1 tablespoon orange extract
1/2 teaspoon vanilla extract
1–2 tablespoons water or milk
orange food coloring
---
Instructions
Preheat oven to 325 degrees. In a medium bowl, combine all donut ingredients and stir just until evenly combined. Scoop batter into a large ziplock bag and cut the corner off to pipe into your donut pan. Bake donuts for 8-11 minutes or until donuts spring back and touched with your index finger. These do not brown so don't wait for that!
In a small bowl combine icing ingredients. You will need to gauge how much water/milk to add just until it is thin enough to stick to the donut but thick enough to coat the donut like in the photos above. Once icing is made, turn donut upside down into glaze and dunk until halfway submerged. Remove and let some icing drip off then flip right side up on a cooling rack.
If you want the white glaze drizzle, combine 1/4 cup powdered sugar and 1-2 teaspoons of water and drizzle over the orange layer.
We are participant in the Amazon Services LLC Associates Program, an affiliate advertising program designed to provide a means for us to earn fees by linking to Amazon.com and affiliated sites.