Baked Whole Wheat Powdered Donuts
Lets talk about guilty pleasures.  Lets talk about that thing you see in the store or the gas station that you know has zero nutritional value but you must have it. NOW.  I have this love affair with Hostess Powdered Donettes.  In college I woke up my fair share of Sunday mornings to a bag of them by my bed for a little breakfast treat.  But as I "grow up"  I have learned this habit can be slightly unhealthy, and now that I rarely find myself at Chevron at 2 AM, I miss my sweet little friends.  Alas, as I was searching the internet for a whole wheat donut recipe, I found these gems at Salad in a Jar.   Now I won't go and say that these taste extactly like the Hostess delights, but  for a healthy version, the powedered coating surely satisfies my donette itch.  With a touch a nutmeg, these donuts get me quite excited for fall.  OH and did I mention they take about 20 minutes to make? sweet!!
First you gotta mix up your dry and wet ingredients.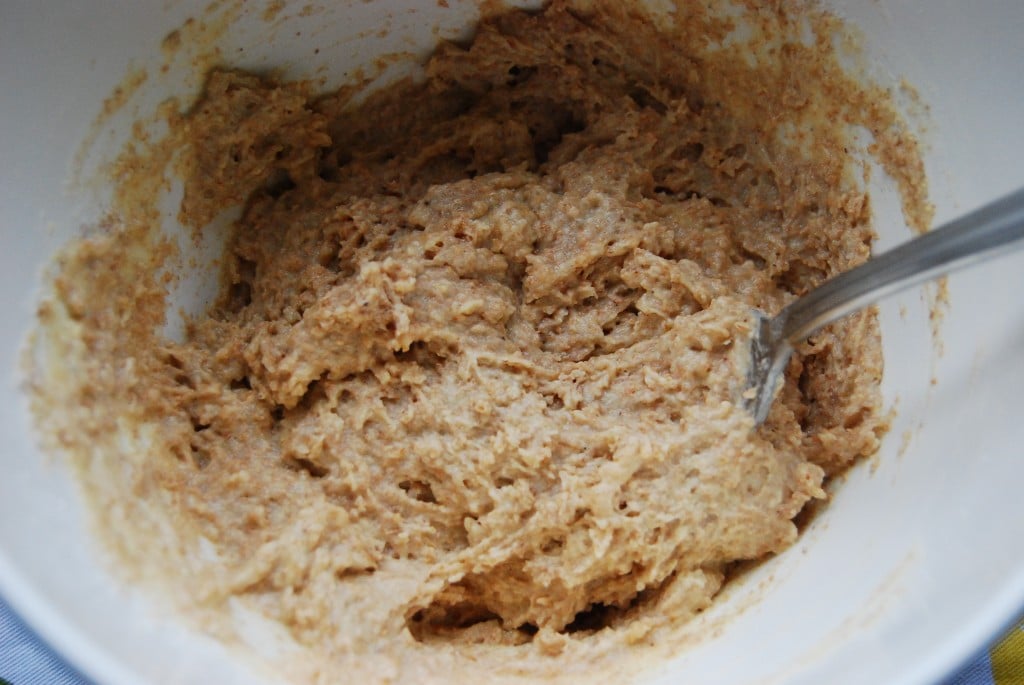 Once it is all mixed up,  scoop it into a zip loc bag.
Then cut the tip off, and get out your trusty, and greased, donut pan (I got mine at target).
Then fill the pan just about 1/2 – 3/4 of the way.
Then pop those babies in the oven for about 9 minutes.
Let them cool, and wait to powder them until right before serving.  When ready to serve, put a cup of powedered sugar in a large zip-loc bag and toss them in!
Enjoy!!
Print
Baked Whole Wheat Powdered Donuts
---
1 cup white whole wheat flour or unbleached all-purpose flour
1/3 cup sugar
1 teaspoon baking powder
1/4 teaspoon baking soda
1/2 teaspoon salt
1/8 teaspoon nutmeg
1/3 cup fat-free milk
1/4 cup plain fat-free Greek yogurt
1 egg
2 tablespoons canola or vegetable oil
1 teaspoon vanilla extract
---
Instructions
Preheat oven to 350 degrees, and grease donut pan with cooking spray. In a medium bowl, mix together flour, sugar, baking powder, baking soda, salt and nutmeg. In a separate bowl mix together the rest of the ingredients. Combine the wet ingredients to the dry and mix until just combined. Spoon batter into pastry bag or quart-size zippered plastic bag. Seal. Snip small corner of plastic bag and squeeze dough out of hole in a rope that encircles each doughnut cup. Fill only 1/2 to 3/4 full or you will lose the hole in the middle of your doughnut.
After removing from the oven, immediately flip pan and dump doughnuts out on a cooling rack. Allow to cool. Just before serving, put donuts in a plastic bag with about 1 cup of powdered sugar. Seal bag with doughnuts inside and shake to coat. Leftover donuts will absorb the sugar and need to be recoated if you want them to be white.
Recipe adapted from Salad in a Jar
We are participant in the Amazon Services LLC Associates Program, an affiliate advertising program designed to provide a means for us to earn fees by linking to Amazon.com and affiliated sites.