Jerk Steak Tacos
Who is ready to FIESTA with these Jerk Tacos!?  I can't even begin to tell you how badly I have been craving a margarita lately so we will just skip over that and go right into tacos!!  If I can't have that sweet liquid gold at least I can have the tastiest jerk steak tacos of life.  I mentioned this when I posted my Steak Marsala recipe recently but I have so few steak recipes on this blog it is appalling.  But since we have been using Butcher Box we have been grilling up a steak about once a week and always thinking of new ways to enjoy the stuff.  The steaks we have gotten from Butcher Box have been so incredible – I didn't realize the quality was sooooo important to the final taste!  When Matt first started grilling their stuff I thought, wow Matt has gotten REALLY GOOD at cooking meat.  And while he definitely know how to grill a steak, I think the fact that its perfect every time with Butcher Box steaks says a little something to their quality.
If you don't know, Butcher Box steaks are 100% grass fed and grass finished, their chicken is free range and organic and their pork is heritage breed. Basically the highest quality meat you can find – oh and it gets delivered frozen to your doorstep, making it the perfect option for these Jerk Tacos.  To be honest I wasn't very good about getting high quality meat before because it was kind of an after thought at the grocery store.  Now that this box arrives and my freezer is always stocked, we can just worry about the veggies and other store items when we grocery shop!
A question I get asked a lot about Butcher Box is how long it lasts us.  I wish there was an easier answer but this totally depends on your family!  A serving for me looks different than a serving for Matt and if you have kids that will change things too.  When you go to order the box you can decide what kinds of meat you want in it, how many servings you want and how often you want to get one.  I always say to guesstimate to start off them you can go back and adjust your order.  The good news is you can't really order too much because it stays in your freezer anyways!  So click here to get your order in, then come back and make these JERK TACOS!!
Jerk Seasoning is my new fave flavor and mixing it with some pineapple salsa was the best decision I have had in awhile!
You can lettuce wrap these if on Whole30, use Siete tortillas if going grain free, or use tortillas like this that are my fave – half corn half wheat from la tortilla factory!
Here are a few other recipes to round these tacos out and make a full meal:
Fiesta Salad with Salsa Vinaigrette
Raw & Grain-Free Toasted Coconut & Blueberry Tart
Pin the image below to save these Jerk Steak Tacos for later!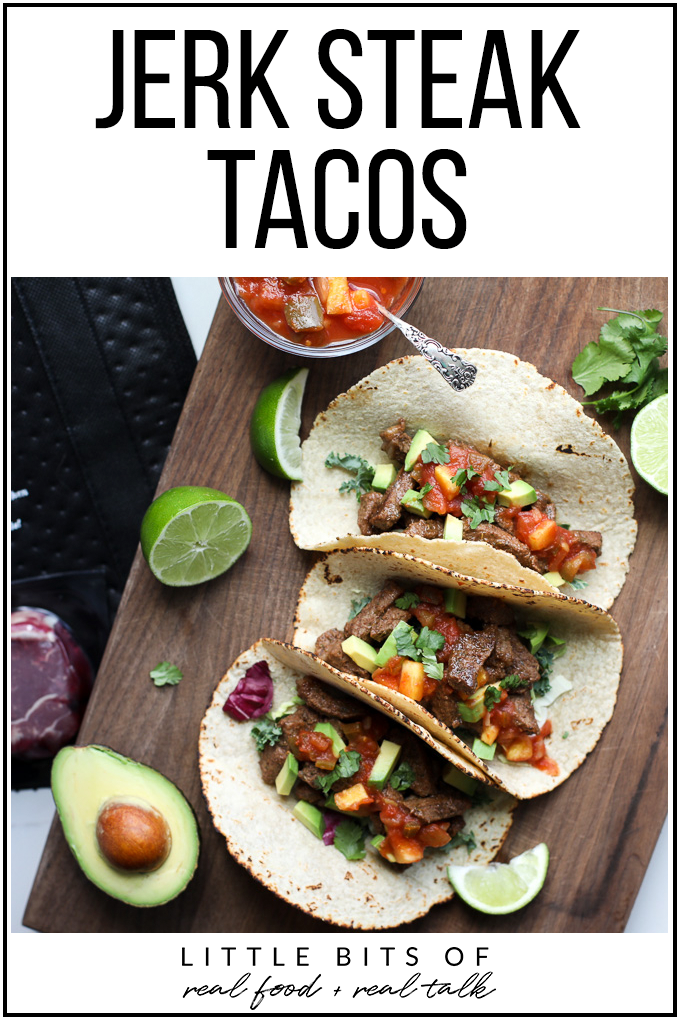 Nutrition for Jerk Steak Tacos:
As you can see on the nutrition facts label, this recipe actually provides 34% your RDI for Folic Acid!!!  Most people recognize folic acid as an essential nutrient for Pre-Natal health.  However it has many other benefits like: helping the body produce and maintain new cells, specifically red blood cells which are required to filter and produce oxygen! Hello— now you can breathe… Also Folic Acid helps lower Homocysteine levels; high levels of homocysteine are associated with higher risks of atherosclerosis, stroke, colon cancer and Alzheimer's disease.  When you don't consume enough Folate (folic acid) the deficiency is known as anemia in both adults and children.
Print
Jerk Steak Tacos
---
10–12 oz. strip steak
1 tablespoon jerk seasoning
1 tablespoon lime juice
1 tablespoon coconut aminos
pinch of salt
1 tablespoon olive oil or avocado oil
1 cup of your favorite salsa
½ cup chopped pineapple
Tortillas of your choice
Avocado to garnish
Cilantro to garnish
Squeeze of lime to garnish
---
Instructions
Slice strip steak into bite size strips and place in a bowl. Add jerk seasoning, lime juice, coconut aminos and a pinch of salt.  Mix together with your hands to coat steak evenly. Cover with foil and place in the fridge to marinate for 1-3 hours.
Once the steak is done marinating, place a cast iron skillet over medium heat.  Add oil to the pan once it is hot and then add steak strips.
Cook steak for about 1-2 minutes per side depending on how big your strips are and how much you like them to be cooked.  Remove from heat and cover.
In a small bowl combine salsa and pineapple.
To assemble tacos, heat up your tortillas then add steak, a scoop of salsa, avocado, cilantro and a squeeze of lime.
Makes about 4-5 tacos, the recipe can be multiplied!
We are participant in the Amazon Services LLC Associates Program, an affiliate advertising program designed to provide a means for us to earn fees by linking to Amazon.com and affiliated sites.