Honey Mustard & Onion Dip
Have you even imagined what your favorite cracker would be like in a dip form, well this Honey Mustard & Onion Dip is the perfect example.
We all have those addicting chips or crackers that as much as we want to have self control and the ability to just have a small little helping of them, we some how turn into a complete lunatic and end up finishing the bag in a single sitting. The Hanover Honey Mustard & Onion bag are those for me, the absolute achilles heel when it comes to limiting my snacking. I cannot remember when they become my gateway drug to finishing a bag but somewhere along the way I realized my very unhealthy addition to them. So when I randomly had them the other day and was reminded how amazing this combo was I set out to try and make a healthy dip version of these. Your fingers will stay cleaner and they have much less processed stuff in the dip than the actual cracker, win/win in my book.
The simplicity of this recipe will have you making it weekly, the only kind of recipe type we all have time for these days. Just simply add all the ingredients to a bowl and mix well, then enjoy with any cracker, veggies, chip or heck some sourdough!
Need a few more appetizer recipes to share with friends and family, check below:
Sweet Sausage & Pumpkin Potstickers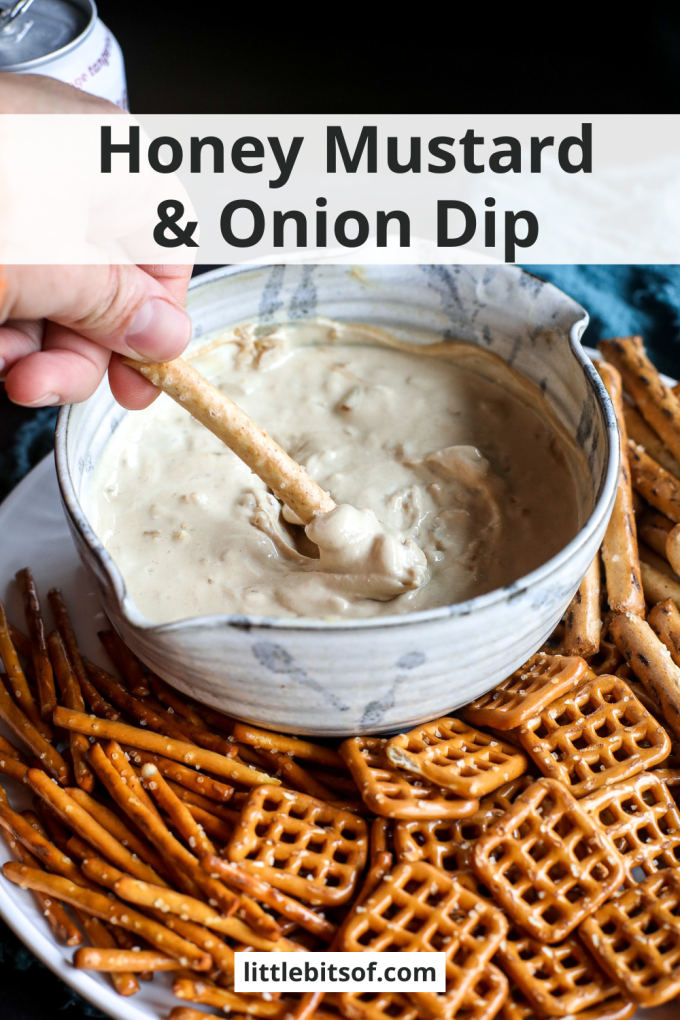 Print
Honey Mustard & Onion Dip
---
Description
This Honey Mustard & Onion Dip is so delicious and is just like the pretzel bits you love!
---
1/2 cup greek yogurt
1/2 cup sour cream
1/4 cup dijon mustard
2 tbsp honey
1 packet lipton onion soup mix
---
Instructions
Combine all ingredients together in a bowl and serve with pretzels!
We are participant in the Amazon Services LLC Associates Program, an affiliate advertising program designed to provide a means for us to earn fees by linking to Amazon.com and affiliated sites.