Herb Crusted Pork Tenderloin w/ Cranberry Chutney
This is the Thanksgiving dish DREAMS are made of!! I am a big fan of having an extra meat on the table on top of the turkey because if you have a big group you need a BIG turkey to feed everyone and have leftovers. This also goes for a Friendsgiving!  I absolutely love the concept of a Friendsgiving. Both because it brings you together with your besties, but also because you get to eat Thanksgiving dinner twice!  I always thoroughly enjoy this meal and think, why do we only do this once a year?!  So many good dishes and everyone is stuffed and happy afterwards.   Matt and I hosted a Friendsgiving a couple of years ago and it was a blast! Especially because the wine is flowing and laughter is non stop.
So you can image my joy when my friends at Ralphs reached out to see if I wanted to attend a Friendsgiving with some fellow bloggers!  Jasmine, Britt, Nataly,  Maggie, Amber and I got together a couple of weeks ago to cook & eat – our favorite things!  We each made holiday dishes we love and got to enjoy them with each other in a beautiful venue.  The table was decked out in Anthropologie-like decor and it was so much fun!  I shop at Ralphs all the time – hello affordable & organic options – and they pulled out all the stops for this event!  Their Simple Truth line is so nice because they have tons of variety and it seems they have an organic option for everything in the store! I also love how affordable their Private Selection herbs are – I used Sage & Thyme in this recipe and they made it so flippin tasty.  – Check out a fun video of the event HERE!
The spread was beautiful!!
All of the herbs this fall! Can you tell I'm obsessed?
This post is sponsored by Ralph's Grocery! I was compensated and all opinions are 100% my own. Thank you so much for supporting Little Bits Of!
We have a few yummy other recipes for you to pair along with this Pork Tenderloin:
Balsamic Bacon Brussels Sprouts
Maple Thyme Roasted Sweet Potatoes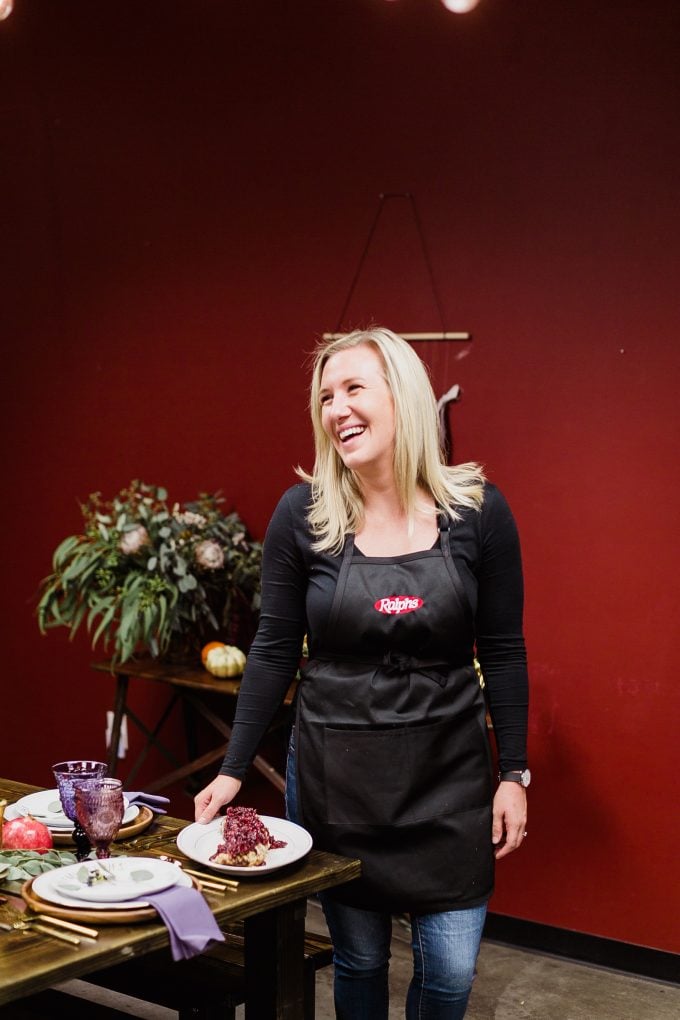 Pin it!!
Print
Herb Crusted Pork Tenderloin w/ Cranberry Chutney
---
1 pork tenderloin
1 egg white
½ cup almond flour
1 teaspoon dried sage
1 teaspoon dried thyme
Salt and pepper
Chutney:
3 shallots, coarsely chopped
1 tablespoon avocado oil
1 (12-oz) bag fresh cranberries
1/2 cup coconut sugar
3/4 cup orange juice
1 tablespoon apple cider vinegar
1/2 teaspoon salt
1/2 teaspoon black pepper
---
Instructions
Preheat the oven to 400 degrees. Whip an egg white in a bowl until slightly frothy. Place the pork tenderloin in the bowl with the egg white and toss to coat the pork. Dump out the excess egg. In a small bowl combine almond flour, sage, thyme, salt and pepper. Power almond flour mixture over pork and pat it down to coat.
Place a large skillet over high heat and add oil. Once pan is hot, add pork and cook for about 2 minutes on each side or until lightly browned. Then transfer pork to a foil lined baking sheet. Bake for 20 minutes, then remove and tent with more foil. Let sit for 10 minutes so juices rest.
While the pork is cooking start your chutney. In a medium sized saucepan add shallots and oil and cook for 5 minutes or until shallots are translucent. Then add cranberries, coconut sugar, orange juice and apple cider vinegar to the pan. Cook on medium high until cranberries start to burst and sauce thickens, about 10-15 minutes. Then season to taste and add a tablespoon more coconut sugar if it is too tart for you. Enjoy!
We are participant in the Amazon Services LLC Associates Program, an affiliate advertising program designed to provide a means for us to earn fees by linking to Amazon.com and affiliated sites.