Paleo Sesame Crackers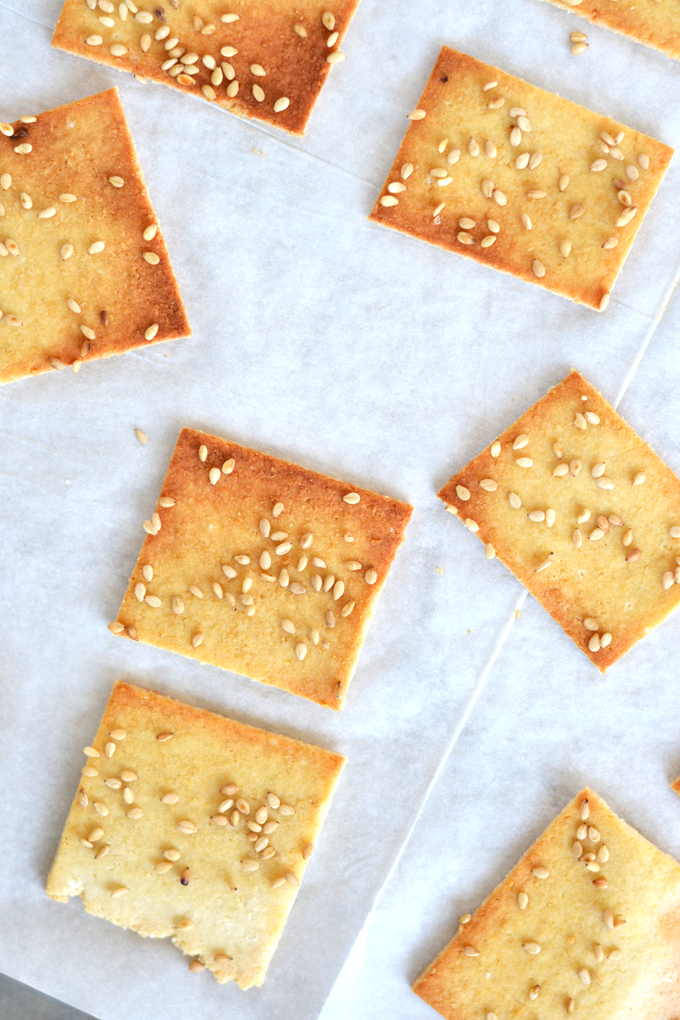 Party people!! My day was made on Sunday when I found a huge jar of Toasted Sesame Seeds
.  It was an amazing discovery because I was planning on buying a few of those little jars and toasting them myself.  The taste of sesame is one of my favorite things lately! Between tahini and these crackers I feel like I have been adding them to everything.  The inspiration for these actually came from the hubs! I was thinking of a paleo cracker and he said "OH OH! What about brushing them with coconut aminos like those tamari crackers at Trader Joes?"  UM OKAY THANKS BAE!  And these Paleo Sesame Crackers were born.
Best part of these babies? They are made from just a few ingredients! Almond flour, a egg white, salt, sesame seeds and Coconut Aminos
!  I cooked them until they were browned and crispy and served them with this ridiculously good Asian Guacamole I am sharing later this week.  I'm so excited for all of the possibilities with these crackers too.  I plan on making all kinds of flavors so our cracker options can be nice and clean for all occasions!
ALSO – news!  I just locked down a few more amazing partnerships for the blog! I am so freaking excited to share more brands I love with you and am so grateful to have you here, reading and supporting my dreams!  Creating recipes for you guys makes me so happy and feels like what I am meant to do in this life.  That being said, are there any recipes that you are hoping to see here?  I love all recommendations!  Quick meals? Healthy desserts?  Slow Cooker Chicken? MORE PALEO CRACKERS? 🙂
And yes they actually get crispy!
Just roll them out and slice with pizza cutter!  Sesame Crackers can come in all shapes and sizes!
Pin it!!
Print
Paleo Sesame Crackers
---
1 cup almond flour
1 egg white
⅛ teaspoon salt
½ teaspoon coconut aminos
1 teaspoon toasted sesame seeds
---
Instructions
Preheat the oven to 325. Combine the almond flour, egg white and salt together until you form a ball of dough. Place dough on a piece of parchment paper and put another piece on top of that roll the dough out to about 1/8 inch thick or thinner if you want really crispy crackers. Remove the top piece of parchment paper and place the bottom piece on a cookie sheet. Pour coconut aminos on top and spread around with your hands to coat.
Cut the dough with a pizza cutter into whatever size cracker you prefer. Sprinkle sesame seeds on top. Bake for 12-15 minutes, or until golden brown, the thinner the cracker, the less time you bake it for.
We are participant in the Amazon Services LLC Associates Program, an affiliate advertising program designed to provide a means for us to earn fees by linking to Amazon.com and affiliated sites.