French Onion Chex Mix
Fun fall twist on a classic, get ready to make French Onion Chex Mix, the combo you didn't know you needed.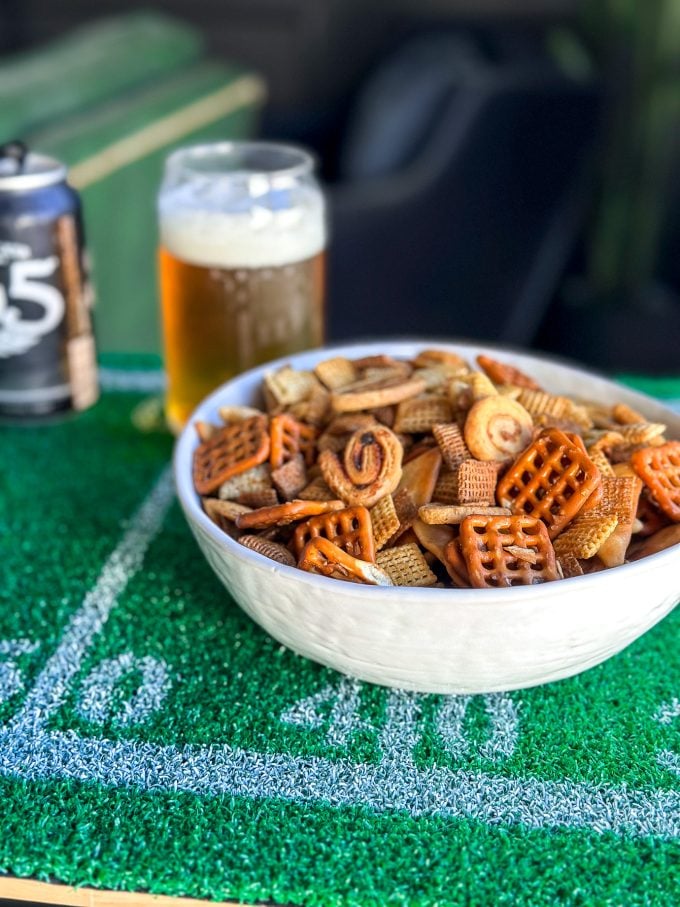 Football Friday Week 6
For some odd reason Chex Mix is usually only made around my house during the Christmas Season, which truly is CRIMINAL. Why do I not have bags of it hanging around my house year round; oh right it is the most addicting snack ever. Since it's week 5 of Football Foods these French Onion Chex Mix was the perfect addition to the series.
Another simple recipe that can be double or tripled depending on how big a party you are throwing or how long you want to keep them in your kitchen and snack. After soo many years of making Chex Mix the best way to make sure seasoning gets evenly distributed is to make sure you add it two separate times. In the past when I have tried to drizzly the melted butter and seasonings in at once it never fully covers all the Chex cereal and pretzels. Feel free to also use two big bowls if you don't have one giant one to mix all together. (I have also been known to use a brown paper bag to fully combine everything and give a good shake.)
Let me know what you think about the French Onion Chex Mix and if you have any other ideas or flavored Chex mix, I'm all ears!!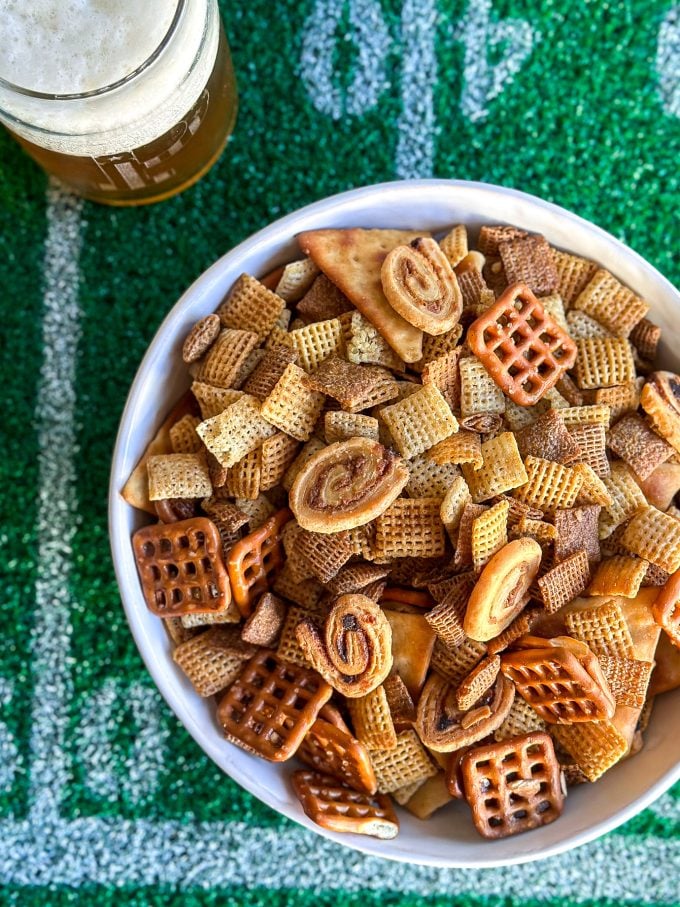 How flexible are the types of crackers and things I use?
100% flexible! Use any mix of Chex Mix you like. Gluten Free cereal can also be used if thats what works best for you. Also feel free to try different pretzels that you find.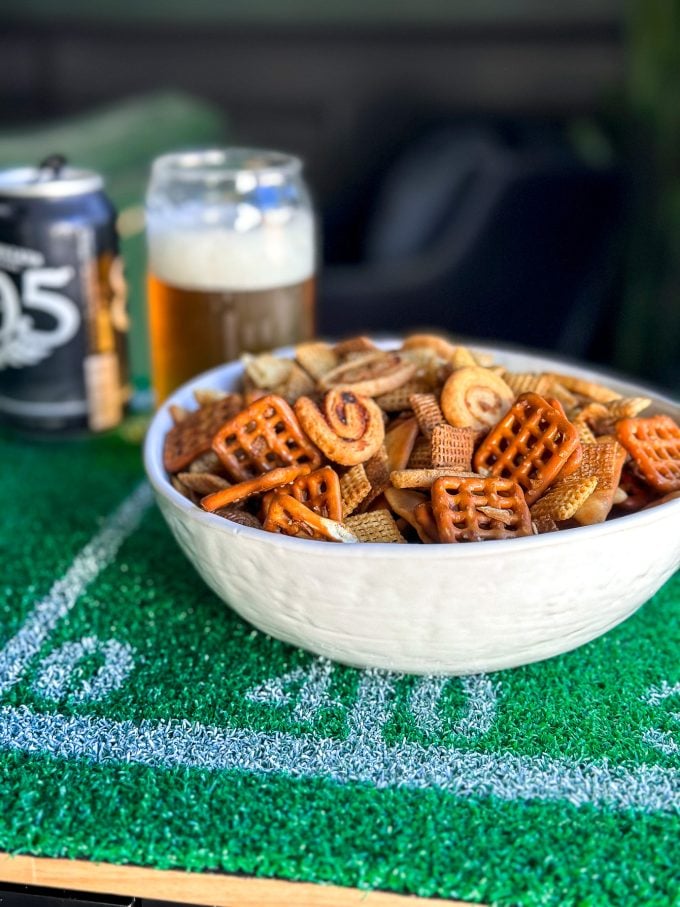 We all know that there is no such things as too many dips and crackers at any party, here are a few more to try: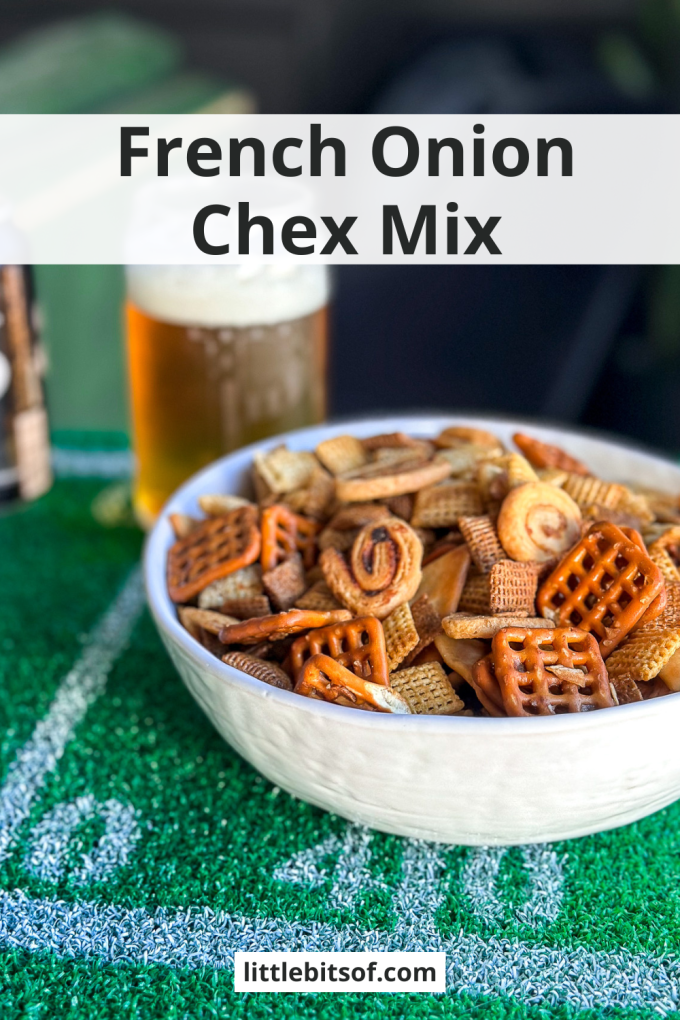 Print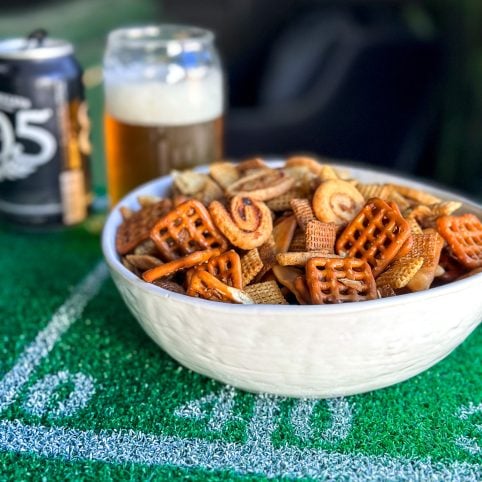 French Onion Chex Mix
---
Description
This French Onion Chex Mix is perfect for snacking at any occasion!
---
3 cups Corn Chex cereal
3 cups Rice Chex cereal
3 cups Wheat Chex cereal
2 cup pretzel snaps
1 cup pita crackers
1 cup onion confit swirls (or just do 2 cups of the pita crackers)
12 tablespoons butter or margarine
3 tablespoons Worcestershire sauce
1 packet lipton french onion soup mix
---
Instructions
Heat the oven to 250°F. Line 2 rimmed baking sheets with parchment paper.
Make the seasoning mixture. Place 12 tablespoons unsalted butter in a medium, microwave-safe bowl. Microwave for about 40 seconds or until melted. Add 3 tablespoons Worcestershire sauce and the onion soup packet and whisk well to combine.
Place Corn, Rice and Wheat Chex in a large bowl or roasting pan along with pretzel snaps, pita crackers and onion confit swirls.
Pour half of the butter mixture over the Chex mixture and gently toss to coat. Pour in the remaining butter mixture and gently toss again so all the pieces are coated in butter.
Transfer the mixture onto the prepared baking sheets and spread into an even layer. Bake, stirring every 15 minutes, until lightly browned and crisp, 45 to 50 minutes total. Let cool for 10 minutes on the baking sheets before serving.
We are participant in the Amazon Services LLC Associates Program, an affiliate advertising program designed to provide a means for us to earn fees by linking to Amazon.com and affiliated sites.