Citrus Garlic Shredded Beef Tacos (instant pot)
The instant pot tuns this Citrus Garlic Shredded Beef Tacos into the perfect weeknight dinner.
This Citrus Garlic Shredded Beef is so tender and flavorful thanks to lots of orange and of course my instant pot!  If you haven't gotten on the instant pot game, I highly recommend. It saves the day when I want that low and slow fall apart meat but am short on time… aka always.  I love making a batch of shredded beef, pork or chicken to have on hand because it is delicious in so many dishes!  I put this beef in tacos but the meat itself is whole30 compliant and great to throw on a salad, on cauliflower rice, or even on a baked sweet potato.  It is super versatile and thanks to pressure cooking, it is super tender in just an hour.
As easy as this recipe is to come together you will need a few more items to turn this into a perfect dinner. You need homemade tortillas, these are the perfect base for the shredded beef tacos and you will never go back to store bought tortillas. Something amazing will have to be served with the taco and a fiesta salad is exactly what is called for. Lastly you need the perfect margarita to finish the whole meal off.
Can I make this in a crockpot?
Yes. This transfers wonderfully into the crockpot. For the perfect shredded beef in the crockpot you will want to follow the first two steps in the recipe. Next you will need a skillet to sauté the oil and onions and sear the beef for a few minutes on each side. While the beef is searing grab your crockpot and add the orange juice, beef broth and tomato paste and mix. When the beef has been seared, pour the beef and the sautéed onions into your crockpot. You can cook on low for 6-8 hrs, or high for 3-5 hrs.
What cut of beef is used for shredded beef tacos?
The best cut of meat will be a boneless chuck roast, also called a blade pot roast. It's from the shoulder area, it becomes tender and great for shredding after being cooked. If you have a bone in that would work as well, just be sure and remove the bone after cooking but before serving.
What toppings go with shredded beef tacos?
So many things can be added to the topping of these tacos. Shredded lettuce, cotija cheese, jalapenos, tomatoes, olives, salsa, guacamole, onions, cilantro and a squeeze of lime just before serving.
Nutrition for this Citrus Garlic Shredded Beef:
When you make this recipe you are going to find that it just falls apart in your mouth!  One of the main reasons for this is from using fruit juice in the pressure cooker with the meat. Along with adding extra flavor for this recipe, the orange juice is a natural meat tenderizer.
Meat consists of muscle and connective tissues that are made up of proteins and to tenderize the amino acids need to break down. Learning Lesson: The enzymes found in fruits can speed up or catalyze the breakdown of proteins into amino acids (and add a ton of flavor) so if you are working with a tough piece of meat, freshen it up with some fruit in your marinade! Food is SCIENCE!
Tacos Tacos Tacos we all love Tacos, so here are a few more recipes:
Baked Mahi Mahi Tacos w/ Lime Crema
Chipotle Beef Tacos with Mango Lime Salsa
Taco Turkey Burger with Mango Guacamole
Pin the image below to save this Citrus Garlic Shredded Beef Taco recipe for later!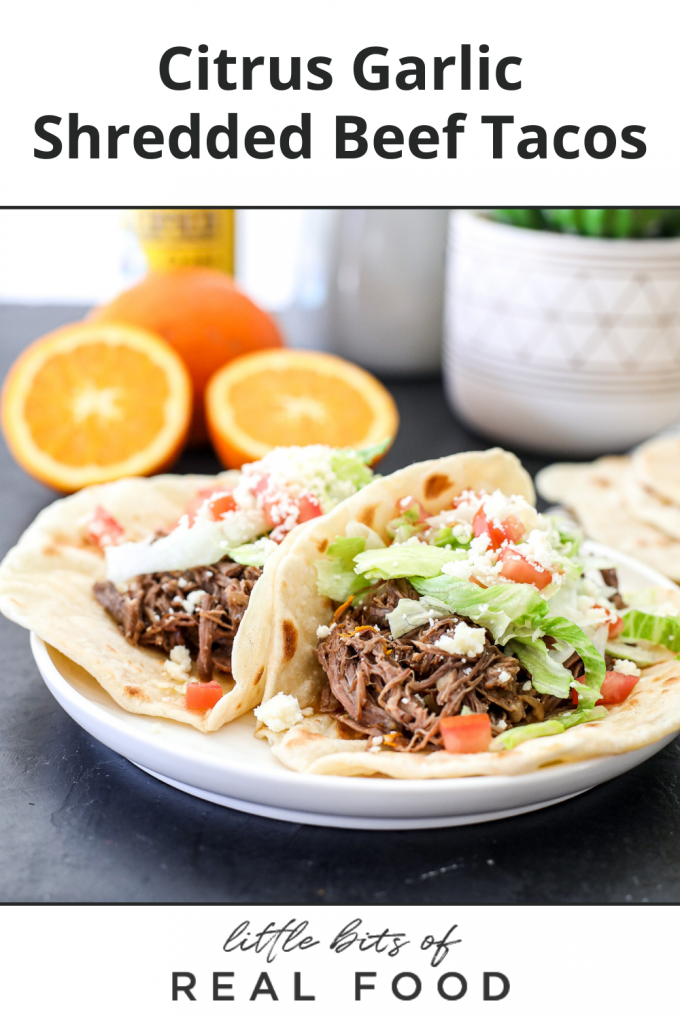 Print
Citrus Garlic Shredded Beef Tacos
---
Description
These Citrus Garlic Shredded Tacos are so easy to make and a staple for a weeknight taco recipe!
---
1 teaspoon cumin
1 teaspoon garlic powder
½ teaspoon onion powder
½ teaspoon chili powder
¼ teaspoon paprika
1 teaspoon salt
3 pounds chuck roast
1 tablespoon oil
1 cup chopped onion
1 tablespoon minced garlic
½ cup orange juice
1/2 cup beef broth
1 tbsp tomato paste
1 teaspoon orange zest
Salt
---
Instructions
1.In a small bowl combine cumin, garlic powder, onion powder, chili powder, paprika and salt.
2.Chop chuck roast into about 4-6 large cubes.  Rub spice mixture all over the meat.
3. Meanwhile, turn the instant pot on saute and let it get warm.  Add oil the pot then add in onion and garlic. Saute onion and garlic for about 1 minute, stirring a few times.
4. Add in beef and sear on each side for about 30 seconds a side then remove and set aside.
5. Turn off instant pot, add in orange juice, beef broth and tomato paste, stir to combine and add back in the beef.
6. Then place the lid on and make sure the knob is on sealing.
7. Turn the instant pot on manual high pressure for 60 minutes.
8. When it is done cooking, let it naturally release pressure for 5 minutes, then turn the knob to venting to release the rest of the pressure.
9. Remove all of the meat to a baking sheet and shred it with 2 forks.  Scoop about a cup of the liquid in the instant pot over the shredded beef, then add orange zest and toss to combine.  Season with salt as needed and feel free to add more liquid if you would like!
We are participant in the Amazon Services LLC Associates Program, an affiliate advertising program designed to provide a means for us to earn fees by linking to Amazon.com and affiliated sites.