Homemade Flour Tortillas (with butter)
These Homemade Flour Tortillas are super easy to make with just flour, butter, water and salt!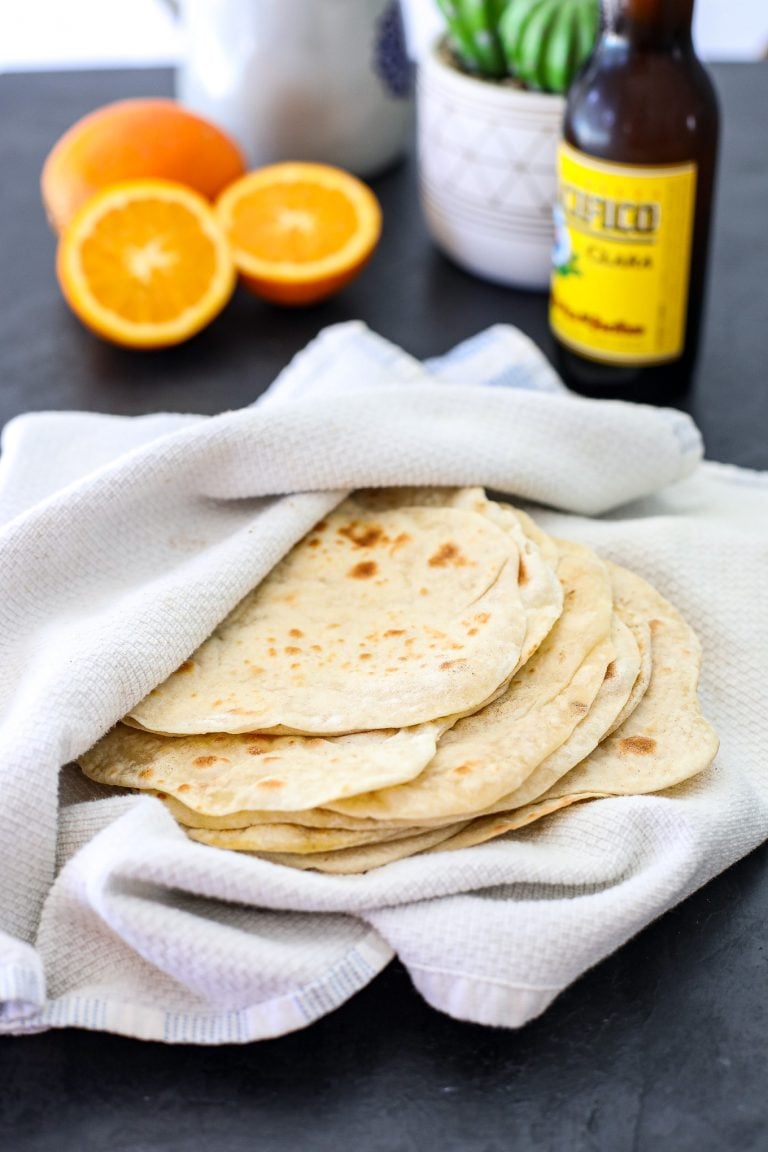 Making tortillas from scratch might have changed my life a little.  Will I buy them every again? Probably.  But these homemade flour tortillas are so drastically better than any you can buy in a store that I just don't want to go back to generic!  You might have a few questions about these so let me get you started.
Do you need any fancy equipment to make tortillas?
Nope! You can use a mixer with a dough hook if you wanted but it is absolutely not necessary. I have made them both ways and can tell you it's just as easy to do it in a regular bowl.  You also might think you need a tortilla press but you don't.  Tortilla presses can be great for corn tortillas and help make the dough flat, but this dough is so easy to roll out and you can't get it as thin as it should be with a tortilla press anyways.
How do you make Flour Tortillas?
All you have to do is combine flour, butter and salt, then slowly add in water until the dough forms.  Because there is no yeast you don't have to wait hours after that, just 20 minutes!  Then you roll the dough into rounds, cook for 1 minute per side on the stove top and you are done.
Can you use oil instead of butter?
You can!  You can also use shortening or lard but my favorite way is to use butter.
Do you need a special type of flour to make Flour Tortillas?
Nope – just regular all purpose flour is all you need!
Can you make the dough ahead of time?
Yes! You can make the dough up to 5 days ahead of the time you want to roll out and cook them.  You just need to let the dough come to room temperature before rolling them out.
What should you put on a Flour Tortilla?
The possibilities are endless but here are some of my faves:
Salted butter.  TRUST!
Butter and cinnamon sugar
Peanut butter
Cheese – quesadillas are incredible with these
Tacos!!

Any basic meat + taco seasoning combo!
Pin them image below to save this Homemade Flour Tortillas (with butter) recipe for later!
Print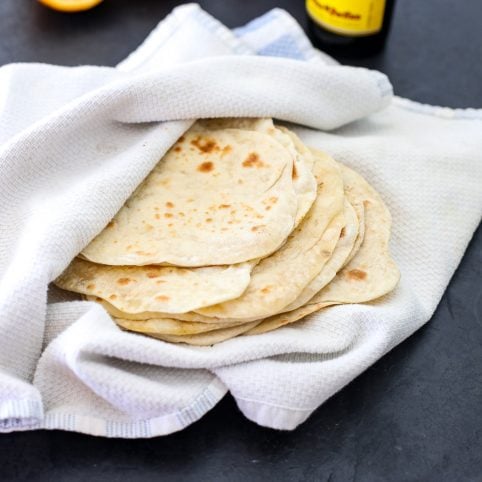 Homemade Flour Tortillas (with butter)
---
Description
These Homemade Flour Tortillas are super easy to make with just flour, butter, water and salt!
---
3 cups (360 grams) all purpose flour
1/3 cup (76 grams) room temperature butter
1/2 tbsp salt
1 cup room temperature water
extra flour for rolling
---
Instructions
In a bowl combine flour, butter and salt.
With a rubber spatula or in a mixer with a dough hook, press the butter into the flour, stirring to combine and disperse the butter.
Slowly add water to the mixture, about 1/4 cup at a time.
When you have added all of the water, the dough should come together and be a bit shaggy.
Dump that out onto your counter or a cutting board and knead it for a minute to bring it all together and combine in all of the flour.
Once dough has come together, wrap it in plastic wrap and let sit for 20 minutes so the gluten can relax.
When the dough is ready, sprinkle a light flour on your work surface and remove the dough from the wrap.
Divide the dough into 12 pieces for large tortillas and 18 pieces for medium (this is the size I did in the photos). Take each piece and roll them into balls.
Sprinkle some more flour down before rolling each ball out.  You want them to be pretty thin so you can see through it slightly.
Place a pan over medium high heat. Any pan should work for this but I prefer to use a cast iron skillet.
Once the pan has preheated for a few minutes, spray it lightly with a little bit of oil (not too much or they will fry).
Try to brush off the excess flour on the tortilla before adding it to the pan. Cook for about 45-60 seconds them flip over.  You just want to see some small brown spots, don't leave it too long or it will not be pliable!
Cook them one at a time and store in a hand towel or tortilla warmer until you are ready to eat!
Notes
This dough can be made ahead of time and stored in plastic wrap (wrapped up tightly) in the fridge for up to 5 days.  When you want to use the dough, let it sit out and come to room temperature before continuing to roll them out as instructed.
If you don't eat all of the tortillas, place them in an air tight container and store them in the fridge for up to 4 days.  Reheat in the microwave in a slightly damp paper towel for 10 seconds, or reheat on the stovetop.
We are participant in the Amazon Services LLC Associates Program, an affiliate advertising program designed to provide a means for us to earn fees by linking to Amazon.com and affiliated sites.