Charred Brussels Sprouts & Corn Salad
This Charred Brussels Sprouts & Corn Salad is a delicious and simple side dish that uses Seasonal September Produce!
I saw a video the other day talking about seasonal produce for September and two things popped off the screen to me: Brussels Sprouts and Corn! I wanted to combine the two because I typically think of corn as a summer thing and brussels sprouts as a fall veggie.  September is the perfect transition month where it's almost fall but it's still hot outside and you are just confused and also celebrating everyones birthday that you know!  So this side dish is a seasonal produce treasure that is not only super simple to make but perfectly balanced with sweet corn and salty veg all charred on a pan to bring out their unique flavors.  And obviously I added feta because everything is better with a little crumbled cheese!  You can totally leave it off if you are a dairy free person and it's still amazing though.
So how healthy are brussels sprouts?
Very healthy!! In just 1/2 cup of brussels sprouts there are 2 grams of protein, 2 grams of fiber, 91% of your vitamin K, 53% of Vitamin C and 12% of your daily Folate!  They also can reduce inflammation and did I mention delicious??
If you think of brussels sprouts and shiver you are probably thinking about steamed brussels or something terrible like that. Getting that char on a brussels sprout is essential! Then adding some salt, garlic and lemon will just make them so tasty and perfect.  So the gist is – you need to make this recipe!
Looking for more brussels sprouts recipes now? Look no further!
Shaved Brussels Sprouts & Kale Salad with Orange Shallot Vinaigrette
Balsamic Bacon Brussels Sprouts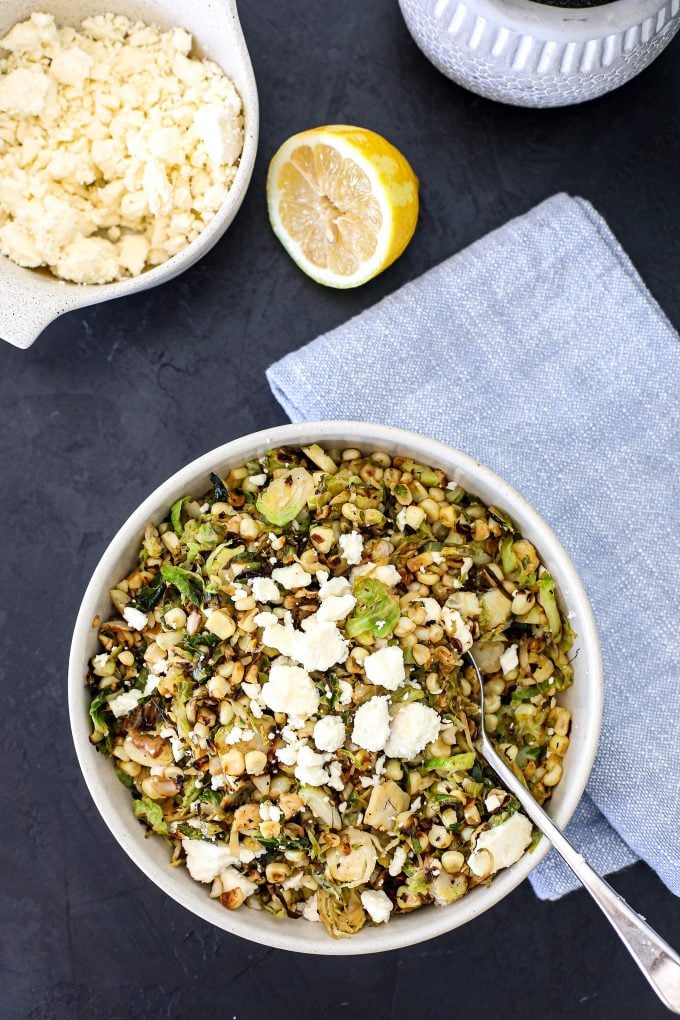 Pin this image below to save this Charred Brussels Sprouts & Corn Salad recipe for later!
Print
Charred Brussels Sprouts & Corn Salad
---
Description
This Charred Brussels Sprouts & Corn Salad is a delicious and simple side dish that uses Seasonal September Produce!
---
2 tbsp oil
1 lb Brussels sprouts, thinly sliced
2 cups corn
2 cloves garlic, minced
Zest of 1 lemon
Juice of ½ large of 1 whole small lemon
Salt & pepper to taste
¼ cup crumbled feta cheese
---
Instructions
Place a pan over medium heat and let it preheat for 5 minutes.
Add oil to the pan and wait another minute, then add in brussels sprouts and corn. Stir to coat with the oil then let cook for 5-7 minutes, stirring occasionally.
Make a small well in the middle and add another dash of oil then add in garlic and let cook for 30 seconds before stirring together.
Cook veggies for 3-5 more minutes until there is a nice brown charred color on them.
Add in lemon zest and juice then season to taste with salt and pepper.
Place veggies in a serving bowl and top with feta cheese.
We are participant in the Amazon Services LLC Associates Program, an affiliate advertising program designed to provide a means for us to earn fees by linking to Amazon.com and affiliated sites.