Shaved Brussels Sprouts & Kale Salad with Orange Shallot Vinaigrette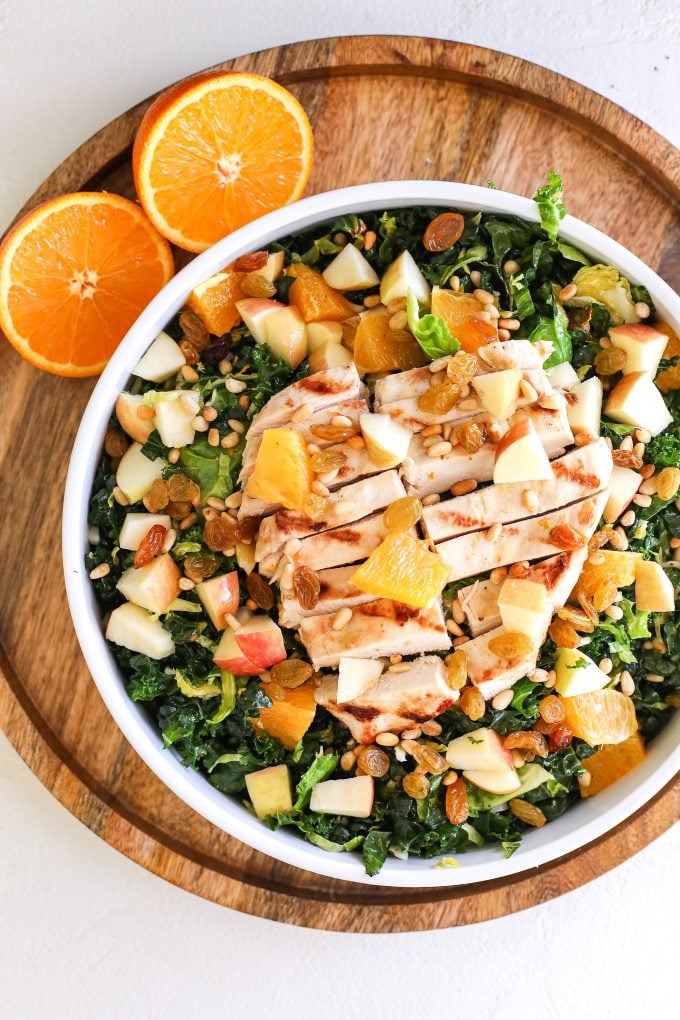 Happy April! I am so excited about this month for two reasons – 1 is that it's my birthday on the 23rd! And 2- it's Earth Day on the 22nd and I have a fun challenge for you!  Over the next couple weeks, the recipes that come out will all come together to make a delicious meal comprised of wonderful food from our earth that we will make together on Earth Day.  Bonus points if you grow any of this stuff yourself but I am not there yet.  This Shaved Brussels Sprouts and Kale Salad with Orange Shallot Vinaigrette is a salad packed with flavor and all kinds of toppings which is my favorite. The base is brussels sprouts that I thinly sliced and mixed with kale. That is coated with an orange shallot vinaigrette that both serves as a dressing and a marinade for the chicken.  After marinating the chicken it goes on the grill for a quick cook, then top with oranges, apples, golden raisins and pine nuts!  I left this dairy free but adding goat cheese would be a solid choice too.
Make sure you are on my email list because I will be sending out an email on Sunday April 18th with the links back to all the recipes we will make, as well as a few activities you can do by yourself or with kids to celebrate the day.  This beautiful earth gives us so much and it deserves to be celebrated!  So stay tuned for all of the fun we have coming your way!
Grilled chicken is just the best!
Fiesta Salad with Salsa Vinaigrette
Superfood Salad with Vanilla Lime Vinaigrette
Pin the image below to save this Shaved Brussels Sprouts & Kale Salad with Orange Shallot Vinaigrette recipe for later!
Print
Shaved Brussels Sprouts & Kale Salad with Orange Shallot Vinaigrette
---
½ cup olive oil
3 tbsp white wine vinegar
¼ cup orange juice
2 tsp orange zest
2 tbsp finely chopped shallot
1 tbsp honey or maple syrup (optional)
2 tsp dijon mustard
Salt and pepper to taste
1 lb thin chicken breasts (either purchase thin or pound them)
3 cups shaved brussels sprouts
2 bunches kale, de-stemmed and thinly sliced
1 cup segmented orange
1 cup chopped apple
¼ cup golden raisins
¼ cup toasted pine nuts
---
Instructions
In a glass jar combine olive oil, white wine vinegar, orange juice, orange zest, shallots, honey, dijon mustard and salt and pepper and shake vigorously to combine. 
Pour ½ of that mixture into a large ziplock bag and add in chicken breasts, then seal the bag to let the chicken marinate for at least one hour but overnight is great!
When you are ready to cook, heat the grill to medium high heat and grill the chicken breasts for 4 minutes on each side, or until the internal temperature reaches 165 degrees.
You can either buy shaved brussels sprouts or thinly slice them yourself! Combine brussels and kale in a large bowl and toss with remaining vinaigrette. Toss to combine then massage the dressing into the greens for a minute. Sprinkle greens with a pinch of salt and toss again.
Pour greens into a serving bowl and top with the cooked chicken, orange, apple, golden raisins and toasted pine nuts.
*If you want you can add some goat cheese too!
We are participant in the Amazon Services LLC Associates Program, an affiliate advertising program designed to provide a means for us to earn fees by linking to Amazon.com and affiliated sites.