Apple Glazed Brussels Sprouts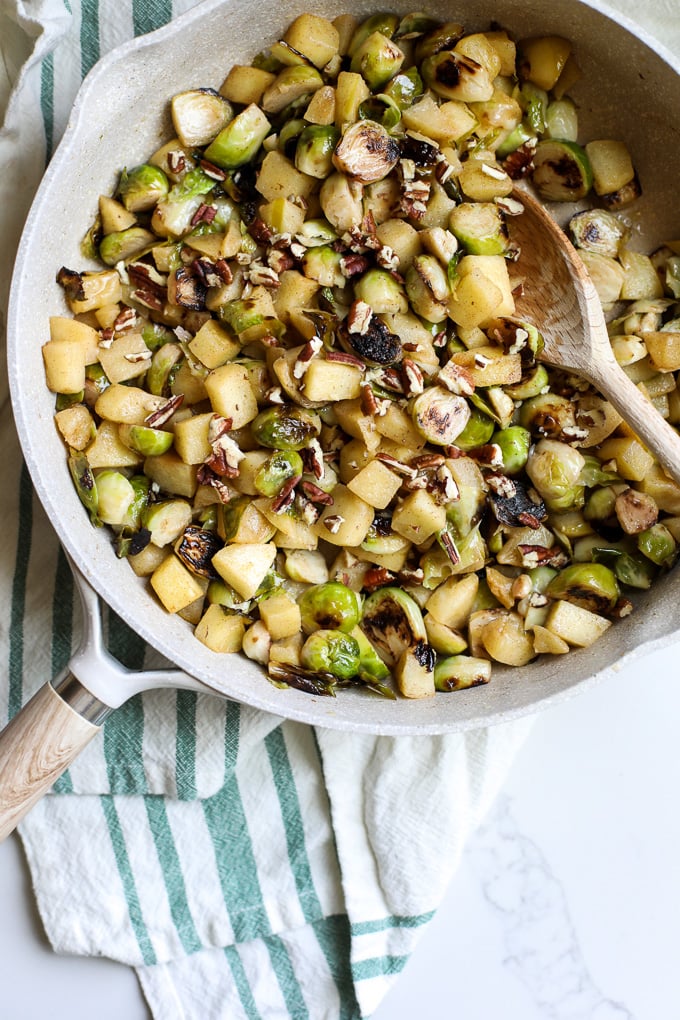 It is almost time for all the apples and brussels sprouts!! So why not combine them together with some butter and cinnamon?  I've heard before that things that grow together go together, so I love combining seasonal produce because it always works! And speaking of apple season coming soon, I have always wanted to go apple picking.  It isn't a common thing out in southern california but there are still some apple orchards around that do it and it sounds so wonderful! I am sure Ruth would love it too, yay for family outings!
So I have teamed up with Ocean Mist Farms once again to highlight their amazing produce, this time brussels sprouts!  Now we all know Ocean Mist is all about the artichoke game because they are the largest producer in the US, but they have way more than artichokes!  From brussels sprouts to broccoli to cauliflower to all the leafy greens – they do it all. Brussels Sprouts were my FAVE veggie and when I got pregnant I couldn't stomach any veggies especially brussels.  As my pregnancy went along I could eat greens in salads but still didn't love brussels like I used to – thank goodness that is over!! Now I am back to loving them and so happy about it. Do you love brussels too??
This post is sponsored by Ocean Mist Farms but the views are 100% my own!
Need more Brussel Sprout,  inspiration look no further:
Balsamic Bacon Brussels Sprouts
Grilled Pork Chops w/ Herb Apple Compote
Shaved Brussel and Spinach Salad with Apple Cider Vinaigrette
Pin the image below to save this Apple Glazed Brussels Sprouts recipe for later!
Print
Apple Glazed Brussels Sprouts
---
2 lbs. Brussels sprouts, trimmed and chopped in half
2 lbs. cooking apples (green), chopped
½ cup of butter
½ tsp. ground cinnamon
1 tsp.salt
Black ground pepper, to taste
¼ cup toasted pecans or walnut pieces (optional)
---
Instructions
Place a large saute pan over medium high heat and add 1 tablespoon of the butter.  Add in brussels sprouts and cook for 5-10 minutes until lightly browned and fork tender.
Remove brussels sprouts and set aside then add in the rest of the butter to the pan.  Add sliced apples and cinnamon, and saute until apples are fork tender about, 7 minutes. Add cooked Brussels sprouts to sauteed apples and season with salt and pepper to taste.
Continue to saute Brussels sprouts and apples until Brussels sprouts are heated through. Garnish with toasted pecans or walnuts and serve.
We are participant in the Amazon Services LLC Associates Program, an affiliate advertising program designed to provide a means for us to earn fees by linking to Amazon.com and affiliated sites.