Chai Spiced Protein Snickerdoodles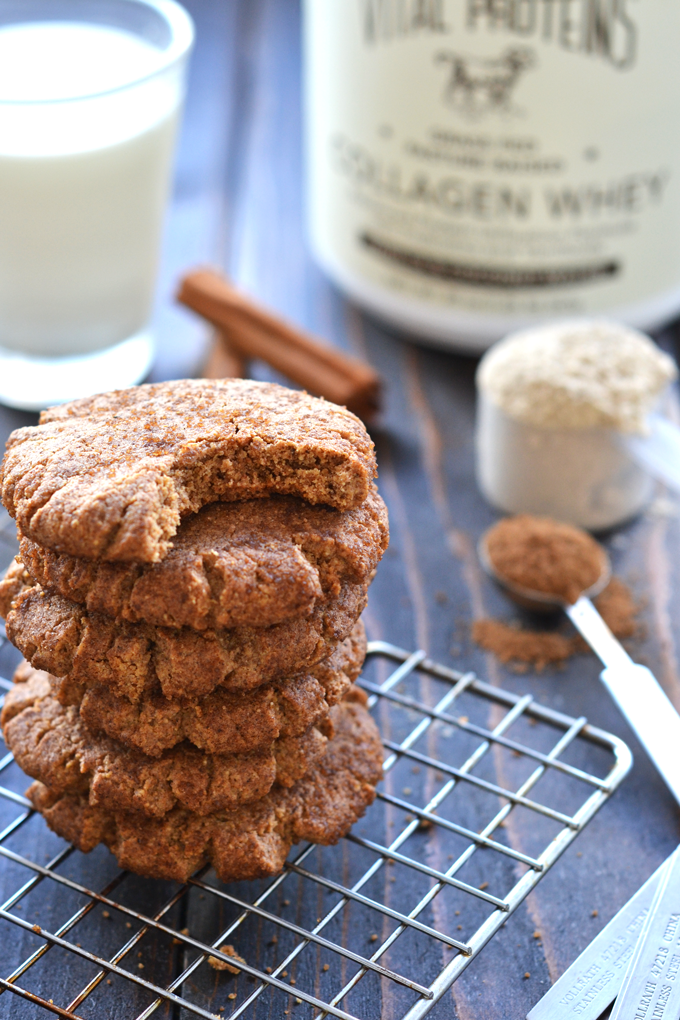 Fa la la la la la CHAI!  Okay so maybe you can tell now that I love Chai Spices.  I put them on brussels sprouts, in milkshakes, and now in cookies! Grain free, protein cookies to be exact.   These come together with just a few ingredients but a KEY one is almond butter.  Isn't nut butter just the best?  I find myself using it in smoothies, on toast, in sauces, on sweet potato toast, on almond milk yogurt, and beyond so obviously I was going to put it in cookies! It is our fat content in these cookies and makes them chewy and flavorful.   My favorite source of protein – Vital Proteins, is back! I love their Vanilla Collagen Whey Protein Powder because it has the fewest ingredients of any I have seen, and tastes delish! Using some kind of Vital Proteins every day has transformed the skin on my arms and made them so smooth, which is huge for me!  So although I add their collagen peptides in my coffee every morning, I also love to add them into meals and snacks whenever I can too.  If you want to see me make these cookies TODAY, follow along on the Vital Proteins Instagram stories as I show you the step by step!
ALSO – if you make anything from my site, hint hint – these cookies – you GOTTA post about it on social media and tag me!! I absolutely love to see you create my recipes and spread the cooking bug.  If you Instagram I am @littlebitsof_realfood there!
This post is sponsored by Vital Proteins! I was compensated and all opinions are 100% my own. Thank you so much for supporting Little Bits Of
We like to try Vital Proteins in all sorts of different recipes here are a few for you to give it a try:
Citrus Chicken Salad w/ Vanilla Orange Vinaigrette
Pin it!
Print
Chai Spiced Protein Snickerdoodles
---
1 cup almond butter
1/2 cup Vital Proteins Vanilla Collagen Whey Protein Powder
1/3 cup coconut sugar
1 egg, large
½ teaspoon salt
½ teaspoon baking soda
½ cup coconut sugar
Chai Spice Mix:
1 teaspoon ground cardamom
1 teaspoon ground allspice
2 teaspoons ground cinnamon
1 teaspoon ground cloves
3 teaspoons ground ginger
---
Instructions
First, preheat oven to 350ºF and line a baking sheet with parchment paper.
In a small bowl combine all chai spices and set aside.
In a medium-size bowl, place almond butter, protein powder, ⅓ cup coconut sugar, egg, salt, baking soda and 1 teaspoon of the chai spices. Depending on the thickness of your almond butter, you may need to add a few more tablespoons of protein powder or add in some water. You want the consistency to be easy to roll into a ball that sticks together.
Add ½ cup of coconut sugar to the remaining chai mix and stir to combine.
Scoop about 2 tablespoons of dough into your hand and roll into a ball. Drop the ball in the spice/sugar mix and toss to coat. Place onto your cookie sheet and press down into a cookie shape. Repeat with remaining dough.
Bake at 350ºF for 10-12 minutes or until the edges begin to turn golden brown.
Let cool for 10-15 minutes so that the cookies can firm up a bit.
We are participant in the Amazon Services LLC Associates Program, an affiliate advertising program designed to provide a means for us to earn fees by linking to Amazon.com and affiliated sites.