Whole30 Breakfast Meatloaf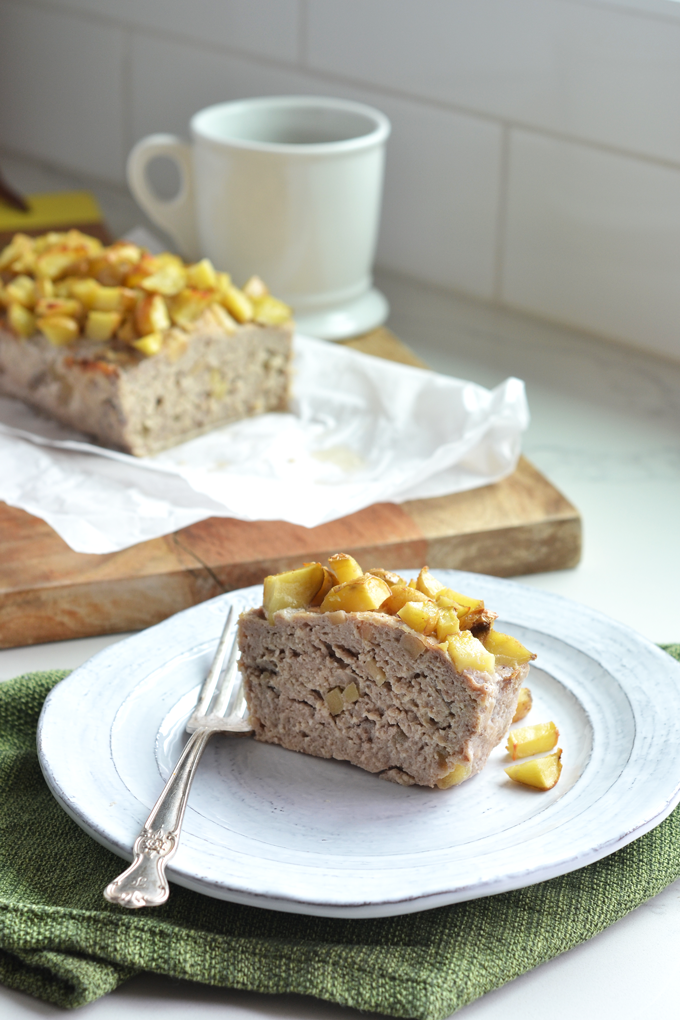 I know what you are thinking… really Kelsey, breakfast meatloaf?!  But PEOPLE! You know I would never steer you wrong!  When I do a Whole30 and want to make sure I eat enough at each meal so I don't need to snack, I find that protein at breakfast is key!  This is also a bonus because you can make a loaf on Sunday and have it in the fridge for the week. You can do a slice with an egg or some leftover veggies for the perfect meal to get your day going. In this recipe I went off my love for Chicken Apple Sausage with ground chicken, chopped apples, applesauce and spices!  I also used the applesauce so we could avoid adding eggs and coconut flour to avoid nuts and make this whole dish nut, grain, egg and dairy free!  Does it get any better? Whole30 Breakfast Meatloaf!!!
Yeah, I didn't think so!  This Whole30 Breakfast Meatloaf is also great for summer prep.  These hot and BUSY days demand quick breakfasts and it becomes so easy to fall into a toast or granola bar routine which then can turn into MASS HUNGER by 11 AM and running to the nearest food source.  Not like i'm speaking from experience or anything! 🙂  I kid I kid, who hasn't fallen into that trap?  Especially when you are out and about having fun during Summer. If those cases do arrive though, be prepared!! I suggest keeping some RX bars or some meat sticks around in your purse or car in case you get hungry while out and about.  Time slips by quickly in the summer and you really don't want to be stranded at the beach or a little league game with the snack bar as your only option.  So let's prep for success and make some gosh darn meatloaf for breakfast!
Yep it's that easy!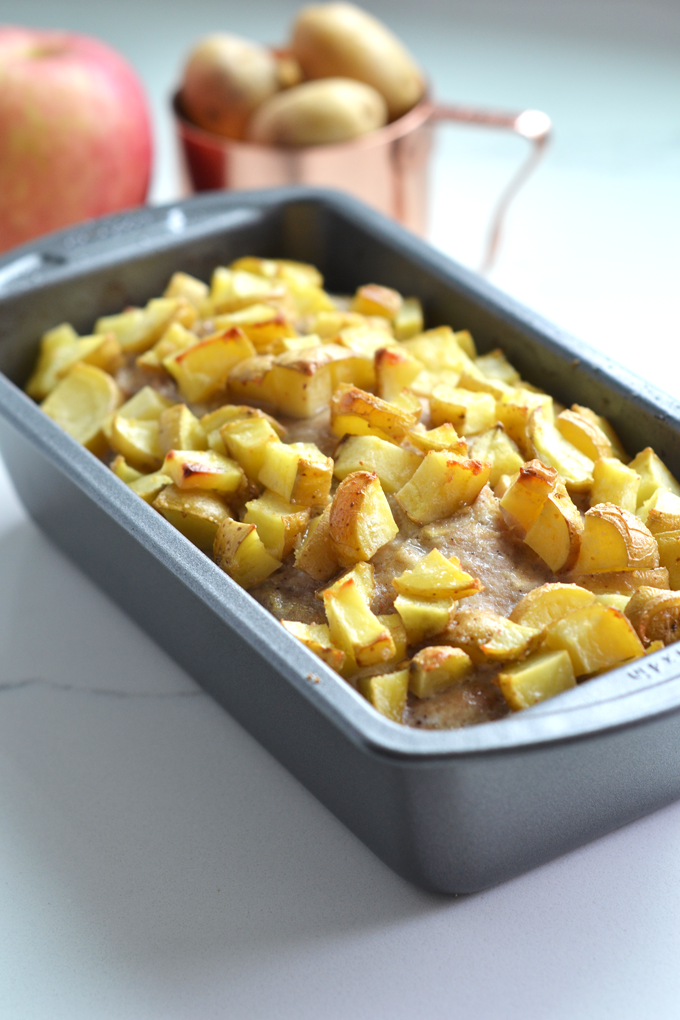 I had to add a potato crust because… why not?! Whole30 Breakfast Meatloaf!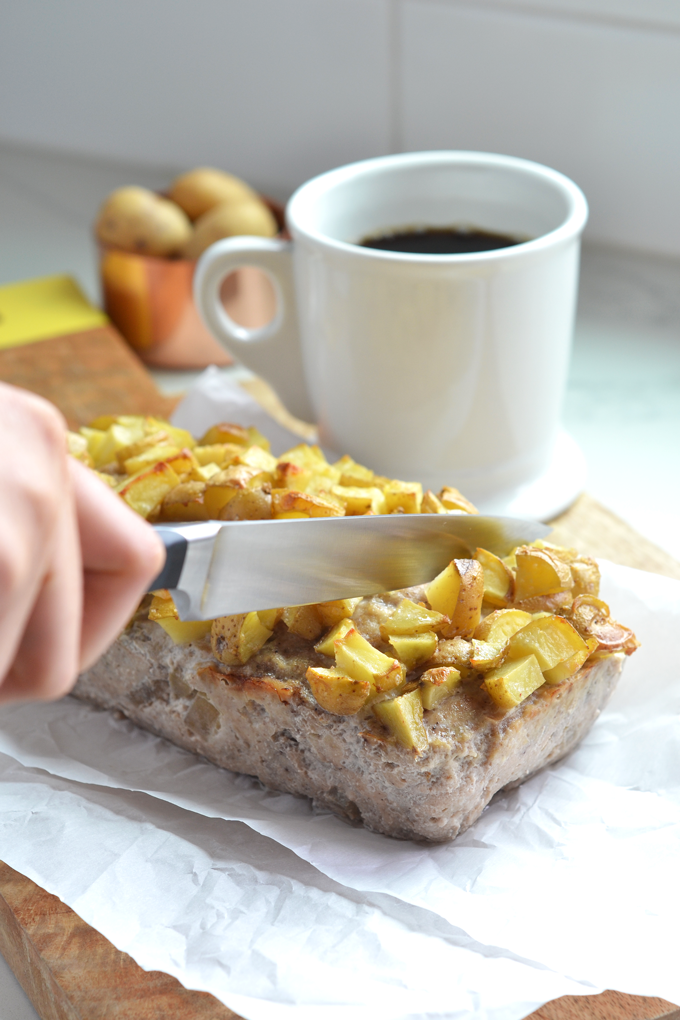 I also use Tessemae's ketchup or my own homemade ketchup!
If you love this breakfast here are some other:
Whole30 Garlic Herb & Apple Breakfast Sausage
Sweet Potato Toast Cinnamon Rolls
Sweet Potato Toast Breakfast Burger
Blackberry Cinnamon Streusel Cake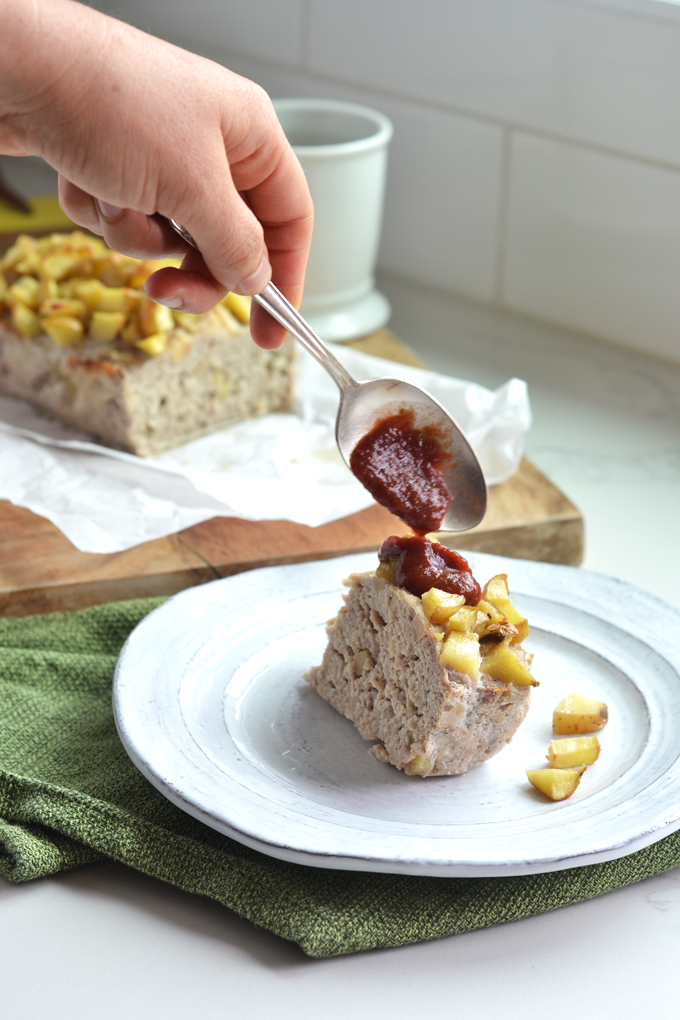 Pin this Whole30 Breakfast Meatloaf for your next meal prep!

Print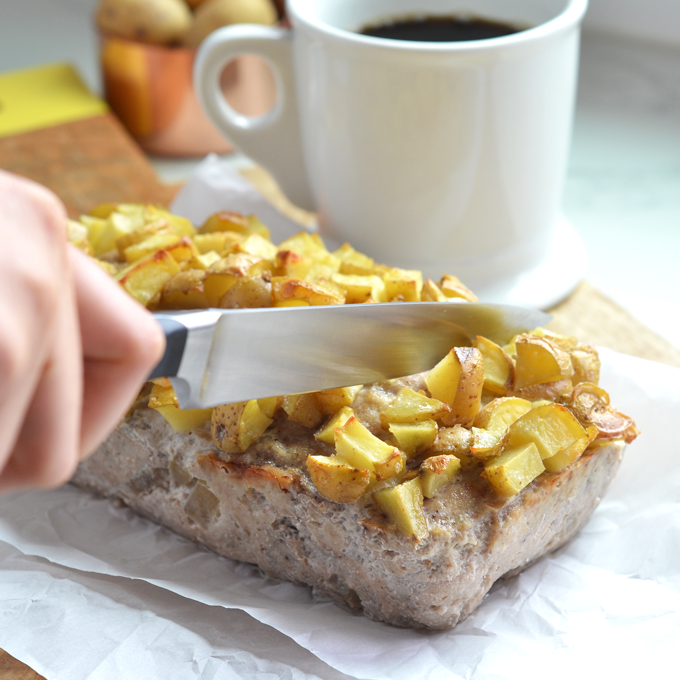 Whole30 Breakfast Meatloaf
---
2 pounds ground chicken
1 teaspoon garlic powder
1 teaspoon ground fennel
½ teaspoon allspice
½ cup chopped apples
¼ cup applesauce
1 tablespoon coconut flour
1 teaspoon salt
¼ teaspoon pepper
2 cups chopped white potatoes
2 teaspoons avocado oil
½ teaspoon salt
½ teaspoon garlic powder
---
Instructions
Preheat oven to 400 degrees.
In a large bowl combine chicken, 1 teaspoon garlic powder, fennel, allspice, chopped apples, applesauce, coconut flour, 1 teaspoon salt and ¼ teaspoon pepper. Stir just until evenly combined, pour into a greased loaf pan and spread into an even layer.
In a small bowl combine chopped potatoes, avocado oil, ½ teaspoon salt and ½ teaspoon garlic powder and toss to coat.  Pour potatoes on top of chicken and press down to set.
Bake for 45-50 minutes, until cooked through and potatoes are browned.
Let sit for 5-10 minutes before slicing!
We are participant in the Amazon Services LLC Associates Program, an affiliate advertising program designed to provide a means for us to earn fees by linking to Amazon.com and affiliated sites.