Toasted Coconut Chocolate Chip Cookies
 TGIF! This could not be more true today. It is just amazing how the thought of the impending weekend can make your day one million times better.  Especially when you have no plans for the weekend.  The forecast for Laguna Beach tomorrow is 90 degrees and sunny.  Can you say beach time?  I am so ready to get my tan on with some HGTV and cooking light magazines.  That's just how I roll though.
Remember last post when I was talking about changing up classic recipes?  Well I done did it again.  Toasted coconut is my jam and what better to add it to than the most classic of cookies.  Chocolate Chip.  I used mini chocolate chips and baked them until nice and crispy.
 After toasting the coconut, I added it to my cookie dough.
 Scoop dough onto cookie sheet and flatten slighty.  Then sprinkle with non toasted coconut.
 We add non toasted coconut because it will toast in the oven as the cookies bake!
 Voila!
 These would be perfect to take to the beach!!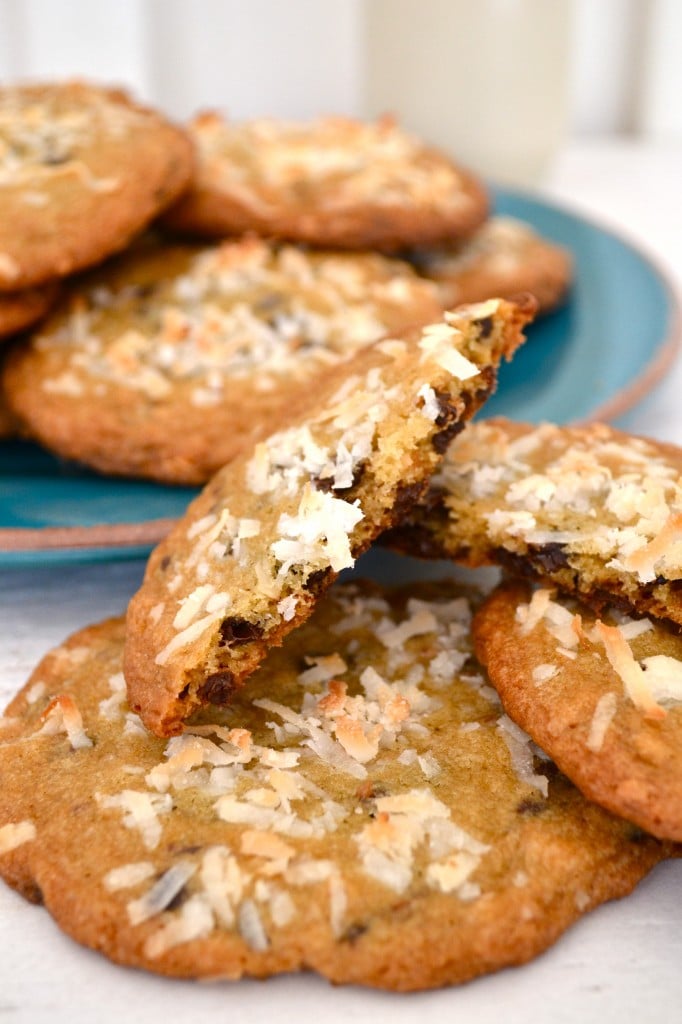 Print
Toasted Coconut Chocolate Chip Cookies
---
2 1/4 cups all-purpose flour
1 teaspoon baking soda
1 teaspoon salt
1 cup (2 sticks) butter, softened
3/4 cup granulated sugar
3/4 cup packed brown sugar
1 teaspoon vanilla extract
2 large eggs
1 cup mini chocolate chips
1 1/2 cups sweetened shredded coconut
---
Instructions
Preheat oven to 375° F. Pour 1 cup of coconut onto cookie sheet and place in oven for 5-10 minutes or until lightly browned. Keep an eye on them because they go from brown to burned in seconds! Remove from oven and set aside.
Combine flour, baking soda and salt in small bowl. Beat butter, granulated sugar, and brown sugar in large mixer bowl until creamy. Add eggs and vanilla and beat until combined. Gradually beat in flour mixture. Stir in morsels and 1 cup of toasted coconut. Drop by rounded tablespoon onto ungreased baking sheets. Press down on dough to flatten and sprinkle with reserved coconut.
Bake for 9 to 11 minutes or until golden brown. Cool on baking sheets for 2 minutes; remove to wire racks to cool completely.
We are participant in the Amazon Services LLC Associates Program, an affiliate advertising program designed to provide a means for us to earn fees by linking to Amazon.com and affiliated sites.