Summer Salad w/ Lemon Vinaigrette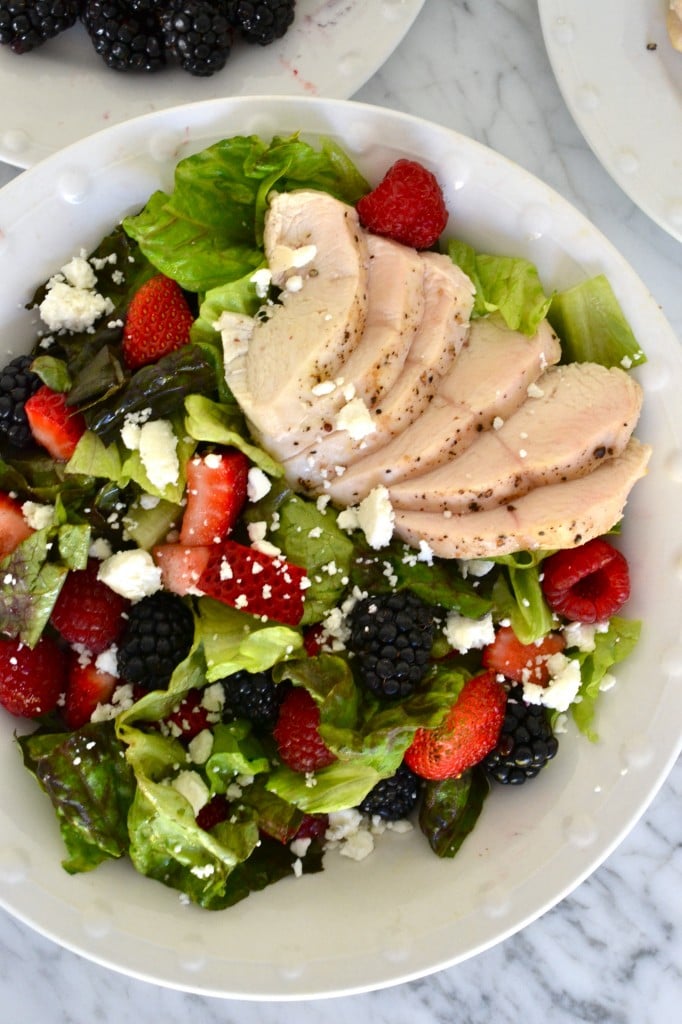 Oh summer. You are so close and you feel like you are already here!  June gloom really got me down last week but I think we are turning a corner this week.  It is amazing how sun can improve your mood.  It makes me want to work out and eat salads… yeah pretty crazy.  If you can make a good vinaigrette, you can eat salad everyday.  This lemon vinaigrette is so light and adds the perfect balance to the berries.  This salad can make 4 smaller salads or 2 large dinner salads.  And if you have salad for dinner you can totally have a beer. I paired this with Sam Adams "Porch Rocker".  It is a wheat beer with a bit of lemonade mixed in.  So fresh and delish!  Okay back to the berries-
I cooked up this chicken and it was so moist and perfectly seasoned for the salad.
So easy to throw together, filling, fresh and delicious!
Print
Summer Salad w/ Lemon Vinaigrette
---
1 head of red leaf lettuce, chopped (or lettuce of your choice)
2 chicken breasts
salt & pepper
1 cup of mixed berries (strawberries, raspberries, blackberries)
1/2 cup crumbled feta cheese
vinaigrette:
2 tablespoons + 1 teaspoon fresh squeezed lemon juice
1 teaspoon dijon mustard
1 teaspoon lemon zest
3 tablespoons olive oil
salt and pepper
---
Instructions
Preheat oven to 350 degrees. Sprinkle chicken breasts with salt and pepper. In a skillet over high heat, brown both sides of the chicken for 1 minute on each side. Transfer chicken to a cookie sheet lined with aluminum foil and bake for 10 minutes. Slice and set aside
To make vinaigrette, mix lemon juice, zest, dijon, salt and pepper in a small bowl. Slowly drizzle in olive oil while whisking until combined.
In a large bowl toss lettuce with vinaigrette and top with chicken, berries and feta cheese.
Enjoy!
We are participant in the Amazon Services LLC Associates Program, an affiliate advertising program designed to provide a means for us to earn fees by linking to Amazon.com and affiliated sites.