Rosemary Meyer Lemon Olive Oil Cake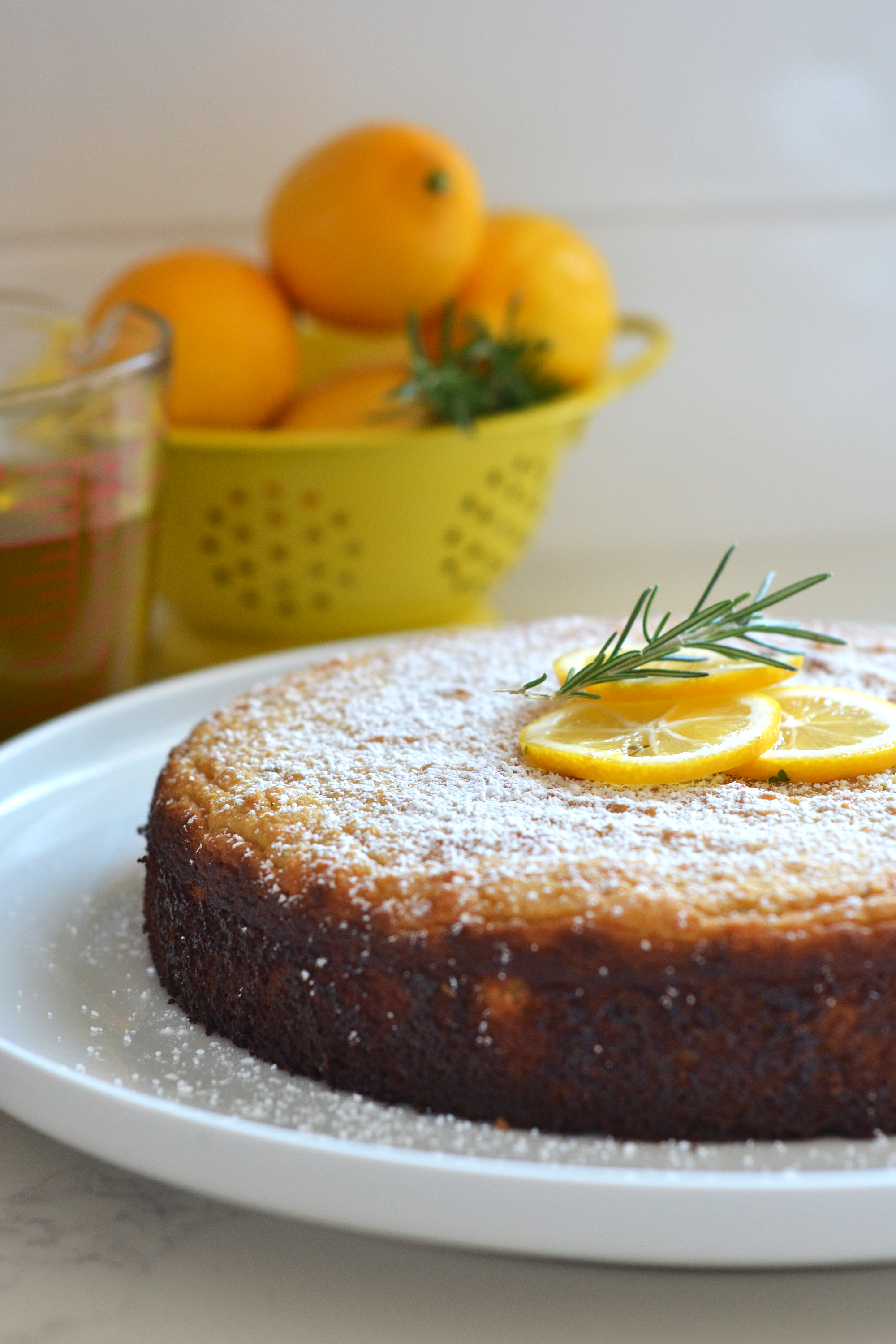 Happy Wednesday! Today we are looking at my take on Rosemary Olive Oil Cake with a Lemon Twist. I am not sure what the weather is like in your neck of the woods but over here in southern California it had been beautiful!  The last few days it has said it would be in the mid 60s but then ends up being mid 70s and so GORG!  The great weather combined with Easter being this weekend has my mind racing with party recipes.  I feel like we do so many more fun get togethers in Spring and Summer than any other time of the year and if you are going to be going to parties you need some good crowd pleaser recipes on hand.  I got some meyer lemons last week in my CSA (community supported agriculture for those who don't know!) and wasn't sure how I was going to use them.  Then last Thursday I went to a beautiful dinner hosted by California Olive Ranch and learned tons about Olive Oil. It is really an amazing thing and I think I need to start rubbing it on my face and putting it into everything – including this Rosemary Meyer Lemon Olive Oil Cake!!  At the dinner we had an Olive Oil Cake with with lemon sauce that was divine and I knew I would have to create something similar, but my way!  So of course the almond and coconut flours come out.  Now I don't strictly eat paleo and don't think every dessert has to be healthy, but when you can make it taste just as good, why not?!  It's spongey and herby and sour and sweet all at the same time.  I think this would be a great cake to bring to Easter dinner if carrot cake isn't your jam, or just make it for your friends at the office to show how freakin impressive you can be! You have to check out this Rosemary Olive Oil Cake!
The step by step of Rosemary Meyer Lemon Olive Oil Cake:
Mix everything in a bowl, pour it in a pan, BAKE.  That was easy, right?

A little organic powdered sugar never hurt NOBODY.
Lemons can be sweet or savory, we have recipes for both:
Crispy Baked Lemon Garlic Chicken Wings
Paleo Fruit Tart with Lemon Curd
Strawberry Lemonade Cashew Cheesecake Bites
Lemon Garlic Grilled Potato Salad


Pin this Rosemary Meyer Lemon Olive Oil Cake recipe for later!

Nutrition for Rosemary Olive Oil Cake (Meyer Lemon)
This cake is so good and it is also Whole 30 and Paleo approved.  Being that it does not have any refined sugar or grains in it, makes it a lot more appropriate for someone who has to watch their blood sugar levels!  I also substituted in some Applesauce to keep the cake moist instead of using a lot more oil so it is relatively low in fat even though it is an Olive Oil cake!
Print
Rosemary Meyer Lemon Olive Oil Cake
---
Author:
Total Time: 45 minutes
Yield: 8-10 servings 1x
2 1/2 cups blanched almond flour
1/4 cup coconut flour
1/4 teaspoon coarse salt
1 1/2 teaspoons baking soda
3 large eggs lightly beaten
2 Tablespoons unsweetened vanilla almond milk
1/4 cup + 2 tablespoons maple syrup
1/2 cup unsweetened applesauce
1/2 cup extra virgin olive oil
1 cup fresh meyer lemon juice
1 teaspoon vanilla extract
Zest of 2 large meyer lemons
1 teaspoon chopped rosemary
**powdered sugar to dust on top (optional)
---
Instructions
Preheat the oven to 350F. Coat an 8 or 9 inch cake pan.
In a large mixing bowl, combine the flours, salt and baking soda and set aside.
In another bowl, combine the eggs, almond milk, maple syrup, applesauce, oil, vanilla extract, lemon juice, lemon zest and rosemary.
Pour the wet mixture into the dry and stir to combine. Then pour the batter into the prepared pan and smooth the top into an even layer.
Bake for 40-45 minutes until the top is golden brown.
Cool in the pan for 20 minutes, then remove from the pan and cool completely on a wire rack.
Prep Time: 5 minutes
Cook Time: 40 minutes
We are participant in the Amazon Services LLC Associates Program, an affiliate advertising program designed to provide a means for us to earn fees by linking to Amazon.com and affiliated sites.