Raspberries & Cream Popsicles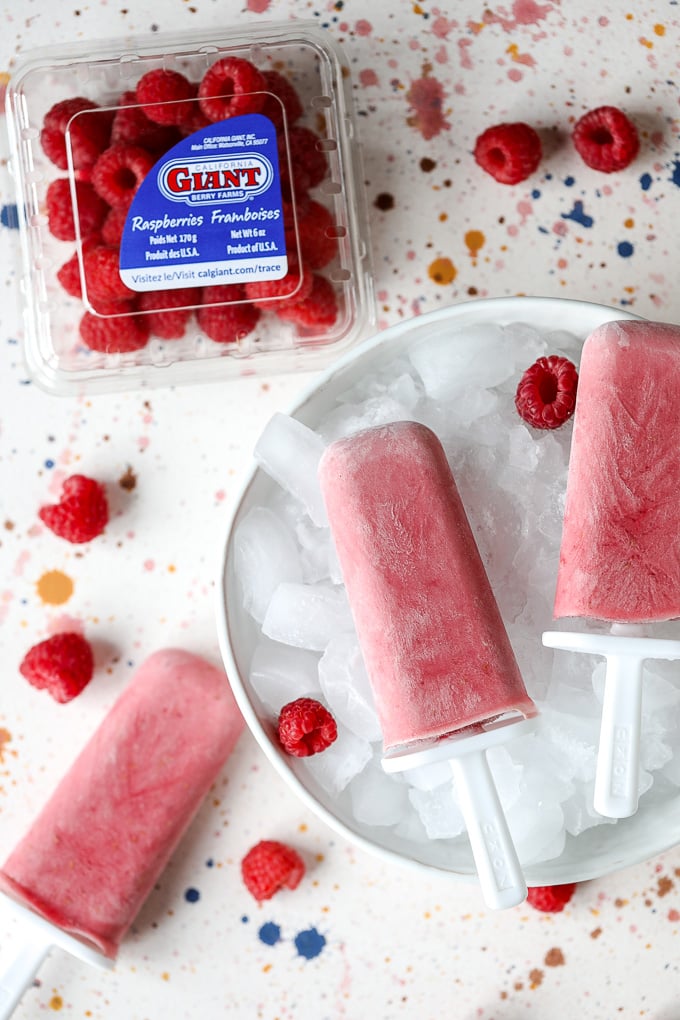 Raspberries & Cream are such a wonderful combo and this popsicle recipe highlights it in a clean and delicious way!!  With just a few simple ingredients I made these creamy yet dairy free treats that you are going to love all summer long.  Using my favorite Cal Giant Berry Farm raspberries, these are loaded with nutrients from raspberries, coconut milk and a little banana!  You know a recipe is good when Matt takes a bite and yells WOAHH OMG THESE ARE AMAZING.  I also loved watching Ruthie attempt to eat a popsicle for the first time.  She loves it but was also so confused by the cold… it was hilarious.
And today Catherine has some super interesting nutrition info on raspberries and their amazing link to brain health!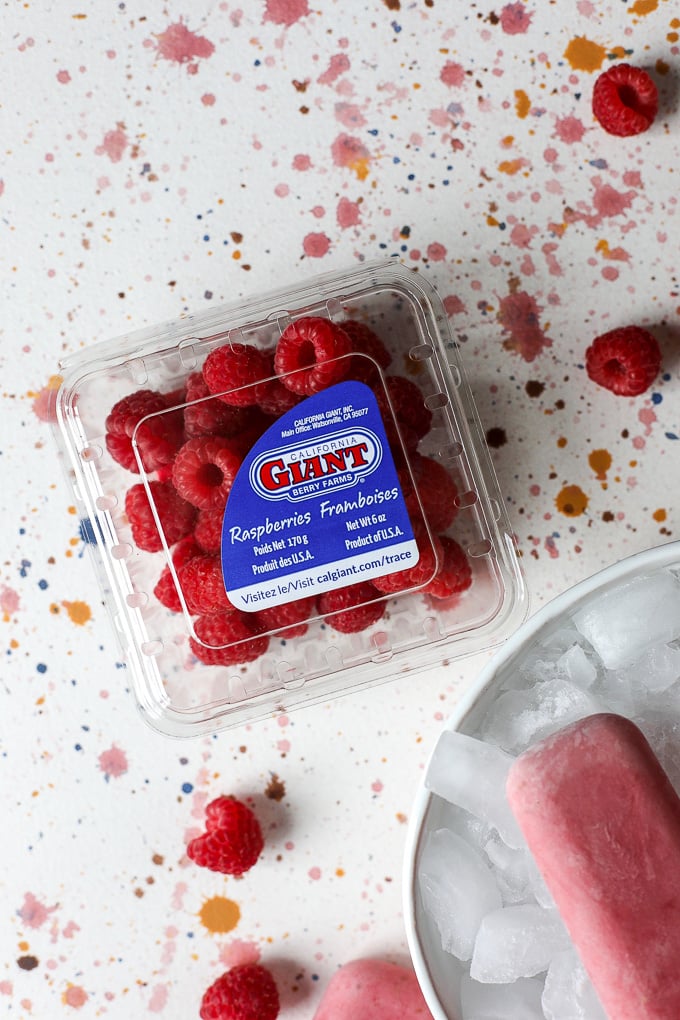 Raspberries & Cream Popsicles Nutrition:
As a long term care clinician I was involved in Azlheimers and Dementia innovation  with dining, so I figured I could share some interesting information about Raspberries in regard to brain health.  The MIND diet was developed to promote healthy aging; combining the Mediterranean diet and the DASH(Dietary Approaches to Stop Hypertension) diet to create a pattern that focuses specifically on brain health.  There are no studies that show following the MIND diet can REVERSE symptoms of Dementia, however there is research that supports slowing the progression or preventing the occurrence of Dementia just by staying active and eating within the guidelines. Berries (Raspberries are highest on the recommended list) are suggested to be consumed  at least twice a week (2: 4 oz servings). The high amount of antioxidants found in Raspberries have been shown to contribute to the positive effects of prevention and reduction of risk for brain function decline as they reduce oxidative stress. So if you are an ice cream lover but want to consider your health when deciding how to meet that craving, choose this recipe!!!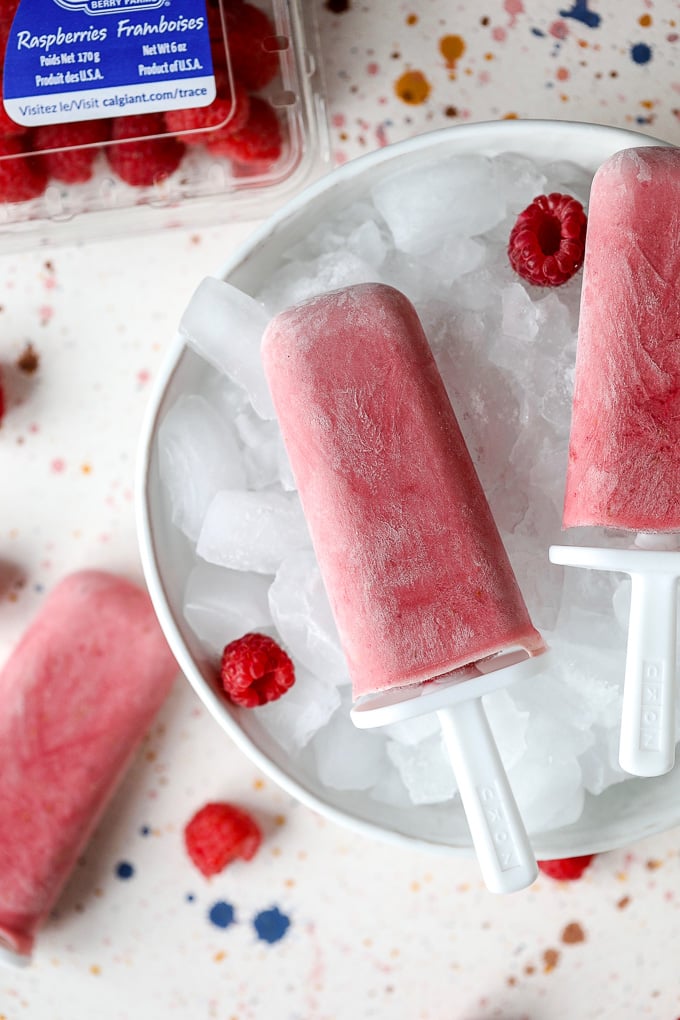 The post is sponsored by Cal Giant Berry Farms but all opinions are 100% my own!
We love cool treats to have anytime of the year:
Raspberry Chocolate Chip Nice Cream Tart
Blueberry Banana Nice Cream Tart
Mini Strawberry Nice Cream Cookie Cups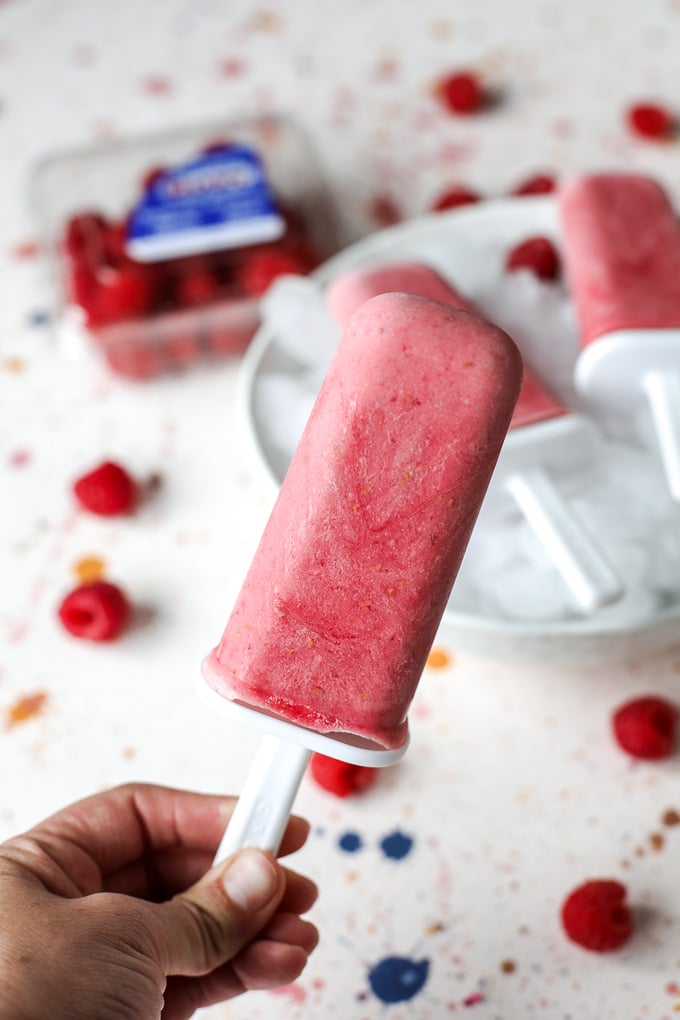 Pin the image below to save these Raspberries & Cream Popsicles for later!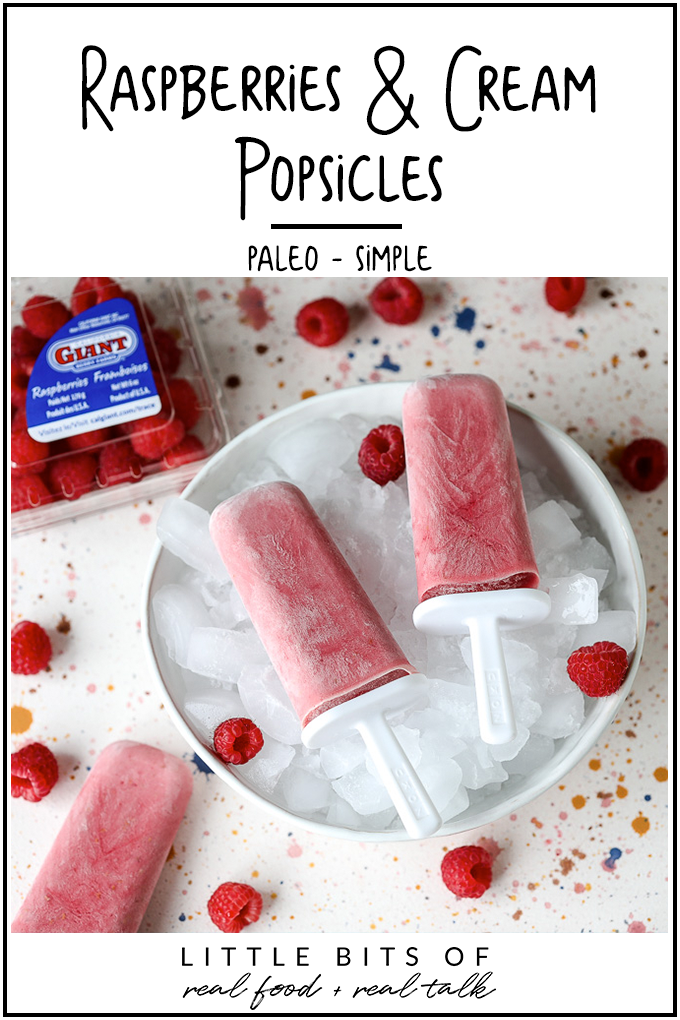 Print

Raspberries & Cream Popsicles
---
1 cup full fat coconut milk
6 oz raspberries
½ ripe banana
2 tablespoons maple syrup
---
Instructions
In a blender combine coconut milk, raspberries, banana and maple syrup and blend for about 30 seconds or until creamy.
Pour into popsicle molds and freeze for at least 8 hours.
We are participant in the Amazon Services LLC Associates Program, an affiliate advertising program designed to provide a means for us to earn fees by linking to Amazon.com and affiliated sites.