Raisin, Pecan & Rosemary Crisps
Sweetness of the raisin, crunchiness of a cracker, and speckled with nuts these Raisin, Pecan & Rosemary Crisps have it all.
Did you ever in a million years think that those delicious Fig & Olive or Raisin & Rosemary crispy from Trader Joe's can be made in your very own oven? It's true and it's going to change your life. We all love having a box of yummy crispy in the pantry to have on hand for those spur of the moment cheese tray or charcuteries board dinners, which is everyones favorite after a long day. These crispy come together like a loaf cake which you then thinly slice and bake again. The beauty of this recipe is that it makes a boat load of crispy, which you can use all at one time or save some for another time.
If you decide not to bake and eat all the crispy from the batch at one time there are a few option you have. One option is to do the double bake and then store the crispy in an airtight container, then when you want to eat them pop them back in the oven or air crisper for a few minutes to warm them back up. The other option is to do the first bake of the dough in a loaf pan let it cool then wrap it up and save it for when you want to eat the crisps then slice the loaf into the desired crisp sizes and bake. The total amount you should get form this one recipe is around 100 crispy! Think of all the yummy snacks you can make with those!
Pecans, raisins, sunflower seeds, ground flax seeds, sesame seeds & rosemary.  YUM.
Cheeses are not the only thing that will go with these crack, here are some dips for you to try:
Dairy Free Cashew Spinach Artichoke Dip
Pin the image below to save this Raisin, Pecan & Rosemary Crisp recipe for later!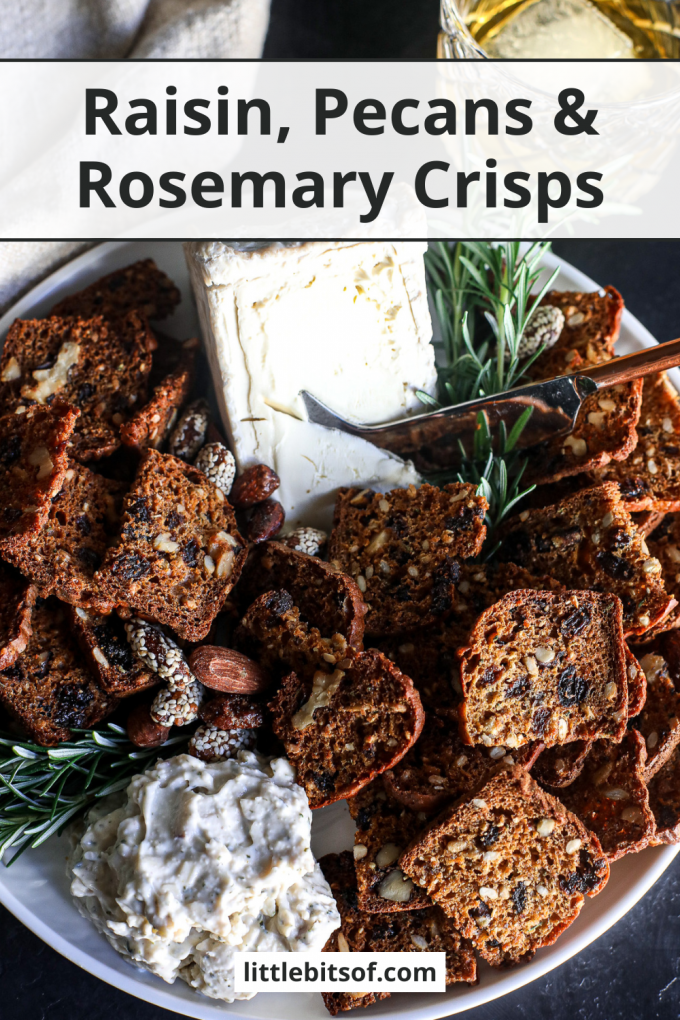 Print
Raisin, Pecan & Rosemary Crisps
---
Description
These Raisin, Pecan & Rosemary Crisps are perfect for any party and customizable!
---
2 cups flour
2 tsp. baking soda
1/2 tsp. salt
2 cups buttermilk
1/4 cup dark brown sugar
1/4 cup honey
1 cup raisins
1/2 cup chopped pecans
1/2 cup roasted, unsalted sunflower seeds
1/4 cup sesame seeds
1/4 cup flax seed, ground
1 Tbsp. chopped fresh rosemary
---
Instructions
In a large bowl, stir together the flour, baking soda and salt. Add the buttermilk, brown sugar and honey and stir until combined. Add the raisins, pecans, sunflower seeds, sesame seeds, flax seed and rosemary and stir just until blended.
Pour the batter into two 8"x4" loaf pans that have been sprayed with nonstick spray. Bake in a 350 degree oven for about 35 minutes, until golden and springy to the touch. Remove from the pans and cool on a wire rack.
The cooler the bread, the easier it is to slice thin. You can leave it until the next day or pop it in the freezer for 30 minutes. Slice the loaves as thin as you can and place the slices in a single layer on an parchment lined cookie sheet. Reduce the oven heat to 300° F and bake them for about 15 minutes, then flip them over and bake for another 10 minutes, until crisp and deep golden. Enjoy with cheese!
Notes
If you make these ahead of time, place them in an airtight container then when you are ready to serve, preheat your oven to 350 again and bake for 8 more minutes then let cool and they will crisp up again!
We are participant in the Amazon Services LLC Associates Program, an affiliate advertising program designed to provide a means for us to earn fees by linking to Amazon.com and affiliated sites.