One Pot Rosemary Bacon Orzo
I am so excited to share this One Pot Rosemary Bacon Orzo recipe with you!  I made a recipe with orzo a few weeks ago and it was so delicious I was thinking why on earth don't I make orzo more often? So I whipped this up one night because rosemary, bacon and garlic is our favorite combo, and it was amazing.  I love that it is an easy side dish but you can also add some chicken sausage and make it a full meal!  This dish is great any time of year so you can save it to even have as a thanksgiving side.
As you can probably tell, I am back to putting up new recipes on the blog after a few months of baby building,  kitchen reno, quarantining, a cookbook launch and so much LIFE!  But I am feeling back to myself and ready to get so many delicious recipes in your hands.  And speaking of new recipes I would love to hear from you in the comments what kinds of recipes you are looking for these days!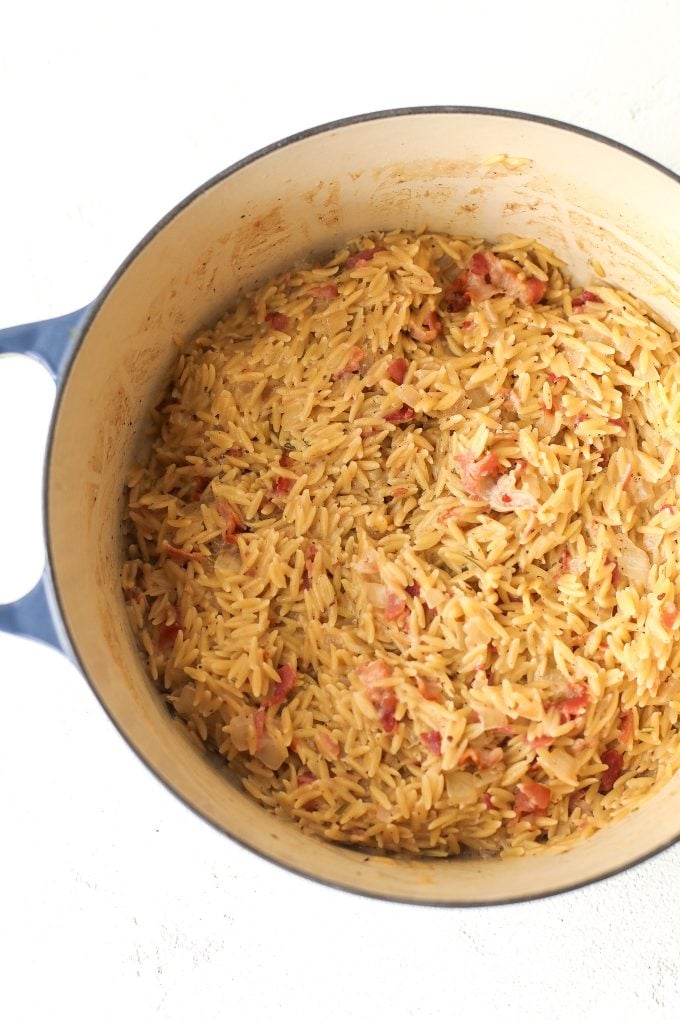 Bacon and rosemary are just a match made in heaven!
Bacon, Bacon we all love Bacon!!!
Chicken Bacon Ranch Potato Salad
Caramelized Onion & Bacon Compote on Sweet Potato Crostini
Chicken Bacon Ranch Spaghetti Squash Casserole
Whole30 BBQ Bacon Cheeseburger Casserole
Pin the image below to save this One Pot Rosemary Bacon Orzo recipe for later!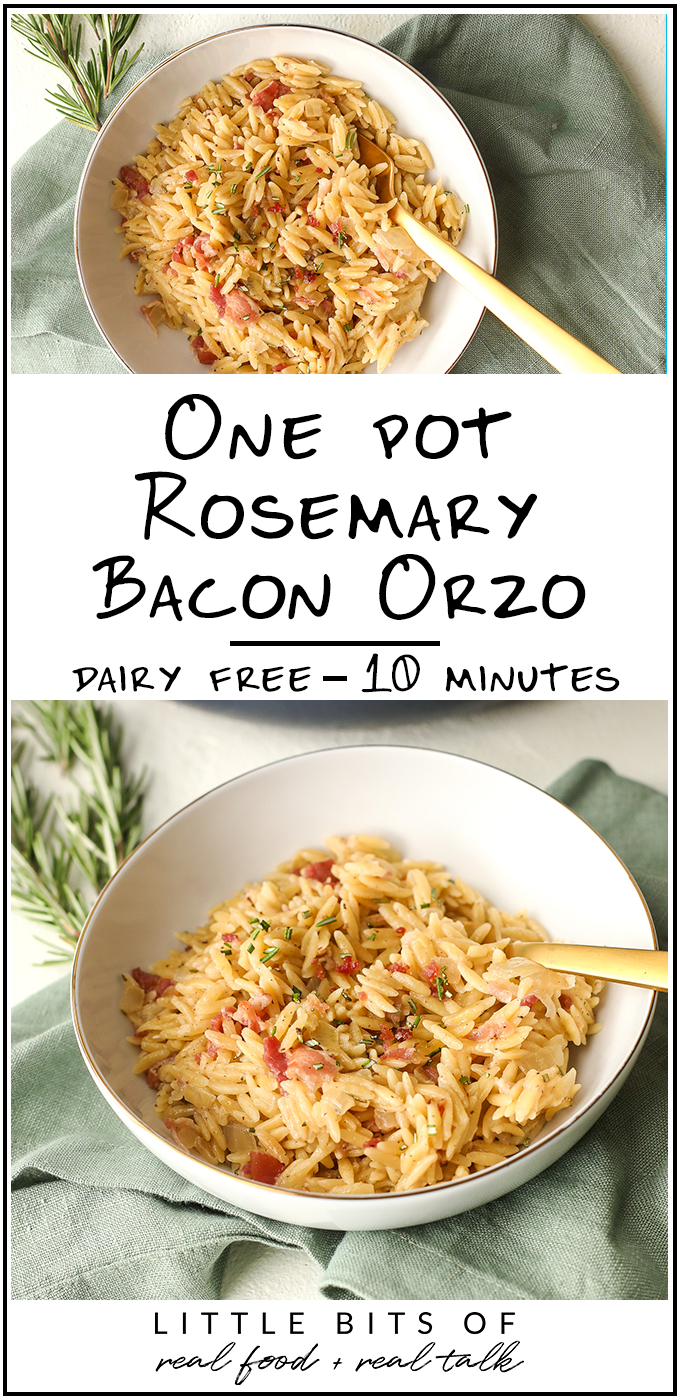 Print
One Pot Rosemary Bacon Orzo
---
8 slices bacon
1 medium yellow onion, chopped
1 tsp minced garlic
1 lb orzo
2 ½ cups water
1 ½ cups original nut pods*
1 tbsp chopped rosemary
2 tsp salt
½ tsp pepper
1 tbsp lemon juice
---
Instructions
Place a dutch oven or 3 ½ quart skillet over medium high heat.
Once the pan is hot add bacon and cook until crispy or to your liking and set aside.
Add chopped onion to the bacon grease and cook, stirring occasionally for 2 minutes.
Add in the garlic and cook for 30 seconds, then add in the orzo.  Toss to combine and lightly brown the orzo for 2 minutes.
Add in water, nut pods, rosemary, salt and pepper.
Raise heat to high and boil, stirring frequently so the orzo doesn't stick, until orzo is al dente and the liquid has nearly evaporated, 8 to 10 minutes.
While the orzo cooks, chop your bacon.
Once done cooking, turn off the heat and add in chopped bacon and lemon juice and stir to combine.
Notes
You can use full fat coconut milk if you can't find nut pods.
You can also use whole milk instead of nut pods if you can tolerate dairy.
If you want it to be a full meal you can also add in chopped chicken sausage when you add in the liquid.
We are participant in the Amazon Services LLC Associates Program, an affiliate advertising program designed to provide a means for us to earn fees by linking to Amazon.com and affiliated sites.