One-Pot Chicken Bacon Ranch Rice
Hands down the best quick and convent dinner for the family, One-Pot Chicken Bacon Ranch Rice will be your new favorite.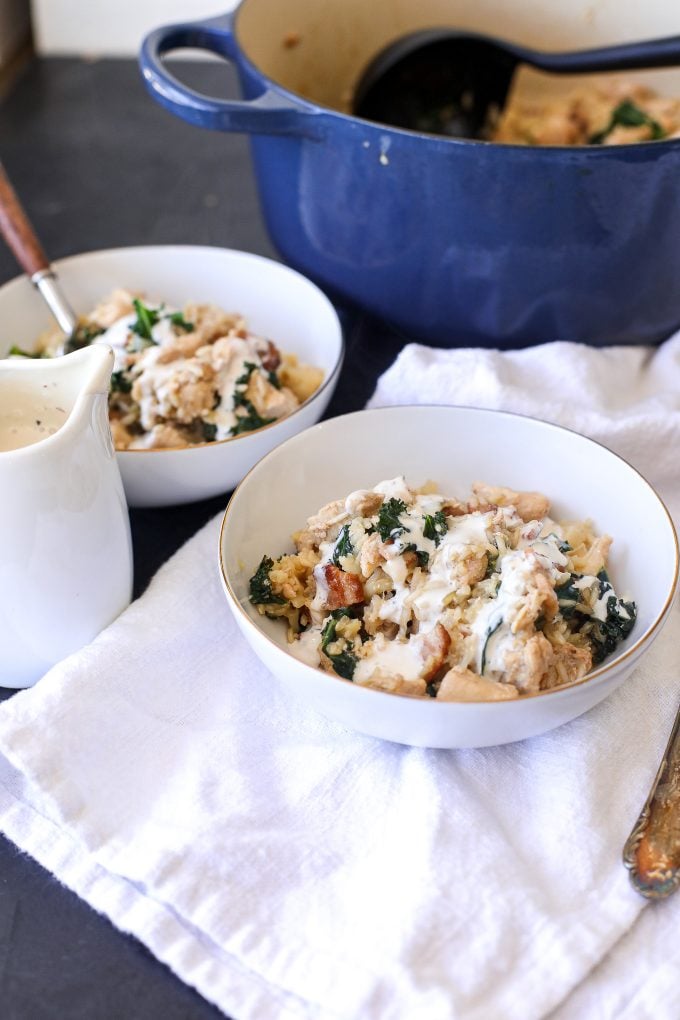 Are you ready to meet your new favorite weeknight dinner recipe?  It's definitely going to be this one-pot chicken bacon ranch rice!!  I am so excited to be back in the kitchen making recipes now that our sweet boy Milo is now almost 6 weeks old.  It's been so lovely to soak up the newborn cuddles all day but now I am so happy to get some work done and feel productive… followed by more cuddles of course!
Now that we have 2 kiddos, dinner can be even harder to get together.  When I made this recipe, we all ate it up so quickly and knew it was going to be a staple from here on out.  It's great for kiddos because it tastes like a big bowl of ranch dressing, but it has kale and hidden cauliflower packed inside too!  I love adding cauliflower to dishes like this because it basically just falls apart and mixes into everything so you can't even tell it's there. If you want this recipe to be dairy free, use a paleo ranch dressing!  The Whole30 team just came out with a ranch dressing that is sold at Thrive Market and it is delicious and has great clean ingredients.  You can also even use homemade ranch dressing if you are feeling ambitious!
How to make this One-Pot Chicken Bacon Ranch Rice
This recipe is wonderful because it comes together in one -pot, best news ever. You will start with cooking the bacon first until crispy. Once that gets cooked down remove the bacon and most of the oil, only leaving about a tbsp to the pan. Add the chicken to the bacon grease and cook down stirring occasionally. This is where the recipe gets very easy, just toss the cooked bacon, rice, water, salt, garlic powder, pepper and bring to a slight boil and then lower heat. Next add the cauliflower and ranch dressing and mix everything together. Now just let it cook for 35 min checking half way and mix. Lastly add the kale and cook for 5 min without the lid. Enjoy!
We think bacon can go in anything, here are a few more bacon meals to enjoy:
Chicken Bacon Ranch Potato Salad
Chicken Bacon Ranch Spaghetti Squash Casserole
Pin the image below to save this One-Pot Chicken Bacon Ranch Rice recipe for later!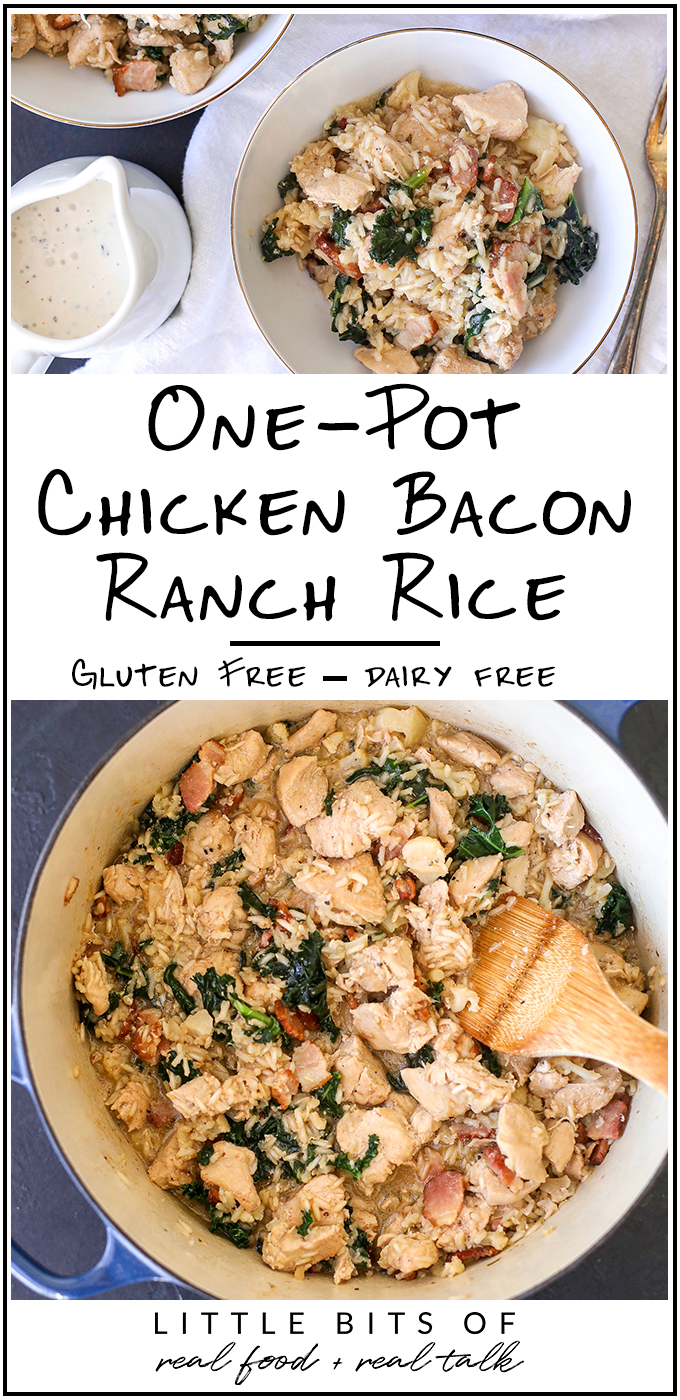 Print
One-Pot Chicken Bacon Ranch Rice
---
8 slices bacon chopped
1 lb chopped chicken breasts (raw) chopped
1 cup brown rice
2 cups water (or chicken stock for extra flavor)
1 tsp salt
1 tsp garlic powder
¼ tsp ground pepper
3 cups chopped cauliflower florets 
½ cup ranch dressing*
3 cups chopped kale
---
Instructions
Place a pot (like a dutch oven) over medium heat.
Cook chopped bacon until crispy then remove and set aside.  Drain all but 1 tbsp of bacon grease from the pot and return it to the heat.
Place the chicken in the pot and cook, stirring occasionally, for about 5 minutes.
Return bacon to pot and add rice, water, salt, garlic powder and pepper.
Bring to a slight boil, then lower the heat to low.
Add cauliflower and ranch dressing and mix to combine, then cover.
Cook for 35 min, checking halfway through to stir.
Then remove the lid, add kale and cook for another 5 minutes uncovered.
Notes
*Use a paleo ranch to keep it dairy free
We are participant in the Amazon Services LLC Associates Program, an affiliate advertising program designed to provide a means for us to earn fees by linking to Amazon.com and affiliated sites.