Gluten Free World Peace Cookies
The perfect cookie for a party dessert tray or cookie box for friends these Gluten Free World Peace Cookies will be the star of the show.
In my humble opinion the perfect holiday cookie box is a wonderful mix of exclusively Christmas themed cookies and a few strait up traditional cookies. Everyone loves the peppermint crinkle cookies and peanut butter drop kiss cookies, you always need to have a few extra chocolatey cookies and maybe a shortbread mixed in. These Gluten Free World Peace Cookies have been around forever, but we made them gluten free so everyone can enjoy the fun. These cookies are also traditionally made with no eggs so its the perfect cookie for a friend that may have certain food allergies.
You may be shocked by the idea of a an egg free cookies and how it comes together, but do not be alarmed. With the room temp butter and sugars being mixed first then adding the flour you get a great cookie texture that will stay together in almost a large ball. This will make it extremely easy to roll on the counter into a log that can be popped in the freezer or the fridge.
Can I freeze these cookies?
Yes, after you shape the dough into a log you can wrap it in plastic wrap making sure its air tight. When you want to cook the cookies just pull the cookie log out of the freezer and place in the fridge until thawed. Once thawed you can slice them and bake at the regular time.
What are these cookies similar too?
World Peace cookies are a chocolate shortbread cookie with extra chocolate chunks or chips mixed in. These are a little crunchy and perfect with a cup of coffee at the end of the day
If you are starting the tradition for the first time or have done cookie boxes before, here are a few more:
Chocolate Orange Crinkle Cookies
Pin the image below to save these Gluten Free World Peace Cookies for later!
Print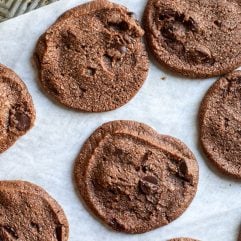 Gluten Free World Peace Cookies
---
Description
Gluten Free World Peace Cookies are such an easy slice and bake cookie and are perfect for Christmas cookie boxes!
---
1 cup brown sugar
11 tbsp unsalted butter (at room temperature)
1 tsp vanilla
1 ½ cup almond flour
¼ cup arrowroot flour
¼ cup cacao powder
½ tsp baking soda
½ tsp salt
½ cup dark chocolate
---
Instructions
In a large bowl with a paddle attachment, mix brown sugar and butter, mix for 3-5 min, make sure you scrap the sides of the bowls a few times.  
Once the butter sugar mixture is pale in color, add the vanilla extract and continue mixing for a few more minutes. 
 In another bowl combine almond flour, arrowroot flour, cacao powder, baking soda and salt make sure to mix and set aside.
Next add the dry ingredients to the butter and sugar mixture and mix on low speed until combined.
Last add the dark chocolate chips, and mix all together. 
Scoop dough onto plastic wrap and roll it together into a log, about the width of the plastic wrap. 
Place in the fridge to rest and cool for at least an hour. Slice into about ½" thick slices and and bake at 325 degrees for 10-12 minutes.
We are participant in the Amazon Services LLC Associates Program, an affiliate advertising program designed to provide a means for us to earn fees by linking to Amazon.com and affiliated sites.