Molasses Cookies
I have been waiting too long for this day!  Today is the day I share the most insane Molasses Cookies recipe ever.  I was lucky enough to get to participate in this year's Food Blogger Cookie Swap and got to send these bad boys to 3 awesome food bloggers.  I also got to receive cookies from 3 different food bloggers, which was a tasty tradeoff.  These cookies were a recipe that has been passed down in my family and reminds me of the holidays.  The cookies have those great crispy edges and are soft and chewy on the inside.  I knew they would be perfect to send to people and shockingly enough, I hadn't posted them yet!  I sent these cookies to Amy from The Starving Artist, Melissa from Corbin in the Dell, and Guyla from Clementines and Cocktails!  It was so awesome to hear that they got their cookies and liked them!  I myself got to enjoy some Ningabread Cookies from Amanda at From me to Vuu, some Peanut Butter Espresso Chocolate Chip cookies from Charles at The Local Fork, and some Gingerbread Cookies from Allison at The Pintertest Kitchen! It is so cool to see so many bloggers coming together to spread christmas cheer!  It is also pretty amazing that while sending and eating cookies we all got to give back to a charity called Cookies for Kids Cancer.  If you want to get involved and give back as well just click on that link and donate!  Now I am sure you have clicked on the links of all of those amazing bloggers and have forgotten that I am about to tell you about these cookies.  Well just print out the recipe then feel free to surf the web to your hearts content!  Trust me, these cookies will become a holiday staple in your house in no time!!
First, make a quick dough!
SCOOP IT!

 Plop in in some sugar. Yes, PLOP!
Roll it around in sugar then press it lightly onto a cookie sheet.
Here are the cute tins I sent my cookies in!  I just think Christmas cookies need to be in tins!
Look at these bad boys!! YUM- SUGAR!
Send someone cookies this holiday season!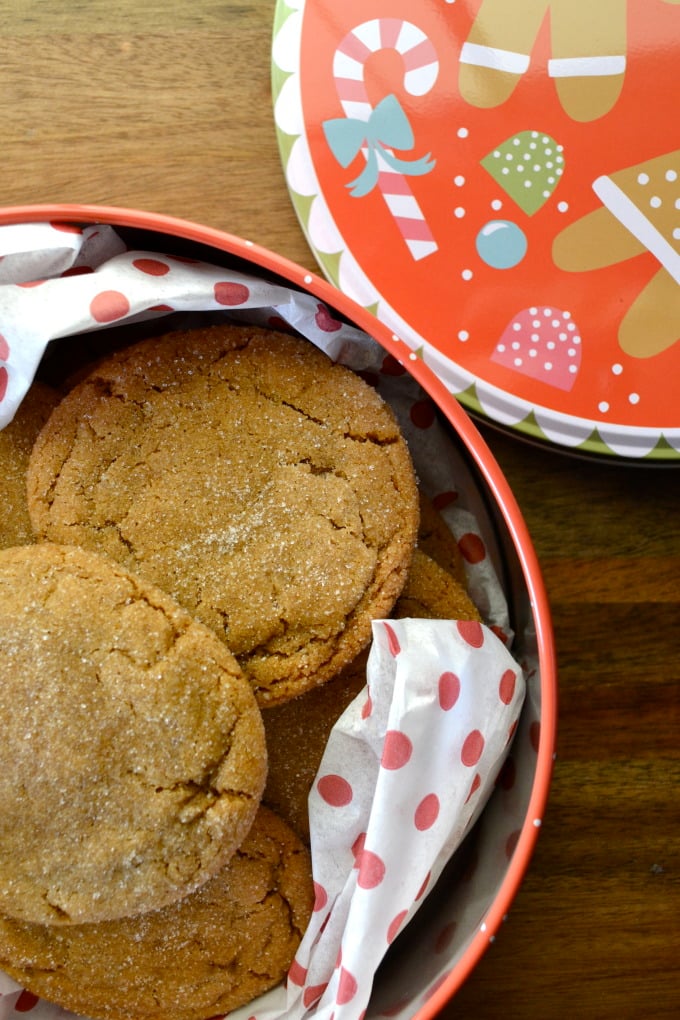 Print
Molasses Cookies
---
3/4 cup vegetable oil
1 cup sugar
1/4 cup molasses
1 egg
2 teaspoons baking soda
2 cups flour
1/2 teaspoon ground cloves
1/2 teaspoon ground ginger
1 teaspoon cinnamon
1/2 teaspoon salt
---
Instructions
Preheat oven to 375 degrees. Mix all ingredients together until well combined. Scoop dough into balls and roll in sugar to coat. Place balls of dough on a parchment lined cookie sheet and press down slightly. Bake for 8-10 minutes. Let cool and enjoy!
We are participant in the Amazon Services LLC Associates Program, an affiliate advertising program designed to provide a means for us to earn fees by linking to Amazon.com and affiliated sites.