Gingerbread Energy Balls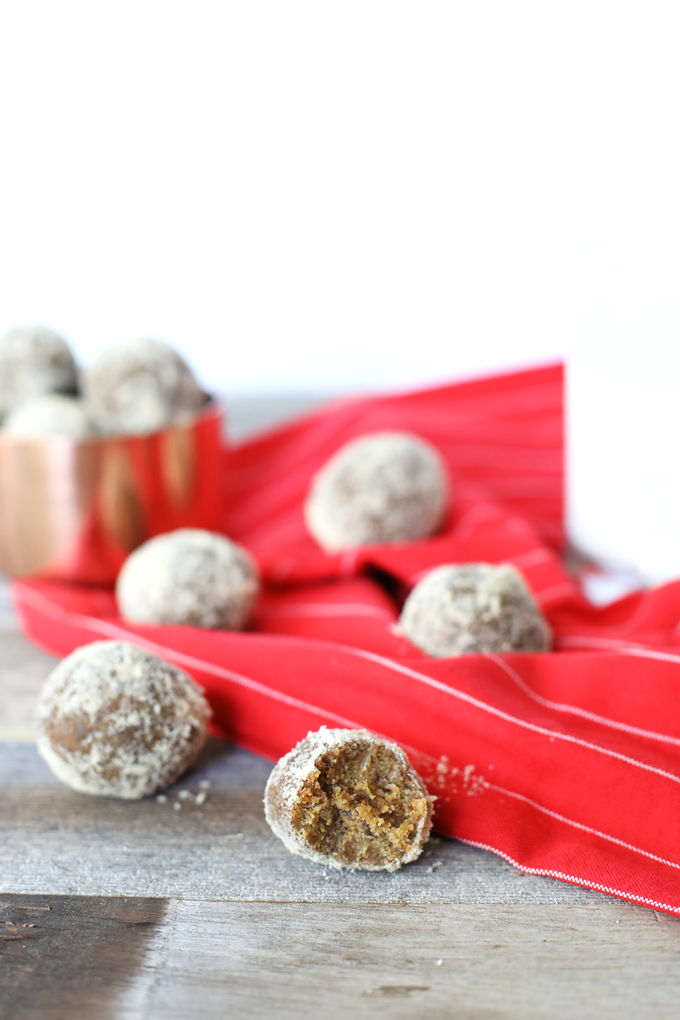 I guess it's gingerbread week?  First I shared my Paleo Gingerbread Banana Bread and now my favorite quick treat… Gingerbread Energy Balls!  Real talk I made these about 2 months ago and barely talked about them on instagram because I felt bad that I wouldn't be sharing the recipe until now!  These were surprisingly SO DELICIOUS.  They are basically healthy balls of molasses gingerbread cookie dough.  You wouldn't believe they are mostly nuts and dates!  As I do with all of my energy balls, I love keeping these in the freezer and eating them for a snack, post workout or for a dessert at night!  I think Santa would even love these instead of cookies.. or maybe alongside them??
I am so excited about this holiday season.  Not only because of the usual MAGIC of the lights, decor and music, but also because we are having our first ever annual Christmas party!  We decided we wanted to do a yearly party to get all of our friends and family together.  Once you have a wedding and realize how fun it is too have everyone you love together, it makes you want to have a million more weddings! But since I think we will just have the one… Christmas party it is!  We are doing appetizers and desserts and hoping I can make most of the stuff ahead and not stress too much.  It also was the push to get a lot of house work done before the party – win win win!  Okay back to this crazy good recipe!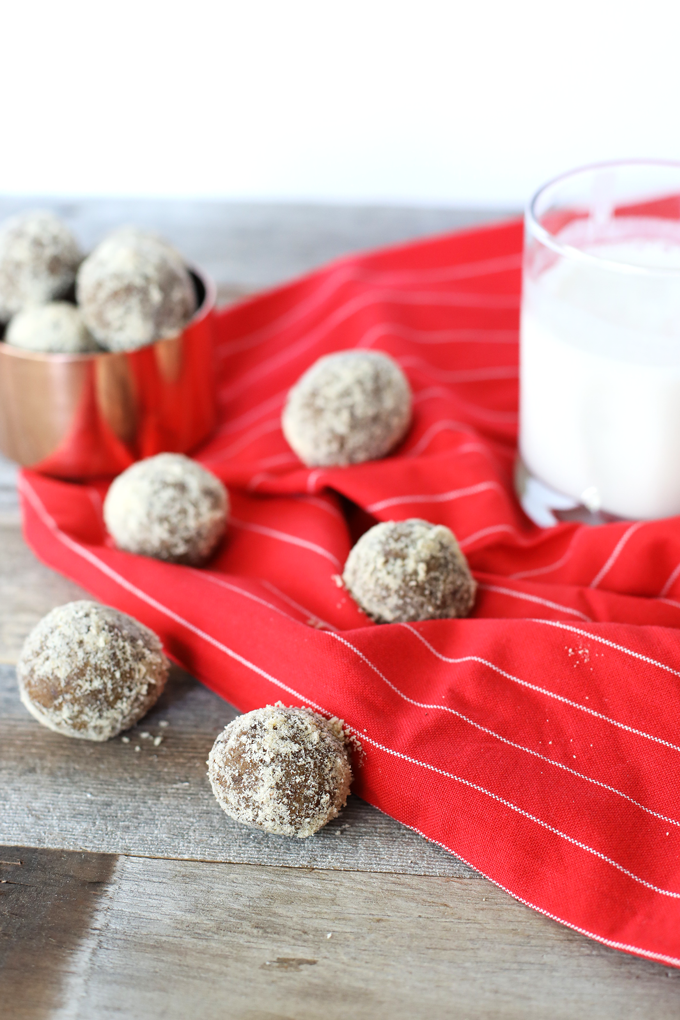 Seriously – like cookie dough balls!
Bet ya can't eat just one!!
We have tons more energy balls recipes!
Vanilla Shortbread Energy Balls
Pin the Gingerbread Energy Balls pic below to save this recipe for later!
Print
Gingerbread Energy Balls
---
1 1/2 cups almond flour
8 pitted dates
2 tablespoons blackstrap molasses
1/4 cup vanilla protein powder
1 teaspoon vanilla extract
½ teaspoon cinnamon
½ teaspoon ground ginger
½ teaspoon allspice
¼ teaspoon nutmeg
¼ teaspoon ground cloves
pinch of salt
1 tablespoons of water
Coating:
1/2 cup almond flour
½ teaspoon ground ginger
¼ teaspoon cinnamon
---
Instructions
Combine all ingredients (except for coating ingredients) in a food processor and blend on high until it forms into a ball and is smooth throughout.
In a small bowl combine coating ingredients.
Scoop dough into balls about 2 tablespoons big (or however large or small you like them).
Roll them in the coating mixture and shake off excess. Place on a parchment paper lined baking sheet or plate and place in the refrigerator or freezer to harden. Enjoy!
We are participant in the Amazon Services LLC Associates Program, an affiliate advertising program designed to provide a means for us to earn fees by linking to Amazon.com and affiliated sites.