Peanut Butter Coffee Energy Balls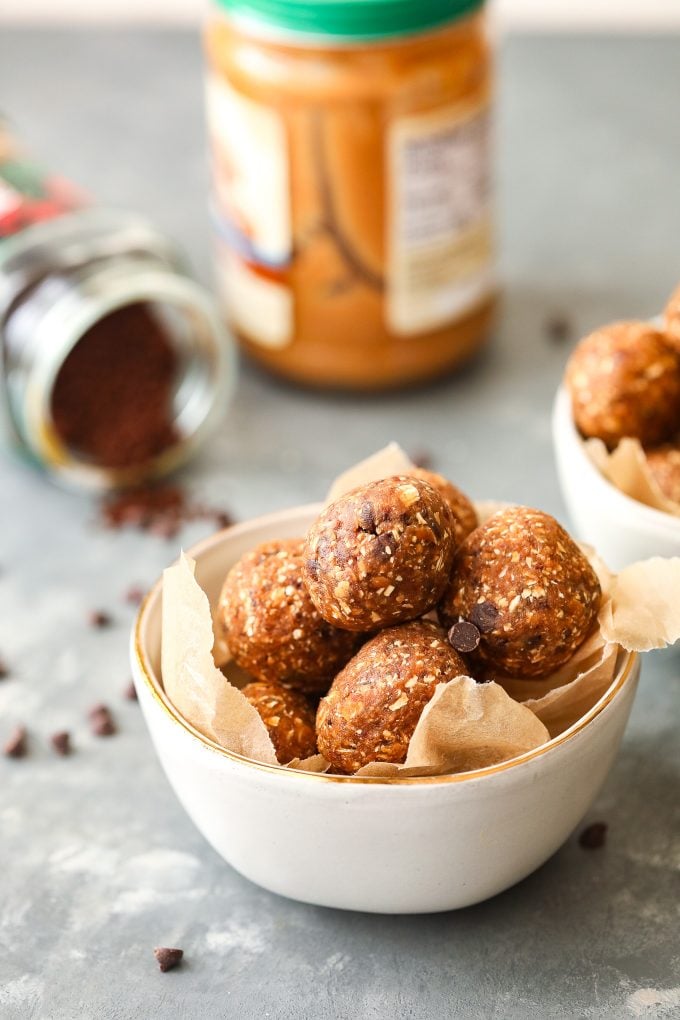 These energy balls are about to change your snack game!  I love them so much.  I based the flavors off of the sedimentary cookies we all love so much and they nail it on the head! I love making a big batch of these on a Sunday and have them in the fridge for the week when we need a snack on the go.  Now that i have started to meal prep a little more when I can find the time, the weeks are so much easier! Ruth has her own snack drawer in the fridge now and when these energy balls are on the shelf she gets really excited.  I also have her help me make them sometimes but she usually tries to eat them in handfuls before I roll them into balls! I don't blame her – it's hard to restrain myself too.
These are great to store in the fridge but can also be fabulous in the freezer.  I also recommend making a double batch of these and storing half in the freezer and half in the fridge. The best.  So whip up and batch and tell me how much you love them!
Ingredients for Peanut Butter Coffee Energy Balls
Dates– Make sure you remove the pits before blending, this can be done by simply peeling the date open and removing the pit.
Natural peanut butter– feel free to use any other natural butter: almond, mixed nut, sunflower.
Instant coffee– this is an ingredient that can be simply omitted.
Rolled Oats– use any kind of oats you have, they will be blitzed so any kind works.
Almond flour– the recipe was created using almond flour so it you use a different flour it may turn out a bit different but still amazing.
Mini chocolate chips– the minis work best because these balls are relatively small so it gives you the perfect amount of chocolate.
Simple Energy Balls
This recipe can be slimmed down to a simple energy ball recipe that you can then add any mixing you would like. Here are the main ingredients you need to ensure you have the best energy balls. Dates, flour nut butter are the main players that will create a fantastic base, from there you can add whatever you like. Maple syrup, honey or vanilla for sweet, dried fruit, coconut flakes, sprinkles, cocoa power or any thing that you can find in your pantry. The options are endless to create delicious protein packed bites of goodness.
More engery ball to get you through any day:
Vanilla Shortbread Energy Balls
Pin the image below to save this Peanut Butter Coffee Energy Ball recipe for later!
Print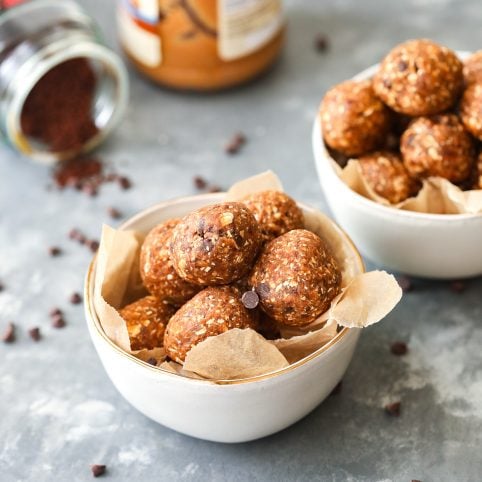 Peanut Butter Coffee Energy Balls
---
1 ½ cups pitted medjool dates
¼ cup natural peanut butter
2 tbsp water
1 tsp instant coffee
1 cup rolled oats
½ cup almond flour
Pinch of salt
¼ cup mini chocolate chips
---
Instructions
Combine dates, peanut butter and water and blend until dates are broken down and it looks like a paste.  
Add in instant coffee, rolled oats, almond flour and salt and blend until well combined.  
At this point if it seems too dry to roll into balls, add a little more water. If it feels to wet to roll into balls, add a little more almond flour.*
Add in chocolate chips and blend just so they are incorporated.
Roll into balls and store in the fridge.
Notes
* Consistency of balls can totally depends on how juicy or dry the dates were and how oily the peanut butter was!
We are participant in the Amazon Services LLC Associates Program, an affiliate advertising program designed to provide a means for us to earn fees by linking to Amazon.com and affiliated sites.