Fall Fried Rice
New month means a new delicious and warm meal to start November, this Fall Fried Rice is the perfect comfort in a bowl.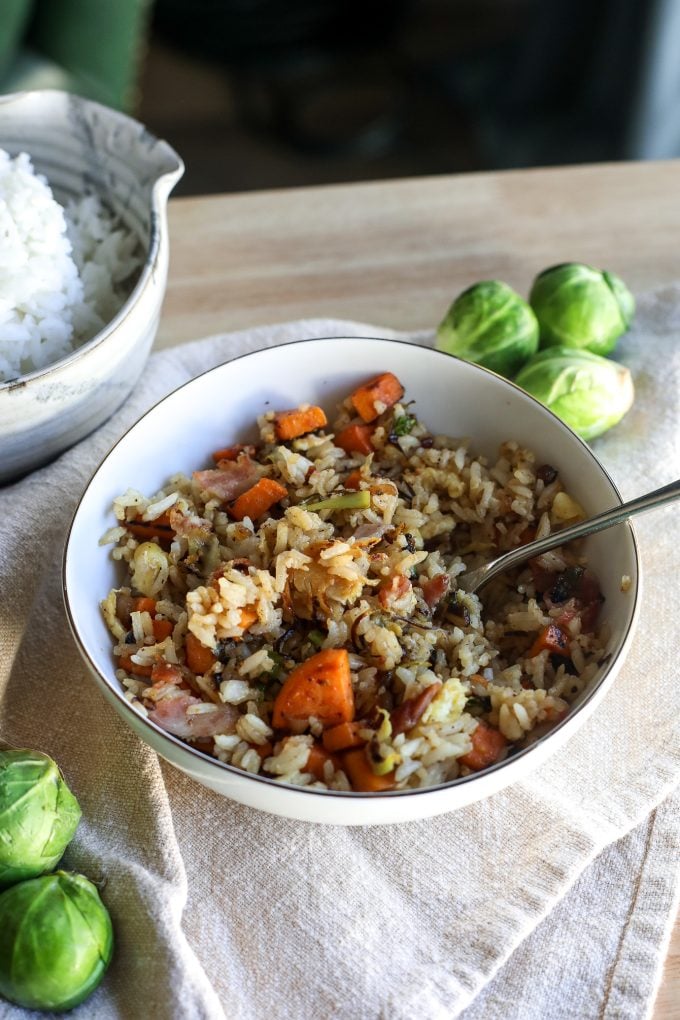 Welcome to official start of the fall/ autumn season!! Many of you have already been in colder temps and dark nights for a minute but we are still enjoying the benefits of Southern California days with an 82 degree Halloween. Maybe now that it's November the wether will cooperate and dip below 70 degrees, fingers crossed!!!
This is recipe is the perfect way to dip your toes into the November month without going crazy. Sweet potatoes, brussel sprouts and of course bacon, this Fall Fried Rice is the perfect side dish to make with your chicken or steak. We love making a starch to go with our main protein that hopefully Matt will be making on the Treager, it's the best way to cook any meat we have decided.
This recipe is also amazing if you need to meal prep at the beginning of the week. You can make the rice and pop it in the fridge and cut up your veggies. The night you want to year the Fall Fried Rice all you need to do is cook the bacon, sauté the veggies then add the cold rice and spices. Should be on the table ready with in 30 minute, the best kind of meal for a busy weekday dinner. If you really want to pump this recipe up feel free to toss some shredded rotisserie chicken on top, you will have a protein filled dinner in no time.
Let us know when you make this recipe and tell us what you paired it with, or if you hovered over the stove and ate it right out of the pan!
As amazing as this recipe is you need a yummy protein to match it, check out a few we have below:
Herb Stuffed Instant Pot Whole Chicken
Grilled Mayo Marinated Pesto Chicken
Matt's Famous Italian Turkey Meatballs
Pin the image below to save this Fall Fried Rice recipe for later!
Print
Fall Fried Rice
---
Description
This Fall Fried Rice is a perfect meal to have as the weather gets colder and is packed with good stuff!
---
6 slices of bacon
2 large eggs, whisked
1 tbsp avocado oil
1 1/2 cups finely diced sweet potatoes
1 small white onion, diced
1 cup finely sliced brussels sprouts
1 tsp garlic powder
1 tsp salt
4 cups cooked and chilled rice (I prefer short-grain white rice)
3–4 tablespoons coconut aminos, or more to taste
salt and black pepper
---
Instructions
Place a large skillet over medium heat and once hot, cook bacon in the pan.
Remove bacon and add eggs to the pan. Scramble the eggs and cook through then set aside.
Add oil to the pan then add sweet potatoes. Stir to coat with oil then cook for 1 minute before adding the onions. 
Cook sweet potatoes and onions for 5 minutes then add in brussels sprouts.
Cook for another 5-7 minutes, stirring occasionally, until sweet potatoes are fork tender.
Add garlic powder and salt and stir to combine.
Add rice to the pan then add the coconut aminos on top of the rice and stir everything together. Cook for another 5 minutes to heat the rice. Season it all with salt and pepper to taste as needed.
We are participant in the Amazon Services LLC Associates Program, an affiliate advertising program designed to provide a means for us to earn fees by linking to Amazon.com and affiliated sites.