Chocolate Dipped Sweet Potato Toast with Strawberry Salsa
Day 5!! We did it guys – we ate sweet potatoes all week and we are packed with Vitamin A & C – we deserve dessert! When I had the idea pop in my head to dip sweet potato toast in chocolate I wasn't sure how it would taste.  But if I have learned anything from topping these babies with everything I could over the last year, I know that sweet potatoes and sweet go hand in hand!  Ya know how people coat sweet taters with brown sugar and marshmallows at thanksgiving? It's because they LOVE their natural sugars to shine through! Trust me, they told me, they love it. 🙂  So I am pumped to be teaming up with California Giant Berry Farms once again to top this Chocolate Dipped Sweet Potato Toast with Strawberry Salsa!  The rain has been crazier than ever in Southern California this year where California Giant is located and the berries are better than ever.  If you follow me on instagram you might have seen me get a package of strawberries from them and see the strawberry that was almost the size of my palm!  They aren't always that big but when I see one that is I get super excited… there I go again getting too excited about food.  I just love a big, juicy and ripe strawberry because it is basically the earth's candy.
California Giant is such a freaking amazing partner for many reasons but I think my favorite thing about them is their transparency as they are a small family owned farm.  You can even go on their website and enter your carton number to see the farm your berries were grown on!  If that isn't the most adorable thing, I don't know what is.  You can read more about their company here and even get a ton more berry recipes on their site because TIS THE SEASON! But for now we will direct our attention to these sweet strawberries mixed with some blueberries, honey and mint!! I love adding mint with strawberries because it just works so well and makes it even more fresh with with chocolate on the sweet tater.
I use this ZHEN knife and it is AMAZING at cutting through a tough sweet tater!
This post was sponsored by California Giant Berry Farms but the opinions on the product are 100% my own! Thank you for supporting Little Bits Of!
The perfect bite!!
If you love this recipe we have lots more Strawberry recipes for you to try:
Strawberry Covered Flourless Chocolate Tart
Strawberry & Grapefruit Parfait
Mini Strawberry Nice Cream Cookie Cups
Pin this Chocolate Dipped Sweet Potato Toast with Strawberry Salsa for when you need dessert next!
Print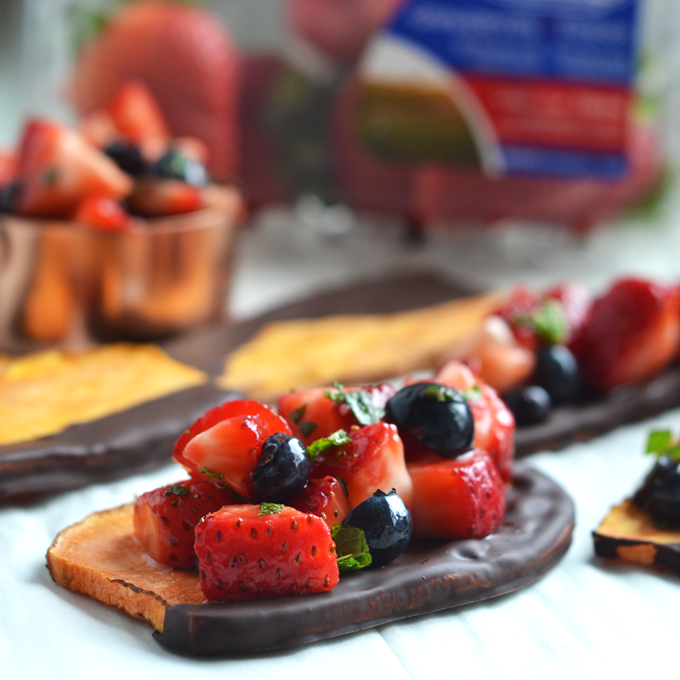 Chocolate Dipped Sweet Potato Toast with Strawberry Salsa
---
---
Instructions
Sweet Potato Toast:
Slice sweet potatoes lengthwise into 1/4 inch slices. Add to the toaster like you would bread and toast on high. Toast them 2-3 times through until there is a little bit a browning on both sides.
Place chocolate in a microwave safe bowl and melt in the microwave in 30 second intervals, stirring between. It should only take 1 minute or 1 minute and 30 seconds to melt!
Take cooked sweet potato toast and dip half into the chocolate then shake off the excess.  Place on a parchment paper lined baking sheet or plate then place in the fridge to cool.
Strawberry Salsa
Combine strawberries, blueberries, honey and mint in a bowl and stir to combine.
Scoop salsa on top off the chocolate dipped sweet potato toast and enjoy!!
We are participant in the Amazon Services LLC Associates Program, an affiliate advertising program designed to provide a means for us to earn fees by linking to Amazon.com and affiliated sites.