Chicken Bacon Ranch Potato Salad
Chicken Bacon Ranch is such a winning combo, so why not add it to potato salad?  Potato salad is one of those dishes that screams summer.  I love it because you can make a big batch for a party or family dinner then if you have leftovers it just keeps getting better for the next few days in the fridge.  This Chicken Salad/ Potato Salad combo is like a main dish and side dish in one.  I love to either serve it in lettuce cups or on top of a salad!  When I make potato salad, I love to roast the potatoes but you can totally boil them if you prefer that kind of potato salad.  You choose your own destiny in this situation.  I am so pumped for this summer because our kitchen remodel is almost done and I am ready to make all the yummy summer goods in there.  We have been eating so many popsicles lately and I can't wait to get back to making my own and sharing the recipes!  Our new house has a pool and it has been so nice during quarantine, a serious life saver.  Ruthie loves the water so so much so it is an awesome activity to burn some energy and practice her water safety.  If you are as excited about summer as I am, then make this chicken bacon ranch potato salad and get in the spirit!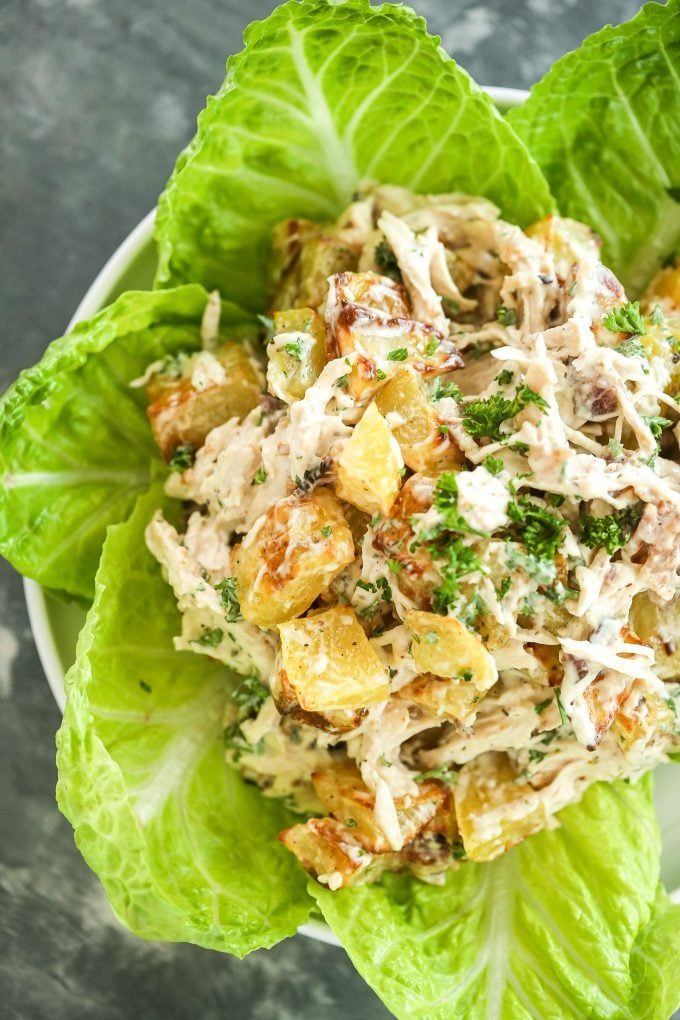 Watermelon sparkling water is always a great addition!
Wait you want more potato salad recipes because you are addicted!!
Creamy Caesar Bacon Potato Salad
Lemon Garlic Grilled Potato Salad
Bacon Dill Roasted Potato Salad
Pin the image below to save this Chicken Bacon Ranch Potato Salad recipe for later!
Print
Chicken Bacon Ranch Potato Salad
---
6 medium gold potatoes
2 tbsp oil
1 teaspoon salt
¼ teaspoon pepper
2 cups shredded chicken
8 slices bacon, cooked and chopped
½ cup mayo
¼ cup ranch dressing
2 tbsp apple cider vinegar
¼ cup chopped parsley
---
Instructions
Preheat the oven to 425 degrees and line a baking sheet with parchment paper.  Chop the potatoes into small bite sized pieces and place them on the baking sheet.  Pour 2 tablespoons of oil over the potatoes and toss to coat.  Then sprinkle with salt and pepper and toss again.   Roast potatoes for 35-40 mins or until lightly browned.
Once potatoes are cooked, add them to a large bowl.  To the bowl add shredded chicken and bacon.
In a small bowl combine mayo, ranch dressing and apple cider vinegar.  Season to taste with salt and pepper.
Pour that over the potato mixture and add in parsley.  Stir until combined
Enjoy as a main dish or side!
We are participant in the Amazon Services LLC Associates Program, an affiliate advertising program designed to provide a means for us to earn fees by linking to Amazon.com and affiliated sites.