BBQ Beet Chips
We are almost 2 weeks into full time blogging and it has been THE BEST!! Granted the first week I was super sick but this second week has been incredible.  If you follow me on Instagram you probably have seen how my days have gone so far – lots of cooking and grocery shopping!  I am still trying to get my groove and can't wait to move into our house so I can get into a better routine.  The nicest part is having more time to recipe test and makes things perfect!! I have now made these BBQ Beet chips twice and they are DELISH.  The BBQ seasoning is perfection and seriously tastes like a BBQ Lays Potato chip. I use chipotle powder in these and you can use chili powder instead but I highly recommend trying to track down this chipotle powder!! I think it takes it to the next level of flavor.  I also love adding it to chili and on chicken!  So good.
I also think a mandolin in necessary for getting these cut super thin! My mom has this Mandoline Slicer
 which I have been using and it is AMAZING!!! Much better than the cheap one I have sliced a tip of a finger with.  This one has lots of guards so you don't hurt yourself which is so worth it!! I cut these on the smallest setting so they get super crispy.  The most important thing is to stay near your oven!  These can go from perfect to burnt very quickly so watch them like a hawk!
This spice blend is seriously the best!
If you love these BBQ Beat chips we have lots more BBQ recipes for you to try: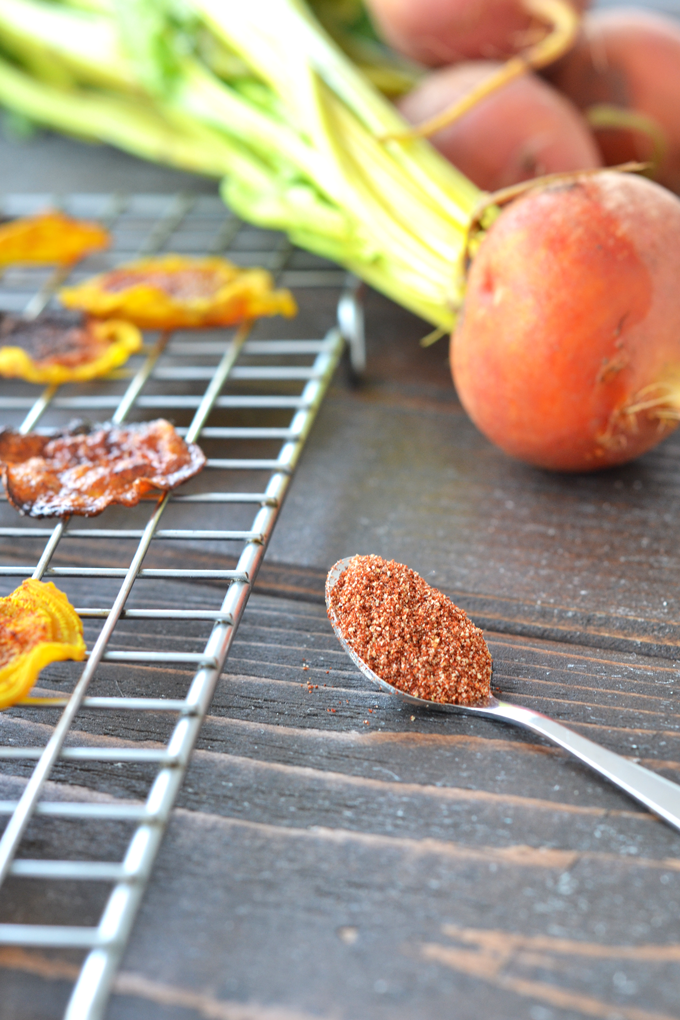 Pin it!
Print
BBQ Beet Chips
---
3 medium-large beets, rinsed and scrubbed
Olive oil
Sea Salt + Black Pepper
1 teaspoon paprika
1/2 teaspoon garlic powder
1/4 teaspoon onion powder
1/4 teaspoon chipotle or chili powder
1/8 teaspoon ground mustard
---
Instructions
Preheat oven to 375 degrees F and place oven rack in the center of the oven.
Thinly slice beets with a mandolin (or a sharp knife), getting them as consistently thin as possible. They should curl a little when cut. This will ensure even baking and crispiness.
Divide between two baking sheets and spray or very lightly drizzle with olive oil.
In a small bowl combine paprika, garlic powder, onion powder, chipotle powder and ground mustard. Sprinkle the mixture over the beets and toss to coat, then arrange in a single layer, making sure the slices aren't touching. Sprinkle with a little salt and pepper as well.
Bake for 15-20 minutes or until crispy and slightly brown. Be sure to watch closely past the 15 minute mark as they can burn quickly.
We are participant in the Amazon Services LLC Associates Program, an affiliate advertising program designed to provide a means for us to earn fees by linking to Amazon.com and affiliated sites.