BBQ Bacon Chicken Meatballs
This is one of my favorite kinds of recipes because it came from me wanting to make something delicious with what I had in the fridge.  And if I put BBQ sauce on it, Ruth will usually eat it!  So these BBQ Bacon Chicken Meatballs were born. Like all of my fave meatballs they are whole30 compliant as long as you use the right ingredients.  For BBQ Sauce, my fave is primal kitchen!  If you aren't don't care about a little added sugar in your BBQ Sauce, I love Stubbs because it has simple ingredients and is pretty low in sugar compared to most out there.  I also have a recipe on this site for a Paleo BBQ sauce that is delish if you want to try making your own!  I serve these with whatever roasted veggies I have, or on a salad, but they really go with anything.  These also freeze well and would be great to make ahead.  It's a total goal of mine to take a day or two to prep a ton of stuff and stock my freezer for those days when I just don't feel like cooking, which happen a lot with a toddler by 5PM!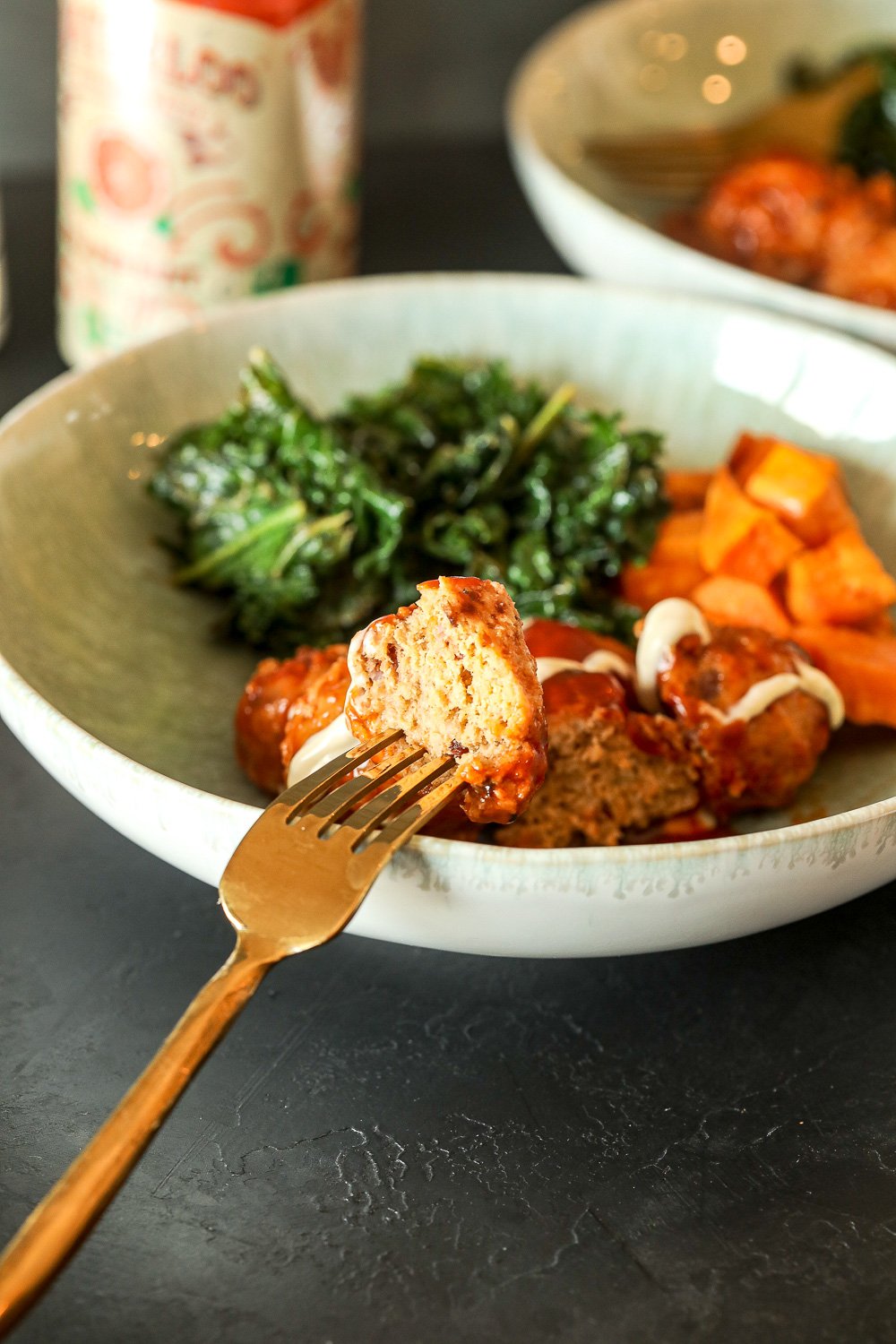 Sweet potatoes and kale are always a winning side!
Meatballs make the world go round, so here are a few more!
Crispy Garlic Dill Turkey Meatballs
Matt's Famous Italian Turkey Meatballs
Pin the image below to save this BBQ Bacon Chicken Meatball recipe for later!
Print
BBQ Bacon Chicken Meatballs
---
4 slices of bacon, cooked & finely chopped
1 lb ground chicken
1 egg
⅓ cup almond flour
3 tbsp bbq sauce*
1 tsp salt
½ tsp garlic powder
⅓ cup bbq sauce*
---
Instructions
Preheat oven to 400 degrees.
In a bowl combine chopped bacon, ground chicken, egg, almond flour, 3 tablespoons bbq sauce, salt and garlic powder.  Mix together until evenly combined.
Line a baking sheet with foil or parchment paper and use a scooper to scoop out 16 meatballs. 
Bake for 16 minutes, remove and place them in a bowl.  Pour ⅓ cup bbq sauce over the meatballs and toss to coat.
Notes
*Primal Kitchen has a whole30 compliant bbq sauce!
We are participant in the Amazon Services LLC Associates Program, an affiliate advertising program designed to provide a means for us to earn fees by linking to Amazon.com and affiliated sites.