Banana Chocolate Spinach Muffins
The perfect muffin for an on the go snack, breakfast for the kids before school or an afternoon treat these Banana Chocolate Spinach Muffins can do it all.
Have you ever wished you had a muffin or loaf recipe that had all those nutrient dense fruits in veggies in it for your kiddos? Well I have a solution for all your most desired kitchen problems (okay that is an overstatement, but I do have an amazing recipe.)  This muffin recipe came out of that same desire with the added benefit of some chocolate. I know most kids love chocolate on some scale whether completely obsessed or mildly interested and most kids are somewhere on the scale of loving or hating green veggies. We for sure struggle with incorporating green veggies in every meal, but we do not struggle with the fruit component, so these little muffins seem to answer the calling for at least breakfast. They come together relatively easily and using only one bowl other than the blender you will need to thoroughly incorporate the spinach and milk. The reason for this is to make sure we do not have any tiny spinach pieces and we end up with a smooth green mixture to incorporate into the wet ingredients. 
What if I don't have fresh spinach?
Feel free to use frozen spinach if you have it. If not, feel free to substitute with other veggies; kale and arugula would both work great. If you don't have either of those you can try cooked sweet potato or spaghetti squash, just make sure you blend them well.
Can I make this into a loaf?
Yes of course!! Most any muffin recipe can be turned into a loaf and most loaf recipes can be turned into muffins. Just make sure you add or subtract time to the baking time. With a loaf I would start at 350 degrees for 40 min and check until cooked thoroughly.
The more baked muffins and loafs around the kitchen for breakfast the better:
Paleo Blueberry Muffin Pancakes
Grain Free Double Chocolate Muffins
Print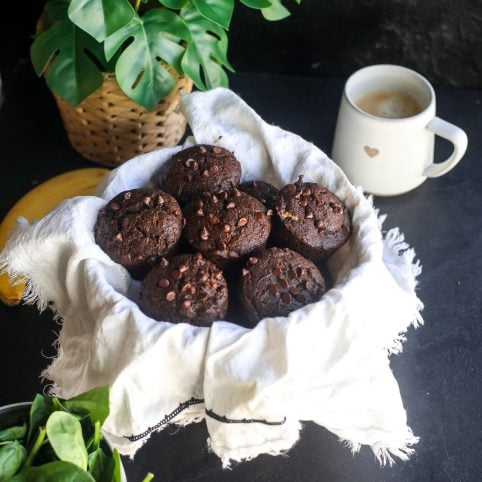 Banana Chocolate Spinach Muffins
---
1 cup packed mashed banana
½ cup melted butter
½ cup maple syrup
2 eggs
¼ cup milk
1 cup Large handful spinach
1 tsp vanilla extract
1 ½ cup whole wheat flour
1 tsp baking soda
½ tsp salt
⅓ cup cacao powder
½ cup mini chocolate chips
---
Instructions
In a large bowl combine the dry ingredients whole wheat flour, baking soda, salt and cacao powder mix and set aside, 
In another bowl mix melted butter, maple syrup, eggs and mashed bananas, mix well. You want to make sure the spinach is almost liquid when you mix it with the wet ingredients. To make this happen, grab any high power blender and add the milk and spinach and blend. Next add the blended spinach to the wet ingredients. Next add the dry ingredients to the bowl of wet ingredients. At this time you can even add mini chocolate chips. Scoop into muffin tins and bake for 15-18 minutes at 350 degrees. 
Should make around 15 muffins.
We are participant in the Amazon Services LLC Associates Program, an affiliate advertising program designed to provide a means for us to earn fees by linking to Amazon.com and affiliated sites.