Apple Cinnamon Sweet Potat-"Oats"
It's time for more Sweet Potat-"Oats"!!  This go around – Apple Cinnamon style.  I love this simple recipe and plan on making it on Facebook live for you soon!! This is a great quick and easy recipe when you are looking for a grain free and warm breakfast option.  I used to be on an oat kick like crazy but haven't had them since doing a Whole30! I have nothing against oats now, they are a great whole grain, but I had them for like 2 years straight for breakfast and am over them at the moment.  Now – if you know me at all – I am on a "eat as many sweet potatoes as possible" kick.  I am just obsessed – hello Sweet Potato Toast!
SPEAKING OF SWEET POTATO TOAST!!!  I am going to be in the November issue of GLAMOUR MAGAZINE!!!  The issue will be on stands on Tuesday, October 11th and I am freeeeeaking out!! I created 2 recipes for them using fall produce in unique ways!  I cannot wait to see it and would love it if you picked up a copy!  It is crazy how one little blog post can change the game.  If you found my site because of it – thanks for sticking around! I can't wait to see this thing grow even more and have some exciting things planned for the future!
Okay – now make these "oats"!!!!
So simple, so perfect for fall!
Fall means all the apple and cinnamon goodness: 
Fresh Apple Salad with Cinnamon Tahini Drizzle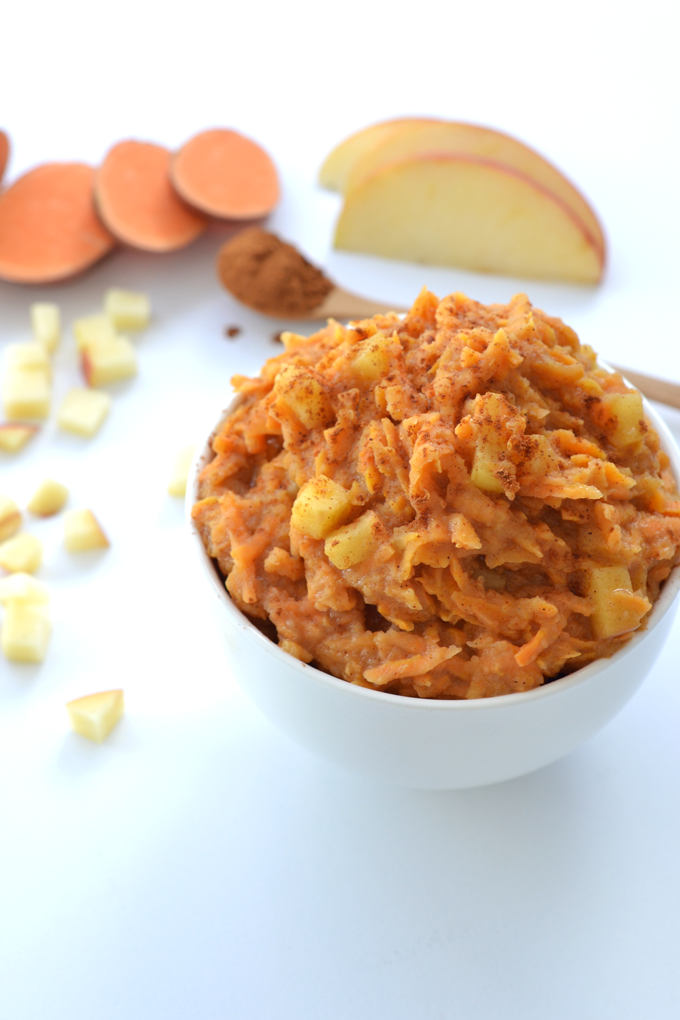 Pin it!!
Print
Apple Cinnamon Sweet Potat-"oats"
---
1 cup of peeled and shredded sweet potato
¼ cup applesauce
½ cup unsweetened vanilla almond milk
¼ cup chopped apples
½ teaspoon cinnamon
Pinch of salt
---
Instructions
Combine all ingredients in a small microwave safe bowl and microwave for 3 minutes. Drizzle with almond butter and nuts if desired!
We are participant in the Amazon Services LLC Associates Program, an affiliate advertising program designed to provide a means for us to earn fees by linking to Amazon.com and affiliated sites.