Whole30 Smoked Turkey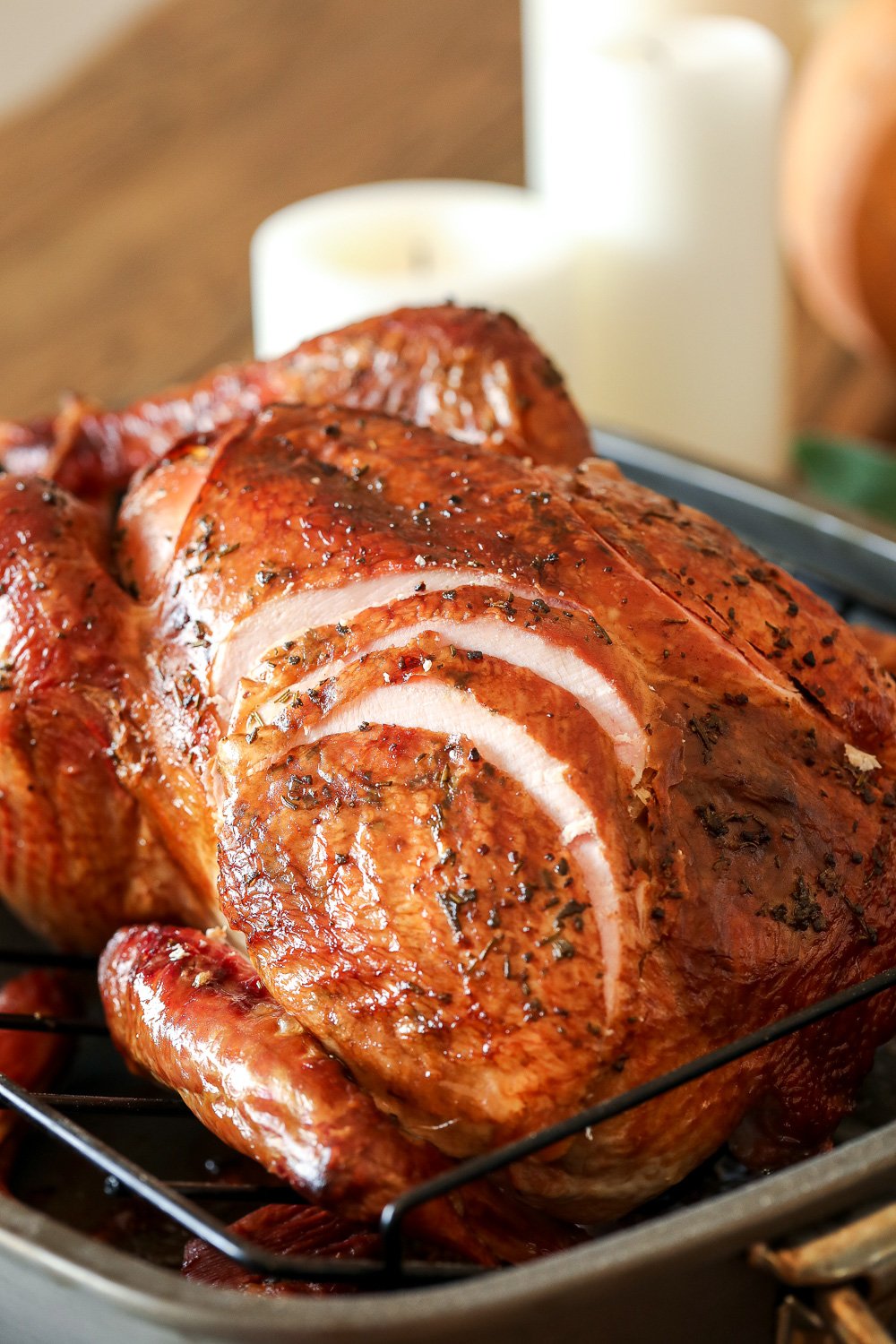 Every single thanksgiving when we have turkey I think WHY DO WE ONLY DO THIS ONCE A YEAR!?  And yet, here we are!  Luckily I got a turkey in my butcher box early this month and decided to cook it in our Traeger so I could get a super simple recipe to you.  We are having thanksgiving dinner at the firehouse this year and Matt will be making this exact recipe!  If you have a smoker you NEED to use it for your turkey this thanksgiving.  And if you don't have a smoker, you need to buy one in the next 2 weeks!!  Not only does it pack incredible flavor, but it leaves your oven free for sides.  So huge for that big day of cooking, and although my dream is to have a double oven in my future house, that is not the case today!
This recipe is Whole30 compliant because all if uses is salt, herbs and ghee in the rub.  If you don't want or need it to be Whole30, you can totally use butter and that would be awesome too!  If you aren't sure what sides to have, here are some Paleo recipe ideas:
Creamy Cashew Potato Casserole
Maple Thyme Roasted Sweet Potatoes
Balsamic Bacon Brussels Sprouts
Sweet Potato Sausage Casserole
Grain Free Bacon Herb Stuffing
How pumped are you for all of this good food!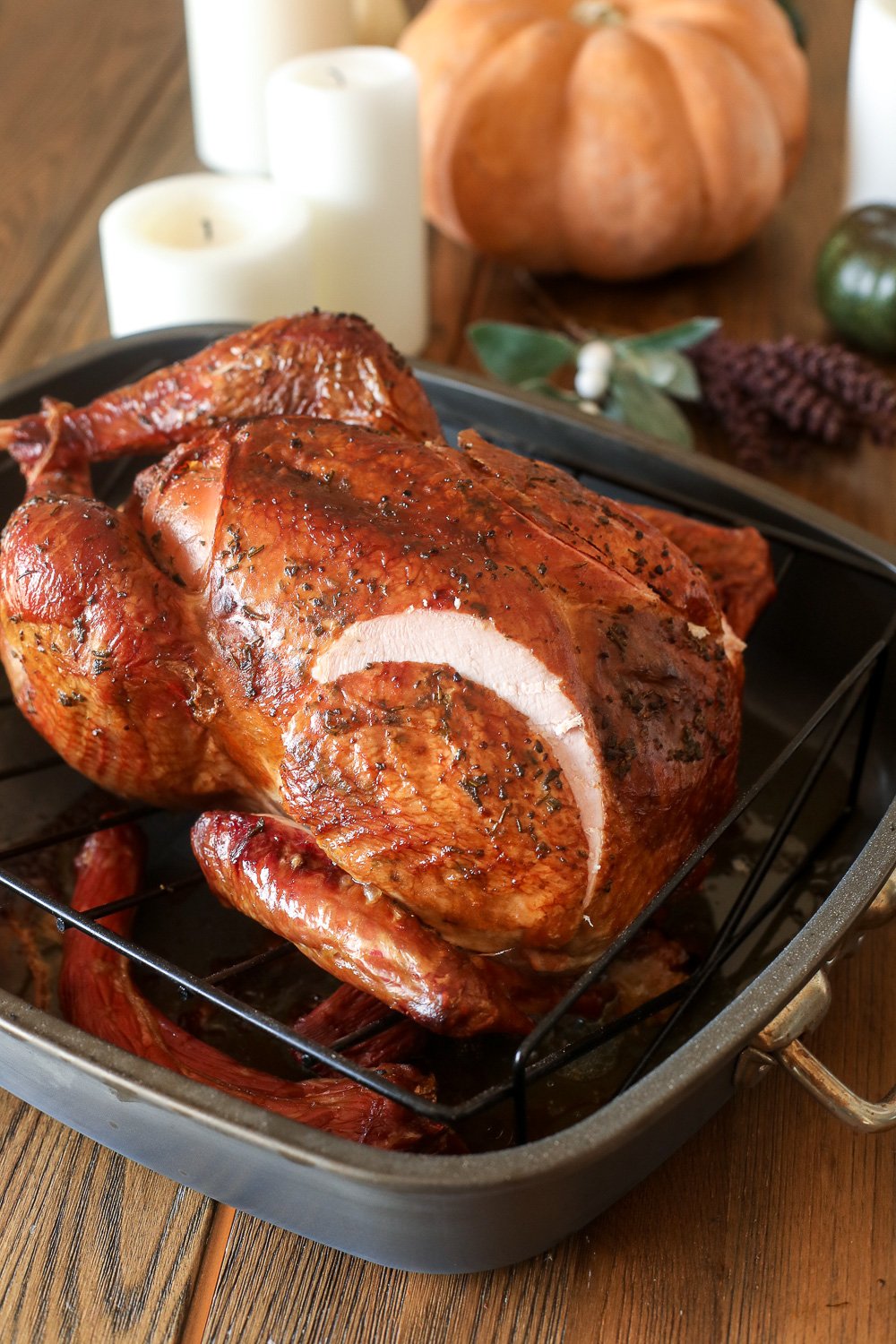 Pin the image below to save this Whole30 Smoked Turkey recipe for thanksgiving!
Print
Whole30 Smoked Turkey
---
Whole Turkey
Salt for dry brine (amount in instructions)
1/2 cup ghee
1 tsp chopped rosemary
1 tsp minced garlic
2 tsp chopped sage
1 tsp salt
1 apple, chopped in quarters
1 small onion, chopped in quarters
---
Instructions
2 days before you are going to cook the turkey, make sure it is defrosted.  Use about 1 tablespoon of salt per 5lbs of turkey and rub it on the skin, under the skin and inside the cavity of the turkey.
Then wrap the turkey up tight in plastic wrap and store it in the fridge until you are ready to cook and pat it dry.
In a small bowl combine ghee, rosemary, garlic sage and 1 tsp salt.  Take that mixture and  rub it all over the turkey and under the skin.
Stuff the apple and onion inside the turkey.
When you are ready to cook it, set the Traeger to 225℉ and preheat, lid closed for 15 minutes.
Place the turkey in a roasting pan and place directly on the grill grate. Cook until the internal temperature reaches 100-110℉.
Increase the temperature on the grill to 350℉ and continue to cook until a meat thermometer registers 160℉ when inserted in the thickest part of the turkey breast, about 3 to 4 hours total cook time.
Turkey will continue to cook when you take it off grill to reach a final temperature of 165℉ in the breast.
Remove the bird from the grill and let rest for at least 15 minutes before carving. Enjoy!
Notes
All turkeys range so much in size so exact times are hard!  Our 12 lb turkey took about 2- 2.5 hours to get to 110, then another 3.5 hours to get to 160.
We are participant in the Amazon Services LLC Associates Program, an affiliate advertising program designed to provide a means for us to earn fees by linking to Amazon.com and affiliated sites.