Vanilla Shortbread Energy Balls
It is a sad day when there are no energy balls or RX bars in our house!! This was the case on Friday so these Vanilla Shortbread Energy Balls were our SAVIOR!!  I usually throw a bunch of nuts into my balls and in turn there are more crunchy than soft, which can be great! But I wanted more of a doughy texture and almond flour was perfect for that!!  I also used some dairy free Vanilla Collagen protein powder that worked wonders to get the flavor just perfect.  YAHOO!  These kind of balls or bites – aka – dates and nuts, are my definition of a perfect snack.  It has protein, carbs & healthy fats, all coming from real, whole ingredients.  Why do you think Larabars are so popular?!  Clean eating and short ingredient lists are the new black and if you don't know, now ya knowww.
First Vanilla Shortbread Energy Balls, next – exciting life news…
That I can't share quite yet… I know i'm the worst!! I can't wait to tell you what has been going on in the Preciado household in the last week but I can tell you that Matt and I are super happy and feel like a huge weight has been lifted off our shoulders!   And no, I am not pregnant!! 🙂  I will keep you guys posted on that front!  Our lives over the last few months have been so crazy, hectic, new and exciting and I think this year is going to be so full of fun!!
I decided to coat these balls to give them a truffley feeling and it was an AWESOME idea – if I do say so myself. Oh and did I mention I think they are THE BEST when they are frozen!
After you finish these Energy Balls you will need to make another different batch: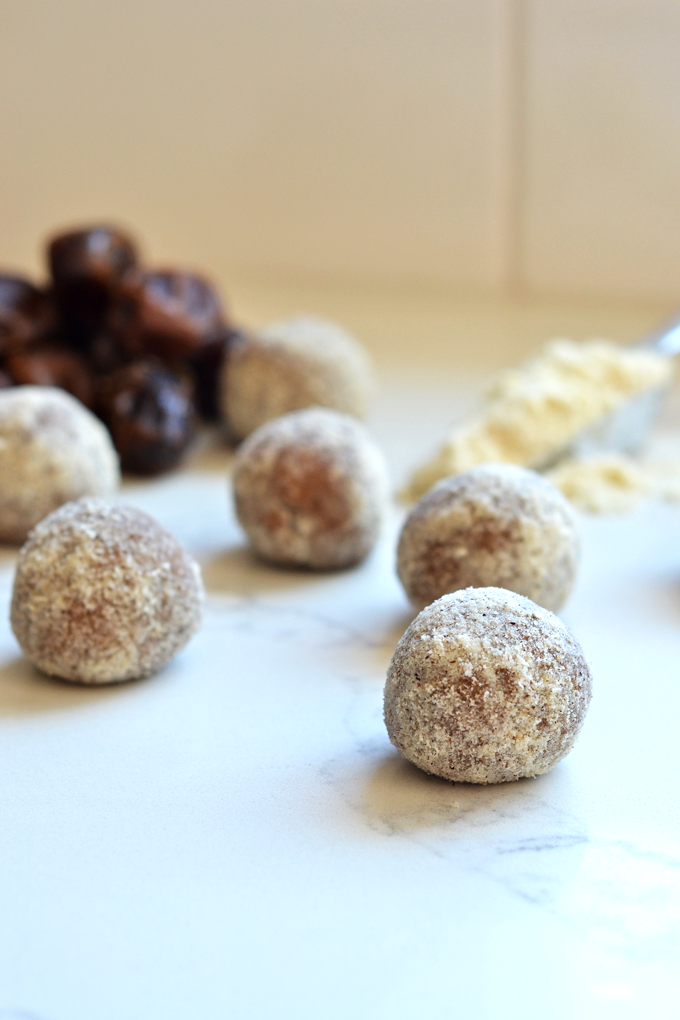 Pin these Vanilla Shortbread Energy Balls to save the idea for later!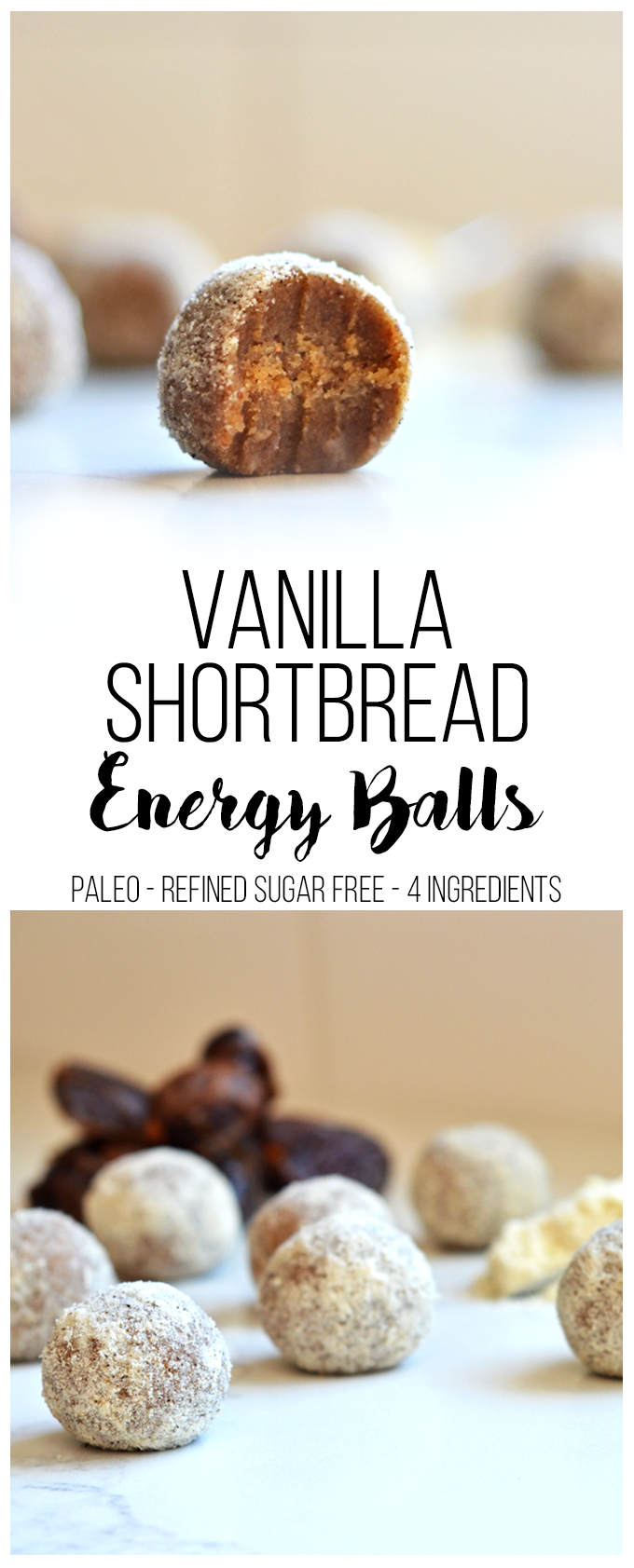 Print
Vanilla Shortbread Energy Balls
---
1 1/2 cups almond flour
8 pitted dates
1/4 cup vanilla protein powder (I used the vanilla collagen peptides from Vital Proteins)
1/2 teaspoon vanilla extract
pinch of salt
2 tablespoons of water
Coating:
1/4 cup almond flour
2 tablespoons vanilla protein powder
---
Instructions
Combine all ingredients (except for coating ingredients) in a food processor and blend on high until it forms into a ball and is smooth throughout. In a small bowl combine 1/4 cup almond flour & 2 tablespoons vanilla protein powder. Scoop dough into balls about 2 tablespoons big (or however large or small you like them). Roll them in the coating mixture and shake off excess. Place on a parchment paper lined baking sheet or plate and place in the refrigerator or freezer to harden. Enjoy!
We are participant in the Amazon Services LLC Associates Program, an affiliate advertising program designed to provide a means for us to earn fees by linking to Amazon.com and affiliated sites.