Sweet Potato Toast Taco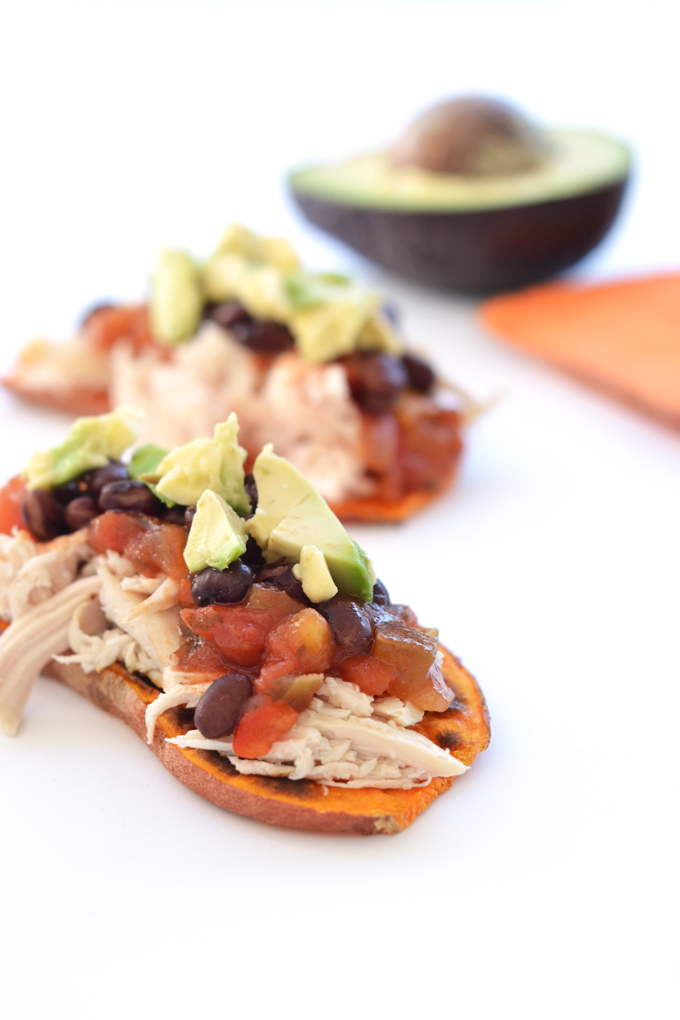 ***Update!! Dr Oz is not airing today anymore! I will let you know when it does!!! Today is the day! For more Sweet Potato Toast… AND for Dr. Oz to air!  Yep – check those listings and watch the episode today to see me show Dr. Oz just how to make SPT and this taco is my special recipe created just for him!  If you haven't made sweet potato toast yet I highly suggest doing it and reporting back.  On the show I show you exactly how to cut and toast the orange beauties and there is even a panel of "bread enthusiasts" who tried the different kinds! It was CRAY.  So I figured it was about time I made a taco version and put all my favorite stuff on top.  For this we have shredded chicken, salsa, black beans and avocado! Simple and delish.  I hope you try this out and watch the show – and let me know what you think of both!! 🙂
SO GOOD!
Pin it!
Print
Sweet Potato Toast Taco
---
1 medium sweet potato
1 cup shredded chicken
1/4 cup salsa
1/4 cup black beans
1 avocado, pitted and chopped
---
Instructions
To Make Sweet Potato Toast:
Cut the tips off the sweet potato and slice lengthwise into 1/4 inch slices. Add to the toaster like you would bread and toast on high 2-3 times through depending on the toaster. You just want to see small brown spots on the sweet potato.
Scoop shredded chicken onto 4-5 sweet potato toasts. Scoop salsa on top of each one, followed by the black beans then avocado. Enjoy!
We are participant in the Amazon Services LLC Associates Program, an affiliate advertising program designed to provide a means for us to earn fees by linking to Amazon.com and affiliated sites.