Stuffed Bell Peppers
When I think of a low carb meal, I tend to get a little sad.  I really like bread.
But there are a few meals that can actually be super delicious without half a bagette and a stick of butter.  Stuffed Bell Peppers are delicious because the meat cooks while in the pepper, so all of the good flavors are trapped in a healthy little package. I found a recipe on Bon Appetit's website and made some healthy changes to it.
First you want to take your bell peppers, cut off the tops and take out the seeds.
Then to make the filling, just cook up some chopped onions and garlic in oil.  I added some salt, pepper, and a dash of thyme and oregano.    I added that to a mixture of ground turkey, salt, pepper, and all spice.  Then added tomato sauce, an egg, and some cooked rice.
You can use any kind of sauce and any kind of of rice (white, brown, wild), but I found these in the pantry and thought I would give them a try.
Then I took that mixture and scooped it into the bell peppers.
Then I placed them into a large pot and added 2 cups of tomato sauce into the pot around the peppers.  I brought the sauce to a boil, then turned it down to medium- low heat and covered the peppers for 20 minutes.
Once they had cooked a bit, I spooned some of the sauce over the peppers to coat them.  At this point the recipe suggested I keep cooking them in this pan, but I thought the oven would be more efficient.  I took out the peppers with tongs and moved them to a square pyrex dish.  I covered them with foil and baked them at 350 degrees for 20 more minutes.  They were perfect!  You can serve this with a salad or any side you like!  I served mine with cauliflower smashed tots (will post recipe tomorrow).
*Note:  This meal tastes A LOT better than it looks, so don't get scared!
Recipe >
Print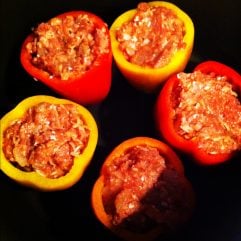 Stuffed Bell Peppers
---
6 large red bell peppers
2 tablespoons oil (olive or vegetable)
2 cups chopped onions
3 garlic cloves, chopped
2/3 cup cooked rice, cooled
1/4 tsp. dried thyme
1/4 tsp. dried oregano
1 1/4 teaspoons salt
1 teaspoon ground black pepper
1/4 teaspoon ground allspice
2 1/2 cups canned tomato sauce
1 1/4 pounds lean ground turkey
1 large egg
---
Instructions
Cut off tops of peppers. Scoop seeds from cavities. Heat oil in heavy large skillet over medium-high heat. Add onions, garlic, thyme and oregano. Sauté until onions soften, about 8 minutes. Transfer to large bowl. Mix in rice, turkey, 1/2 cup tomato sauce, egg, salt, pepper, and allspice. Cool 10 minutes.
Fill pepper cavities with beef mixture. Stand filled peppers in single layer in heavy large pot. Pour remaining 2 cups tomato sauce around peppers. Bring sauce to boil over medium-high heat. Reduce heat to medium-low, cover pot and simmer 20 minutes. Spoon some sauce over each pepper. Preheat oven to 350 degrees. Transfer peppers to a pyrex dish, cover with foil, and cook for 20 more minutes. Serve with leftover sauce.
Nutrition
Serving Size: 6
Calories: 356
We are participant in the Amazon Services LLC Associates Program, an affiliate advertising program designed to provide a means for us to earn fees by linking to Amazon.com and affiliated sites.