St. Patrick's Day Lofthouse Imitation Cookies
We all know Lofthouse cookies.  Those cookies in the bakery section of the grocery store that change frosting colors every season and always taste oddly delicious.  They are dense and sweet and always leave you wanting a glass of milk.  I found this recipe and was so excited.  After tasting them I have to disclaim that they are not as dense as the grocery store goodies.  They are lighter, fluffy and covered with sweet frosting.  Making the frosting green and adding some sprinkles makes these scream St. Pattys!  First you make your dough and chill it for a couple of hours.
Then roll it out and cut into circles.
Bake for 7 minutes and get them out of the oven immediately!
Then add frosting and sprinkles!  YUM!
Print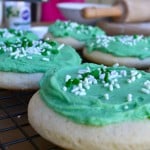 St. Patrick's Day Lofthouse Imitation Cookies
---
Cookies:
6 Cups all purpose flour
1 teaspoon baking soda
1 teaspoon baking powder
1 cup butter, at room temperature
2 cups granulated sugar
3 eggs
2 teaspoon vanilla extract
1/4 teaspoon salt
1 1/2 cups sour cream
Frosting:
1 cups butter, room temperature
1 teaspoon vanilla extract
4 cups powdered sugar
6 tablespoons heavy cream
several drops green food coloring
sprinkles
---
Instructions
In the bowl of a stand mixer with the a paddle attached, cream the butter and granulated sugar at medium speed until light and fluffy, about 3 minutes. Scrape down the sides of the bowl with a rubber spatula as needed. Add the eggs, one at a time beating until each is incorporated. Add the vanilla and sour cream and beat at low speed until combined.
Add the dry ingredients and beat at low speed until just combined, scraping down the bowl as needed. Dough will be a bit "sticky". Divide dough into two sections. Flatten into rectangles about 1 1/2 inches thick, then wrap with plastic wrap. Chill in the refrigerator overnight or at least two hours until firm.
Preheat the oven to 425 degrees. Line 2 large baking sheets with parchment paper or spray them with nonstick cooking spray, set aside.
Use the plastic wrap that you chilled the dough in. Dust the top of the dough and then flip and flour the other side, keeping it on the plastic wrap. With a rolling pin, roll the dough out to 1/4-inch thickness. Using a 2 1/2-inch round cookie cutter, cut out circles and transfer to a baking sheet. Bake for 7 minutes, until pale golden. Immediately transfer cookies to a wire rack to cool. Best to work in small batches while keeping the remainder of the dough chilled.
To make the frosting, in the bowl of a stand mixer fitted with the paddle attachment, cream together the butter and vanilla. Slowly beat in the powdered sugar. Once smooth and creamy, add in heavy cream, 1 tablespoon at a time until the desired spreading consistency is achieved. If desired, add food coloring and beat until combined.
Once cookies have cooled completely, frost and add sprinkles. Allow frosting to set, then store in an air-tight container.
Recipe from Authentic Suburban Gourmet
We are participant in the Amazon Services LLC Associates Program, an affiliate advertising program designed to provide a means for us to earn fees by linking to Amazon.com and affiliated sites.