Spiced Spaghetti Squash w/ Roasted Butternut
I really wanted to call this recipe: SQUASH ON SQUASH!  But I didn't think that was quite descriptive enough for this pinterest, SEO life I lead.  BUT!  We can call it squash on squash between each other.  Usually when I have spaghetti squash I either mix it with marinara or make something like Spaghetti Squash Chow Mein. But I also tried a couple of weeks ago to just mix it with a little olive oil and salt & pepper and was pleasantly surprised at how tasty the squash itself was!  I also happen to know that around the holidays I love adding earthy spices to any dish I can.  So I thought a little spice would go a long way on this! Can you guess what it is???  ALLSPICE!  Yup.  And did you know that allspice is not a combination of spices like a lot of people think.  It is it's own spice that the english named allspice because they thought it it tasted like a combination of cinnamon, nutmeg & cloves.  Like those wikipedia skills? I am a wealth of information with google by my side 🙂  I also wanted to show you guys how to cook spaghetti squash in the microwave.  Roasting works too but throwing it whole into the microwave just makes my life a little easier!  As you can see from the helpful infographic below (that you should totally pin), all you do it cook it, remove the seeds, scoop out and soak up the moisture with some paper towels!  No one likes a soggy squash.    OKAY!  Now you are all set to scroll down, find the recipe and add it to your to do list!
Sweet sweet SQUASH ON SQUASH!
If you need more Squash love, we have you covered:
Chicken Bacon Ranch Spaghetti Squash Casserole
Grilled Butternut Squash & Goat Cheese Flatbread
Quick Curry Butternut Squash Noodles
Balsamic Artichoke & Chicken Spaghetti Squash Bake
Pin it!
Print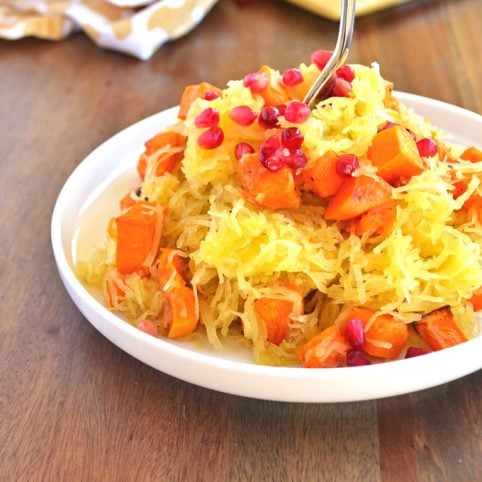 Spiced Spaghetti Squash w/ Roasted Butternut
---
1 large spaghetti squash
2 teaspoons olive oil (separated)
4 cups butternut squash, chopped
1+ 1/2 teaspoon salt (separated)
1/2 + 1/4 teaspoon pepper
1/4 teaspoon allspice
pomegranate seeds (for garnish)
---
Instructions
Preheat oven to 400 degrees. Coat butternut squash with 1 teaspoon olive oil, 1/2 teaspoon of salt and 1/4 teaspoon of pepper. Spread into an even layer on a baking sheet lined with parchment paper and roast for about 45 minutes or until fork tender.
To Microwave Spaghetti Squash: Pierce the spaghetti squash about 4-5 times with a knife through to the center. Microwave for 15-18 minutes (depending on the size of the squash), turning upside down halfway through. You will know it is down when it is easy to pierce with a knife. Remove from microwave and chop of the stem, then cut in half lengthwise. Scoop out seeds and discard. Then scrape out squash with a fork and onto a pile of paper towels. The squash will be a bit soggy so press between 2 stacks of paper towels until most of the moisture is removed (This may take a few rounds of paper towel pressing).
Then move spaghetti squash to a bowl and toss with 1 teaspoon olive oil, 1 teaspoon salt, 1/3 teaspoon pepper & 1/4 teaspoon of allspice. Toss until coated and add in butternut squash and toss again to combine. Plate onto a serving dish and top with pomegranate seeds. Enjoy!
We are participant in the Amazon Services LLC Associates Program, an affiliate advertising program designed to provide a means for us to earn fees by linking to Amazon.com and affiliated sites.