Warm Kale Waldorf Salad
Craving a salad but want something warm?  Ever thought about warming your greens?  Most salads would probably be just awful warm… but kale?  Kale loves heat!  And kale has a wonderful ability to wilt just how much you want it to in order to remove some of its bitterness, but keep a bit of crunch as well.  Now I know a traditional Waldorf salad is filled with mayo, but I think what makes something "Waldorf" is all about those beautiful grapes, apples and walnuts on top.  Also, massaging kale is extremely therapeutic.  I also figured roasting the grapes was necessary to add to the warm factor.
I think I have already told you guys about my obsession with salads packed with STUFF.  In my book there should be a minimum of 4 topping on a salad.  A nut, a cheese and anything from fruit to roasted veggies to CROUTONS!  Salads without copious topping are really just bowls of lettuce and I AIN'T GOT TIME FOR THAT!  Anywho.  You can tell I am passionate about my salads.  The good thing about this salad is that it should be warm, but if it starts getting cold… it is still perfectly delicious! Okay first, roast those grapes & waluts!
Massage that warm dressing into your kale and wilt it slightly in a pan!
Topping!! Without cheese = vegan!
Dat gorgonzola though…
Salads come in all different forms, so we have a few varieties to share with you:
Shaved Brussels Sprout & Kale Salad with Sweet Basil Dressing
Spiralized Cucumber Greek Salad
Orange Ginger Asparagus & Radish Salad
Fig and Sage Roasted Broccoli Salad
Print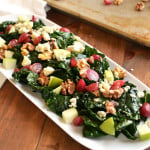 Warm Kale Waldorf Salad
---
ingredients:
7–8 cups of kale, deribbed & chopped
¼ cup chopped apples
½ cup walnuts
½ cup grapes, cut in half
1/4 cup crumbled gorgonzola cheese (omit to make vegan)
dressing:
1 tablespoon shallots
1 tablespoon dijon
¼ cup balsamic
¼ cup extra virgin olive oil
salt & pepper
---
Instructions
Preheat your oven to 375 degrees. Place walnuts & halved grapes on a sheet pan. Roast for 10 minutes until walnuts are toasted and grapes are warmed.
Place a large skillet on medium-high heat. Add 1 tablespoon of olive oil and let heat for 30 seconds. Add chopped shallots and let cook until translucent, about 2 minutes. Transfer shallots and oil to a blender and add in remaining oil, dijon mustard, balsamic vinegar & salt and pepper. Blend until oil and vinegar have combined and mixture looks smooth.
In a large bowl add kale and pour over the warm dressing (not all of it, just enough to coat the kale). Massage the dressing into the kale until it is coated, then return salad back to the large skillet. Cook for about a minute on high heat, stirring frequently, just so the kale becomes a bit wilted and warm. Pour the kale onto your serving platter and top with apples, walnuts, grapes & gorgonzola.
We are participant in the Amazon Services LLC Associates Program, an affiliate advertising program designed to provide a means for us to earn fees by linking to Amazon.com and affiliated sites.