Pesto Tahini Sauce
Oh the things I have learned on this real food journey of mine!  I feel like every day you hear about some new healthy thing that you just HAVE to try.  But once you really start to pay attention and get your sources from people like dietitians instead of tabloids, you quickly figure out what works and what doesn't on the path to a healthy life.  I first heard about Vital Proteins on instagram and was super curious about this new kind of flavorless and odorless protein.  Once I got my hands on some Collagen Peptides, I was AMAZED!  Not only amazed that it was really tasteless in my morning coffee, but that it wasn't such a new fad at all.  Collagen is the most abundant protein in our bodies and makes up our joints, skin, nails, hair and pretty much every organ that holds you together.
This collagen comes from the best source possible.  Back in the day people would eat a whole cow, not just a lean cut of steak, and they would get tons of great collagen power.  Now that we cut as much fat and tendons off of animals as possible before we consume them, there is a huge gap in this collagen protein that we are missing from our diets!  Insert – > Vital Proteins.
I am SUPER excited to be working them to bring you some easy and delicious ways to add Collagen Peptides into your everyday!  For this recipe I added it to my favorite & super versatile sauce!  This Pesto Tahini Sauce is great to throw on chicken, mix with zucchini noodles, or my favorite – drizzle on roasted veggies!  
You can even use this as a dip for veggies at a partayy!
This post is sponsored by Vital Proteins! I was compensated and all opinions are 100% my own. Thank you so much for supporting Little Bits Of!
If you love this Pesto Tahini sauce we have a few more Pesto recipes for you to try:
Asparagus Salad with Sun Dried Tomato Pesto
Avocado Pesto Roasted Artichokes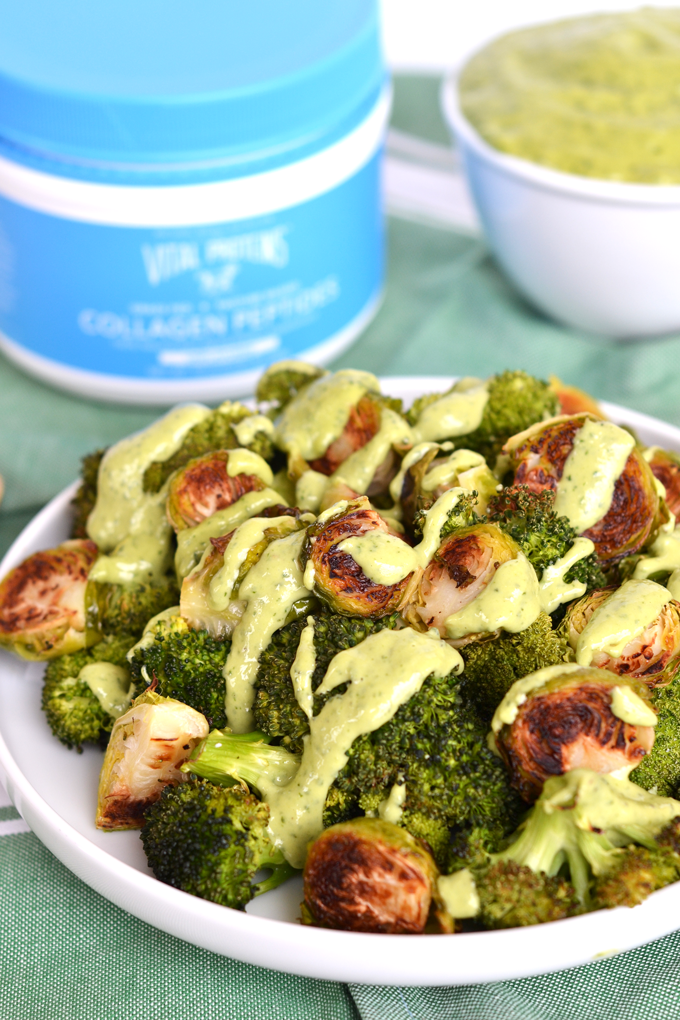 Pin it!
Print
Pesto Tahini Sauce
---
2 cloves garlic, chopped
1/2 cup Tahini
1 cup Basil
Juice of 1 Lemon (2–3 tablespoons)
2 scoops Vital proteins collagen
¼ cup Olive oil
¼ cup water
Salt & pepper to taste
---
Instructions
Add garlic & tahini to a food processor and blend to pulverize garlic. Add basil and pulse a few times to start breaking it down. In a small bowl, combine lemon juice and 2 scoops of Vital Proteins Collagen Peptides and stir to combine for about 30 seconds.
Add lemon/ protein mix to food processor and pulse to combine. Turn the food processor on and slowly stream in olive oil. Once that is combined, add water slowly with the food processor running. You may need to add more water after this if you want a runnier sauce vs. a thicker dip.
Add salt and pepper to taste and serve over any meat of your choice, roasted veggies, toss with zucchini noodles and use as an appetizer dip with veggies!
We are participant in the Amazon Services LLC Associates Program, an affiliate advertising program designed to provide a means for us to earn fees by linking to Amazon.com and affiliated sites.