Pecan, White Chocolate & Cranberry Tarts
Okay people.  I have one serious fact to drop on you right now.  I have found a new fall staple dessert!!!  These tarts are so incredible and so quick to whip together.  I already love pecan pie, and the addition of some sweet white chocolate and tart cranberries makes them the perfect little bites!!  I used pre made pie dough for the crusts and put them in this little tart pan I have. You can also use a muffin tin if you have one of those!  I am currently getting super excited about fall.  I am hosting a Friendsgiving this weekend and have had so much fun thinking about my tablescape which I might share on here if I get good pictures of it!  I also burn a pumpkin candle pretty much every night and probably bought one to many decorative gourds than I am proud of.  That's what the holidays are about though right?  Buying too many decorations for the 1 month they will be out then stressing out about where to store all of it the other 11 months of the year!  It's an inevitable truth that I have accepted and fully support.  Back to these tarts though…. I would just suggest making them in the near future.  They have it all!  Matt and I ate one and were kind of freaking out.  Then we ate too many and weren't even mad about it.  TOTALLY worth every calorie.  I mean that!
Okay first cut your pie dough into circles and fit in your pan.  Then add 2 cranberries, some chopped pecans and some white chocolate chips.
Then make your filling and pour in just enough so it doesn't overflow and there is still some crust showing.
Bake for about 35 minutes and enjoy!!
Top with whipped cream if you CRAY CRAY!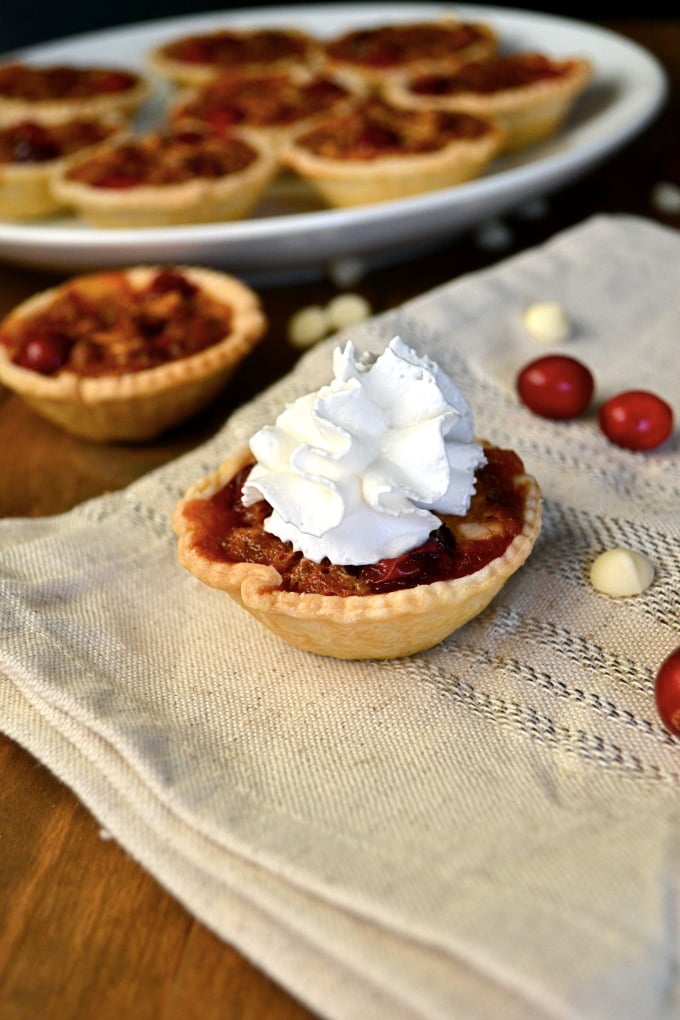 LOOK AT THAT BITE!
Print
Pecan, White Chocolate & Cranberry Tarts
---
Pre-made refrigerator pie dough
1/2 cup fresh cranberries
1/2 cup pecan halves, chopped
1/2 cup white baking chips
1 egg
1/4 cup packed brown sugar
1/4 cup Light Corn Syrup Corn Syrup
1 tablespoon all-purpose flour
1/2 teaspoon grated orange peel
Whipped cream, optional
---
Instructions
Preheat oven to 350°. Spray a individual tart pan or muffin tin with non-stick cooking spray. Roll out pie crusts and use a biscuit cutter or circular cookie cutter the size a bit bigger than the pan. Place dough in each cup and press down to fit mold. Add 2 or 3 cranberries, some chopped pecans, and some white chocolate chips to each cup. In a small bowl, whisk the eggs, brown sugar, corn syrup, flour and orange peel; pour over chips.
Bake 35-40 minutes or until a knife inserted near the center comes out clean. Cool on a wire rack. Serve with whipped cream if desired.
We are participant in the Amazon Services LLC Associates Program, an affiliate advertising program designed to provide a means for us to earn fees by linking to Amazon.com and affiliated sites.