Paleo Pumpkin Pie Freezer Fudge
Freezer fudge but make it fall themed, insert Paleo Pumpkin Pie Freezer Fudge.
Fall is here!! Whether you like it or not, pumpkin is in season and people are freaking out as usual.  I love pumpkin season because pumpkins are so nutritionally dense and so delicious! The fact they start to put it in everything doesn't bother me at all because it is only for about 2 months then we have to wait all year for it to come back! But let's be real, it definitely doesn't FEEL like fall.  For those of us that do not get a traditional autumn weather change and are still dealing with 85 degree days, Pumpkin Freezer Fudge is the perfect dessert to help you get in the fall mood without turning the oven on.
Insert > freezer fudge. Cold desserts are my fave!  I love freezing most sweets because it takes you longer to eat them too!  My mom taught me this at a young age, always freezing those chocolate covered caramels so it would take like an hour to get it down.   This recipe took a little bit of testing but it turned out so delicious.  If you are craving pumpkin pie this freezer fudge hits the nail on the flavor head! And it has all of my favorite things: dates, pumpkin, almond butter, almond flour, coconut flour & pumpkin pie spice! Super simple – all you do is throw them in a food processor, let it go and press it all into a pyrex.  Just about an hour in the freezer will get them nice and firm, but the longer the better in my book.  Now, go get yourself these ingredients and enjoy these beauties!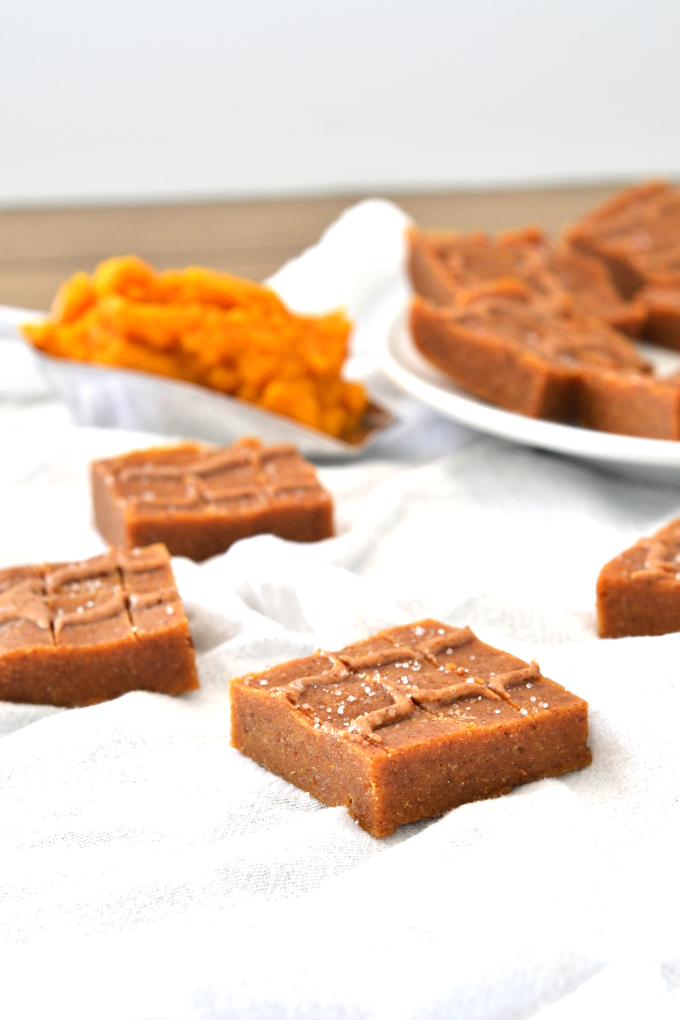 That was the first of MANY bites — Pin it!!
If you love this fudge recipe we have more for you to try:
Chocolate Peppermint Avocado Brownies
Chocolate Peppermint Freezer Fudge

Print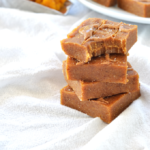 Paleo Pumpkin Pie Freezer Fudge
---
2 cups pitted Dates
½ cup Almond Butter
1 ½ cup Almond Flour
1/2 cup pumpkin
6 tablespoons coconut flour
2 teaspoons Pumpkin pie spice
Salt to taste
---
Instructions
Combine dates & almond butter in food processor and process until it forms a paste. Then add almond flour, coconut flour, pumpkin, pumpkin pie spice and a pinch of salt and blend until completely combined. Press into an 8×8 pyrex pan and top with some sea salt. Freeze for one hour, slice and enjoy cold!
We are participant in the Amazon Services LLC Associates Program, an affiliate advertising program designed to provide a means for us to earn fees by linking to Amazon.com and affiliated sites.