Paleo Dry Rubs
Dry rubs are here so get excited!! I knew I wanted to make a couple of dry rub recipes for the blog because we have a few dry rubs from Traeger that are delish but also have regular sugar or brown sugar in them.  I wanted to make a few from scratch with coconut sugar and tons of flavor!  Making dry rub from scratch is so incredibly easy and the best part is you know exactly what's in them.  The pork and poultry dry rub below is epic when smoked because it has apple chips that compliment the meat and other flavors so well.  As you can see in the pictures I used it on chicken drumsticks which I highly recommend because the skin + bone in makes them extra flavorful and juicy.
Tips for Paleo Dry Rubs
Higher the amount of sugar in the dry rub the the faster it will burn
Rubs with sugar are best in a smoker or cooked in foil on indirect heat
Be sure and pat dry your chicken before you apply the dry rub
More the merrier! If you are going to make a dry rub, make a big batch so you can always have it on hand to add to any meat you have.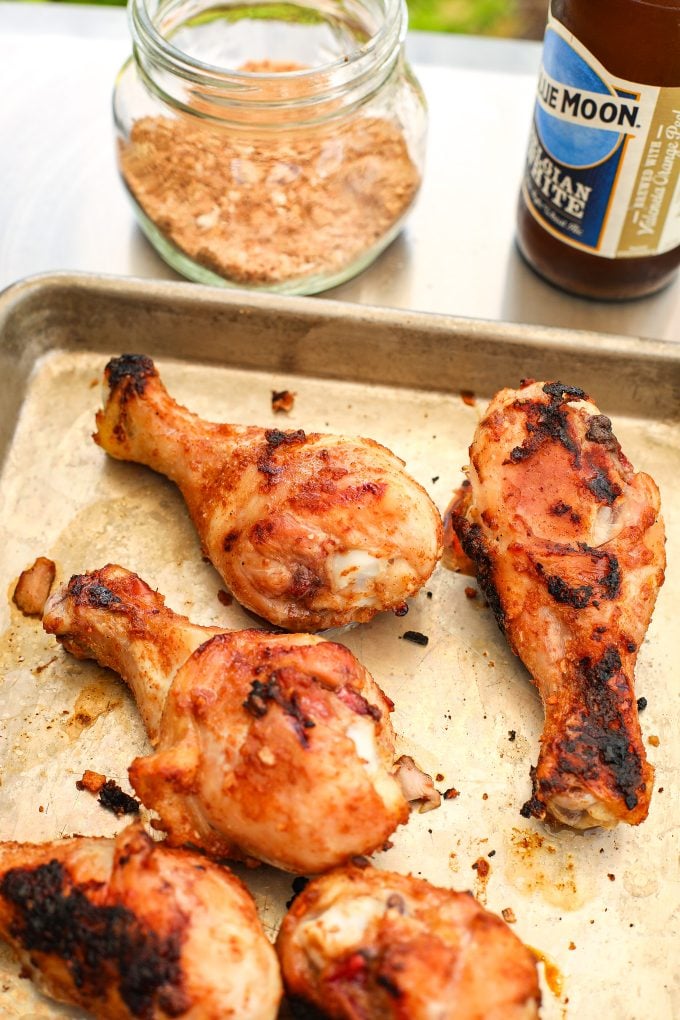 Components of a Paleo Dry Rub:
Coconut Sugar – I love coconut sugar as my go to paleo sugar option but you can also use maple sugar or even date sugar if you can find it.  Coconut sugar just happens to be the main stream paleo sugar now so it is available at most stores.
Salt  – Of course salt is a huge component of a dry rub!  Salt makes my world go round.  You could have all the seasoning in the world but without salt it will all seem pretty flavorless.
Seasoning – My favorite seasoning for dry rubs are garlic, paprika, chili, and basically anything that reminds you of the grill and summer time.  You can use any seasoning you love but try the ones in the recipes below to start you off!
How to Make & Use a Paleo Dry Rub:
You pretty much just combine those components, then RUB. Yes it's called a rub for a reason.  You want to rub this stuff in your food like you are giving it a very deep tissue massage.  That flavor must attach and become one with the meat.  Then if you are going to make, for example, chicken drumsticks on the Traeger smoker, use the following directions for cooking:
Dry drumsticks well with a paper towel.
Liberally pour dry rub on the drumsticks and rub it in well, all over the meat.
Turn the Traeger on to smoke and let it preheat for 10 minutes.
Then turn the temp to 180 degrees and let it get to that temp.
Open the grill and add the drumsticks.
Cook for 30 minutes, then turn the drumsticks and cook for another 30-40 minutes or until internal temp hits 165.
You will need a few more yummies to go with these bomb drumsticks:
Fiesta Salad with Salsa Vinaigrette
Peanut Butter Cookie Cashew Cheesecake Cups
Mini Strawberry Nice Cream Cookie Cups
Want to save this recipe for later? Pin the image below!
Print
Pork & Poultry Dry Rub
---
3/4 cup dried apple chips
2 tbsp dried minced onion
3 tbsp coconut sugar
4 tbsp salt
4 tsp garlic powder
3  tsp paprika
3 tsp arrowroot powder
---
Instructions
Place apple chips in a food processor and blend until broken up into a powder.
Add in dried minced onion and pulse a few more times to break down.
In a jar combine apple, dried onion, coconut sugar, salt, garlic powder, paprika and arrowroot powder.
Shake or stir to combine thoroughly.
Notes
Best used on pork or poultry.
Recommend using a smoker for low and slow cooking with rubs with higher sugar content.
Recipe makes enough for multiple uses so keep the leftovers in the cupboard!
Print
2 Tbsp coconut sugar
1 Tbsp paprika
1 Tbsp kosher salt
1.5 tsp chili seasoning
1 tsp ground pepper
---
Instructions
Combine all ingredients in a jar and shake or stir to combine.
Notes
Great on all kinds of meat, chicken, large beef cuts, pork shoulder, shrimp.
We are participant in the Amazon Services LLC Associates Program, an affiliate advertising program designed to provide a means for us to earn fees by linking to Amazon.com and affiliated sites.