Grilled Mojito Chicken & Peaches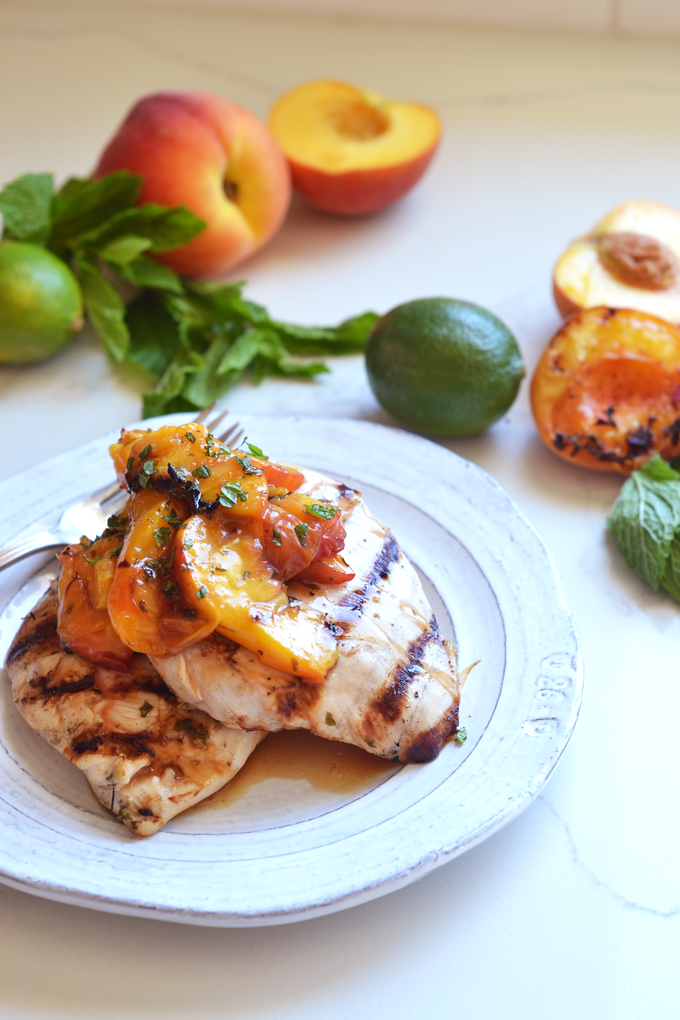 I don't know about you but we have been using our grill like CRAZY!! From steaks to chicken to taters and sausage we are throwing anything and everything on our grill.  So why not add some fruit to the mix?!  I love grilling up fruit like pineapple so I knew stone fruits like these gloriously juicy peaches would amazing with a little caramelization!  Sometimes people ask how I get ideas for recipes and this one had a ton to do with this book I have called the Flavor Bible!  I was thinking I wanted to add peaches to the grill so I looked at the peach section of the book and saw that mint would be a fun herb to play with, which led to the mint section which i cross referenced with the peach section again aaaaaand LIME!   Mint + lime = mojitos and happiness!  I didn't add rum to the mix but I am sure if you really wanted to you could.  I love how this dish came together SO MUCH though!
My friends at Ralphs Grocery helped me out with this recipe, making it so easy to grab everything I needed in one place.  Their produce for these peaches is perfect and The Simple Truth brand is killing it in the meat department lately! So many great options to make grilling easy as can be!  If you have a Ralphs or Kroger near you, you have probably seen the Simple Truth brand a lot and are as amazed by their option as I am!  I probably get a call every couple of weeks from my dad telling me about another great Simple Truth product he found and is pumped about.  So I got some of their chicken breasts and marinated them in a super easy mojito marinade of just lime juice, olive oil, mint, honey and salt and pepper!  So get creative, get excited and mix up your grilling game with this Grilled Mojito Chicken and Peaches!!
More peach recipes below:
Peach, Brie & Turkey Melt on Cinnamon Raisin Sprouted Bread
Grilled Peaches with Hazelnut Pancetta Crumble
Pin this Grilled Mojito Chicken and Peaches to save for later! Paleo and DEEELISH!
This post is sponsored by Ralphs Grocery. I was compensated and all opinions are 100% my own. Thank you so much for supporting Little Bits Of!
Print
Grilled Mojito Chicken & Peaches
---
1 pound Simple Truth boneless skinless chicken breasts
2 peaches, pitted and sliced
1/4 cup lime juice
¼ cup olive oil
1 tablespoon honey
2 teaspoons chopped mint
½ teaspoon salt
¼ teaspoon pepper
---
Instructions
In a jar combine lime juice, olive oil honey, mint, salt and pepper.  Close the jar and shake vigorously to combine ingredients.
Place chicken breasts in a large ziploc bag and use a meat tenderizer to flatten them into even sizes.  Then add half of the mojito marinade into the bag and let it marinate for at least 10 minutes.
Remove chicken from the bag and season with another pinch of salt.  
Turn your grill on medium heat and place the chicken and sliced peaches on the grill.  
Grill for 5-6 minutes per side (depending on how thick your chicken is), until cooked through.
Grill the peaches for the same amount of time as the chicken then remove and place the peaches in a bowl.  Pour the rest of the mojito marinade onto the peaches and serve them on top of the chicken!
Garnish with some more fresh mint!
We are participant in the Amazon Services LLC Associates Program, an affiliate advertising program designed to provide a means for us to earn fees by linking to Amazon.com and affiliated sites.