Healthy Lemon Bars
These Healthy Lemon Bars are sweetened with maple syrup and are gluten free thanks to almond and coconut flours!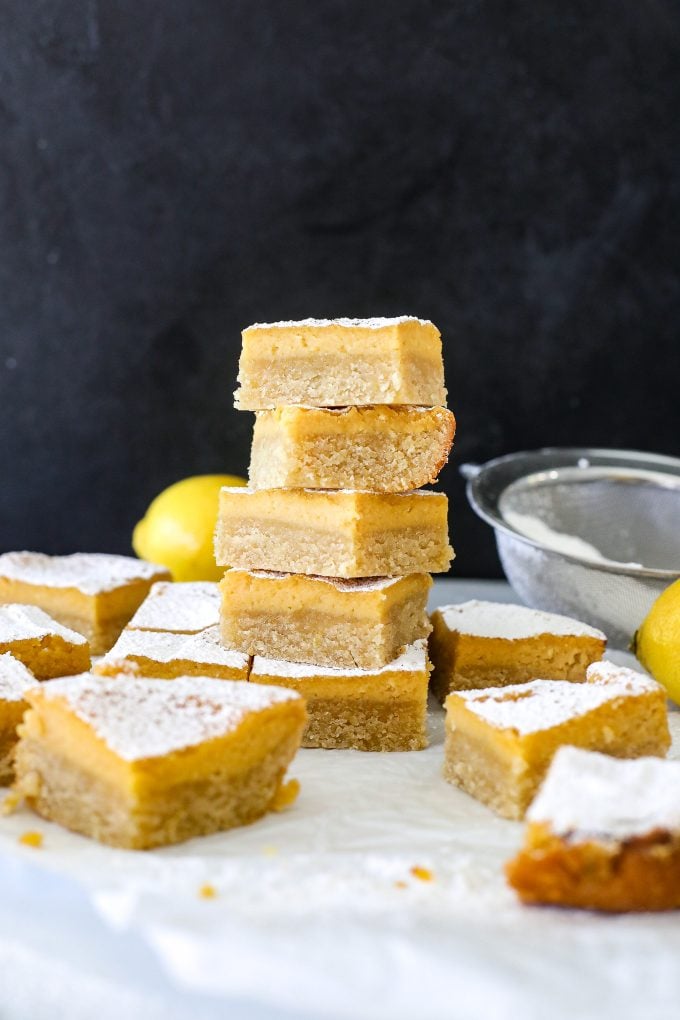 Healthy Lemon Bars are here!! Getting the consistency of the lemon topping on these bars was harder than we thought it would be! Using maple syrup to sweeten and coconut flour to thicken the custard top ended up being just what we needed.  The crust is an almond flour based shortbread and the bite is perfect when both are combined.
We have a lemon tree in our front yard and to be honest it's a little stressful! All of them seemed to just finally get ripe right then we pulled them all off and the countdown to them going bad begins.  We had a bag of maybe 60 lemons and definitely should have put most of them out for neighbors but we didn't and most of them got rotten sitting in the bag together.  We have learned! The key was probably to not take them all off at once but when you have an excited 3 1/2 year old it's hard to stop.  At least all of the lemons encouraged us to think of these lemon bars and the gluten free lemon loaf too!
Ingredient list
Almond flour
Egg
Coconut oil
Maple syrup
Vanilla extract
Salt
Grated lemon zest
Lemon juice
Coconut flour
Tips to remember
Once you have the base ingredients combined you will want to make sure your hands are either sprayed with cooking spray or a bit damp. The crust lays out thin so you will want to make sure you start in the corners of your pan and work your way to the center.
Be sure and roll your lemons on the counter before you zest and juice them, this will make them be extra juicy.
The crust will not be completely baked the first time it goes in the oven ,that's okay. When you add the filling it will continue to cook and be done to perfection at the end.
Wait until the lemon bars have cooked a bit before you cut them, they need to rest and harden before you cut them out. If you don't they will crumble when you cut them.
More lemon recipes to have on hand when you buy the huge bag of Costco lemons:
Grilled Chicken Apple Salad with Lemon Poppyseed Dressing
Paleo Fruit Tart with Lemon Curd
Rosemary Meyer Lemon Olive Oil Cake
Pin the image below to save this Healthy Lemon Bar Recipe for later!
Print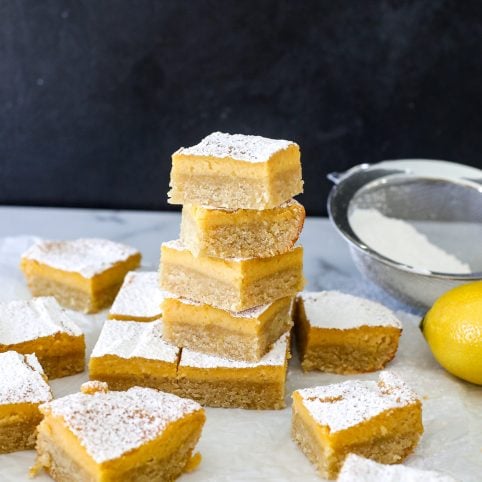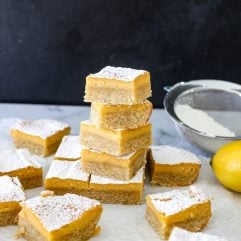 Healthy Lemon Bars
---
Author:
Total Time: 50 minutes
Yield: 16 1x
Diet: Gluten Free
Crust
3 cups almond flour
1 egg
¼ cup coconut oil (at room temp)
¼ cup maple syrup
1 tsp vanilla extract
1/2 tsp salt
Filling
4 eggs
2 tsp grated lemon peel
½ c maple syrup
½ cup lemon juice
6 tbsp coconut flour
---
Instructions
Preheat the oven to 350 degrees and line a 8×8 pan with parchment paper (helps to spray the pan with oil so the paper sticks!).  In a large bowl combine almond flour, egg, coconut oil, maple syrup, vanilla and ½ tsp salt. Once evenly combined, pour into the prepared pan and press it down evenly.  Use moist hands so it doesn't stick to them when pressing down.
Bake the crust for 15-20 minutes, the crust will look under baked, that is okay it will continue to bake when it goes back in the oven
Then, with an electric mixer, beat all four eggs until they begin to thicken. Then at a low mix speed, add the grated lemon, lemon juice and maple syrup. Then add the coconut flour and continue to mix. Pour the mixture onto the crust and bake at 350 degrees for 20 -25 minutes or until it looks set.
Optional to add some powdered sugar on top once cooled!
Prep Time: 10 minutes
Cook Time: 40 minutes
Category: Dessert
Method: Oven
Keywords: gluten free, dairy free, grain free, healthy
We are participant in the Amazon Services LLC Associates Program, an affiliate advertising program designed to provide a means for us to earn fees by linking to Amazon.com and affiliated sites.